Day 3 - February 28, 2015
Indio to Blythe
Miles: 110
Terrain: A long uphill struggle followed by a gradual descent
Weather: Warm, sunny, southwest winds changing to south later
When I set up this route weeks ago, I knew this day was coming...a stretch of 100+ miles without any hotels, and very little else for that matter. No way to avoid it, really...so I got up early and left by 8am, knowing I had a ton of riding to do...and the first part would be tough, a climb of almost 2000 feet. After that, though, it should be fairly easy, or so I hoped.
The weather was perfect...cool enough early that I had long sleeves on, but I rolled those up after an hour and the rest of the day was pleasant. A tailwind helped out, until it shifted to a crosswind later, but it didn't really hurt either. Mostly what hurt were my legs and back, especially during the 11 mile climb that may well be the longest continuous uphill slope I've ever done. Not so steep I couldn't manage it, but just very slow going and lots of stops. I tried to see if I could make it 1 mile before my next break for a rest, and usually succeeded, but even so my water bottles were empty by the time I got to the Cactus Valley rest area...only to find that the one on my side was closed and the one on the other side had no water. Good thing I brought along a 2-liter bottle of water to refresh my stock...but I can see I need more than one of those in the future, just to be sure. There was another stop at the 34-mile point with a small restarant and gas station where I got lunch and refilled, but those were the ONLY facilities to be had during the 100+ miles between Indio and Blythe.
I spent the entire day on the I-10 freeway, which is totally legal in California if there are no other routes for bicyclists, and while there was one stretch where a frontage road appeared, it was closed so I couldn't use it. Freeway riding is normally not that big a deal, and this one had a nice set of rumble strips to my left so if anybody behind me drifted I could hear them and move aside. Unfortunately, the shoulder developed these cracks that ran all the way across, were sometimes several inches wide and rose up an inch or more, so for several long stretches I had to ride very slowly and bump over them every 5-10 feet. I'm guessing at least 10 miles of highway had these stupid cracks that just made the riding miserable.
To top that off I got 2 flats, which I'd been warned could happen due to bits of metal and other debris left by decades of cars and trucks passing this way. With all those cracks I'm amazed I didn't get more, really. One of the flats I could identify by the piece of metal stuck in the tire...the other one, who knows what caused it. I patched that one and replaced the tube for the previous one, and still have 5 more spare tubes on me for future use.
In any case, this was my first century ride in years. In fact, I'm pretty sure the last time I did 100 miles in day was back on my West Coast trip (since there weren't any centuries on the East Coast ride and I haven't had any reason to do one without touring). That would be September 19, 2010...so four and a half years or so. I forgot how long it takes, and how sore I get, and how much of a mental effort it is to just keep pedaling and count down the miles...I'd just as soon never do another one of these, if I can avoid it.
Anyway, the entire day was spent in the desert so here are some photos of what I got to look at most of the time: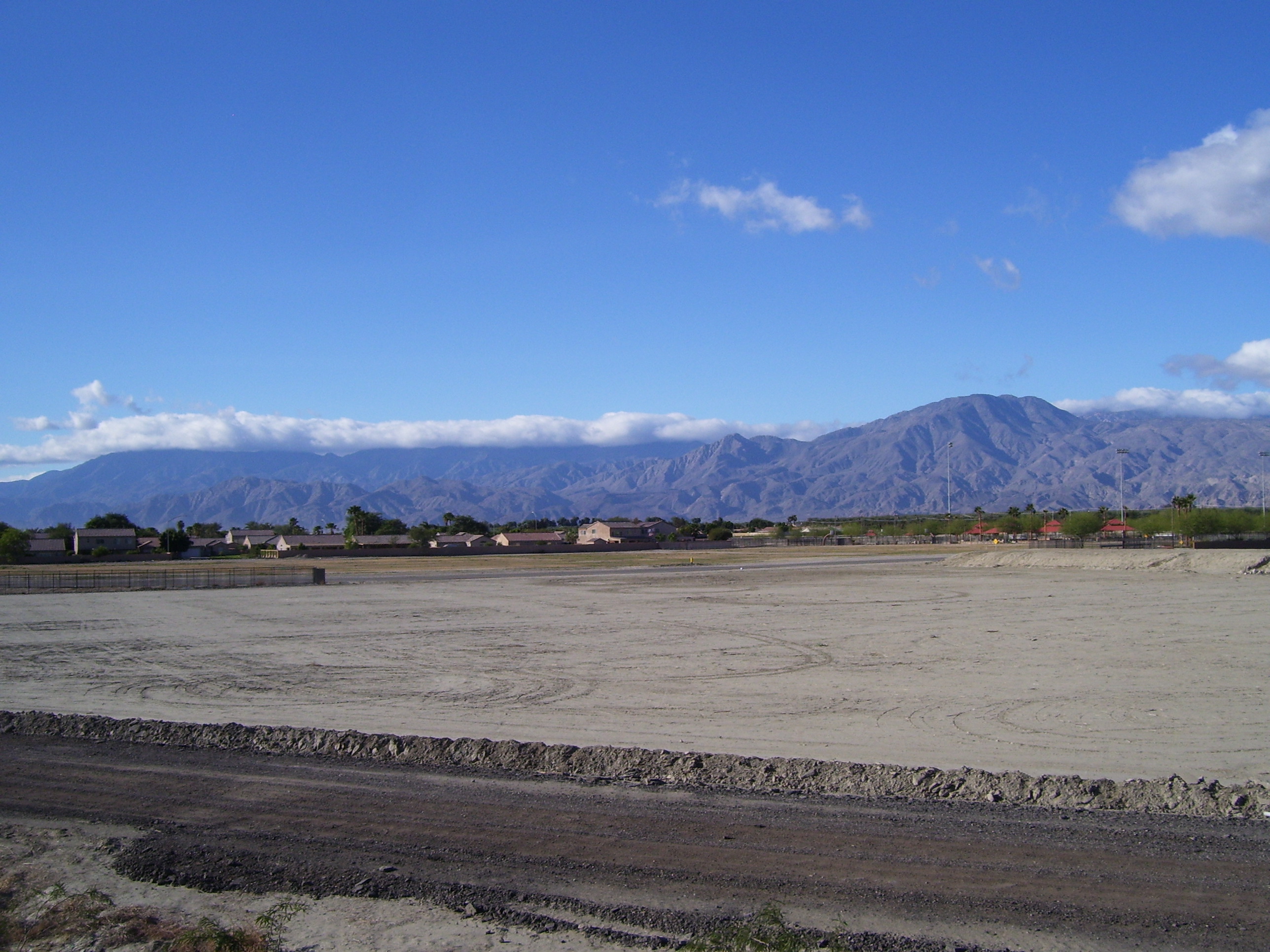 I certainly had some decent scenery to look at to the sides, but the view ahead mostly looked like this. Note the hill beginning up ahead...this was the start of 11 straight miles of UP.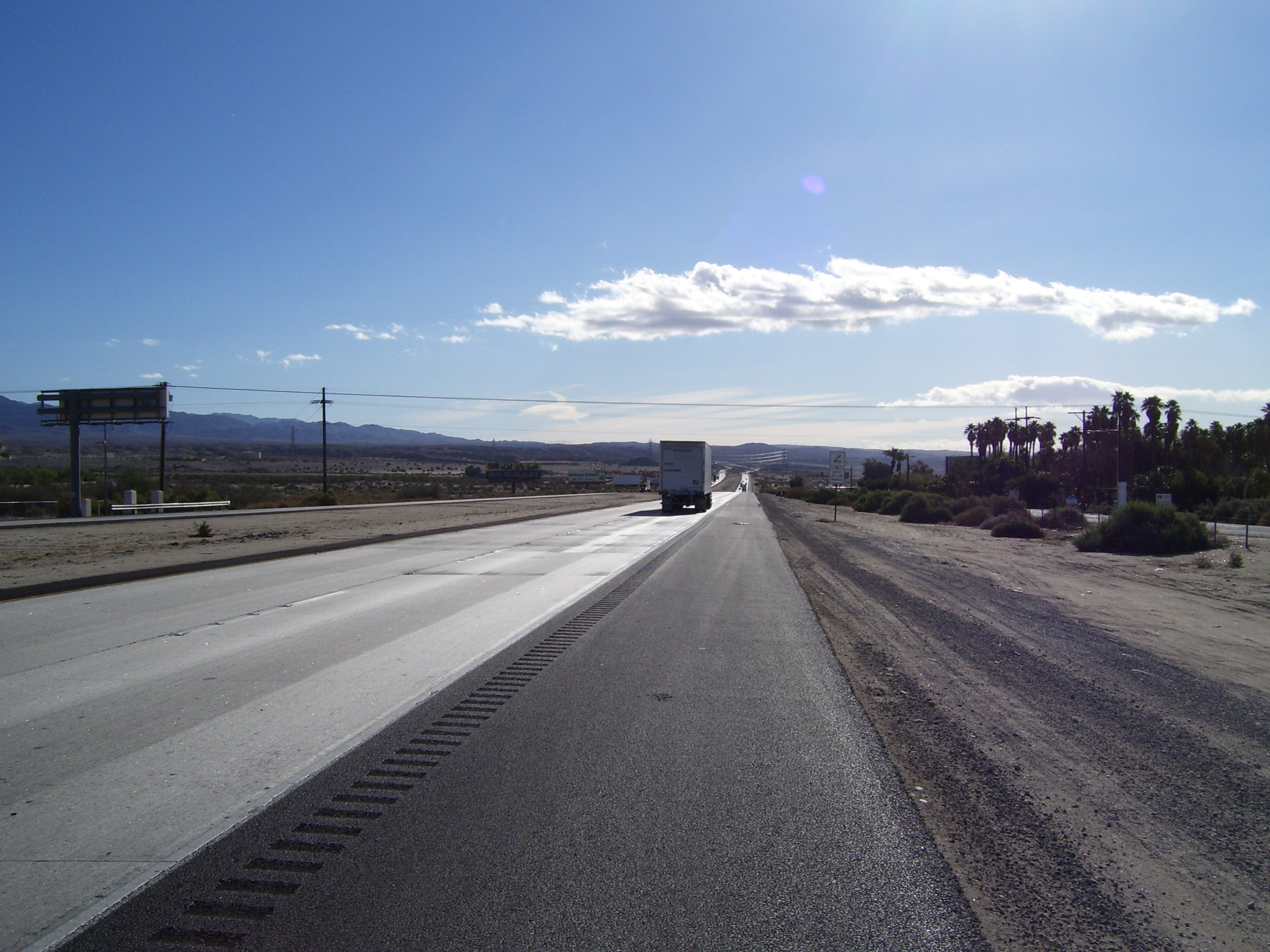 I actually started a bit under sea level, but they conveniently marked the spot where I reached elevation zero, and then it was off to 1700 feet or so.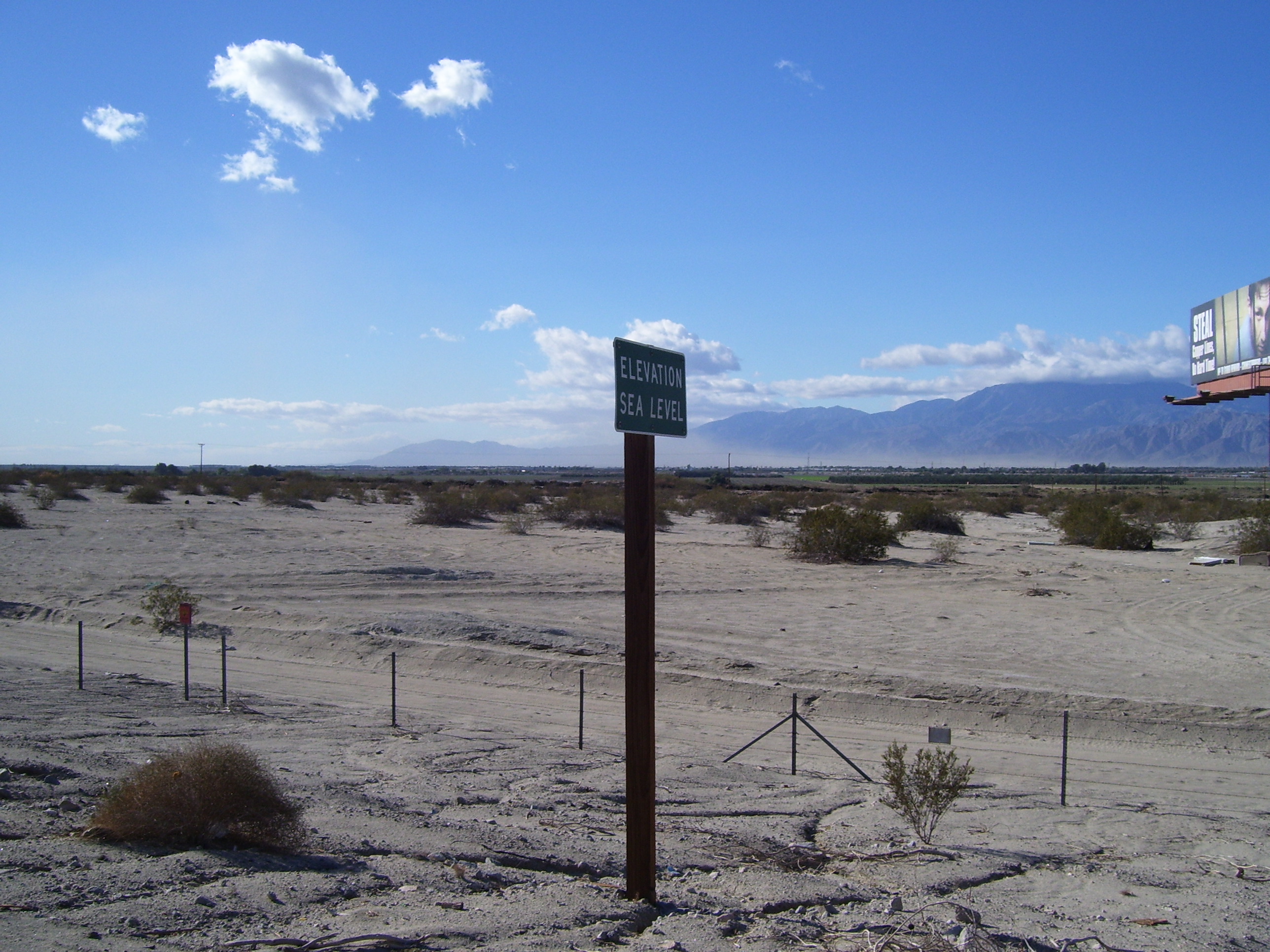 More views of the terrain.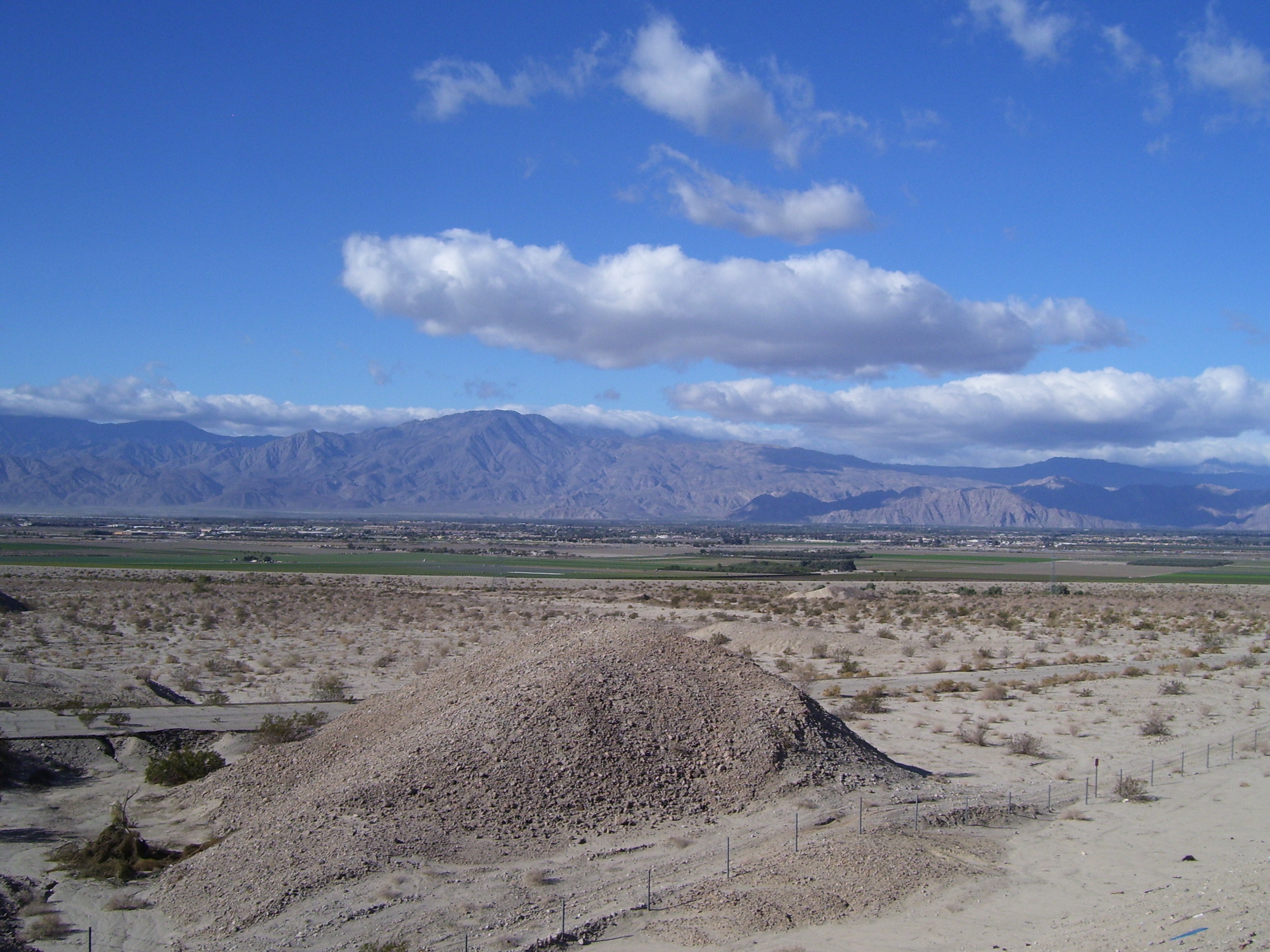 Looking back the way I came.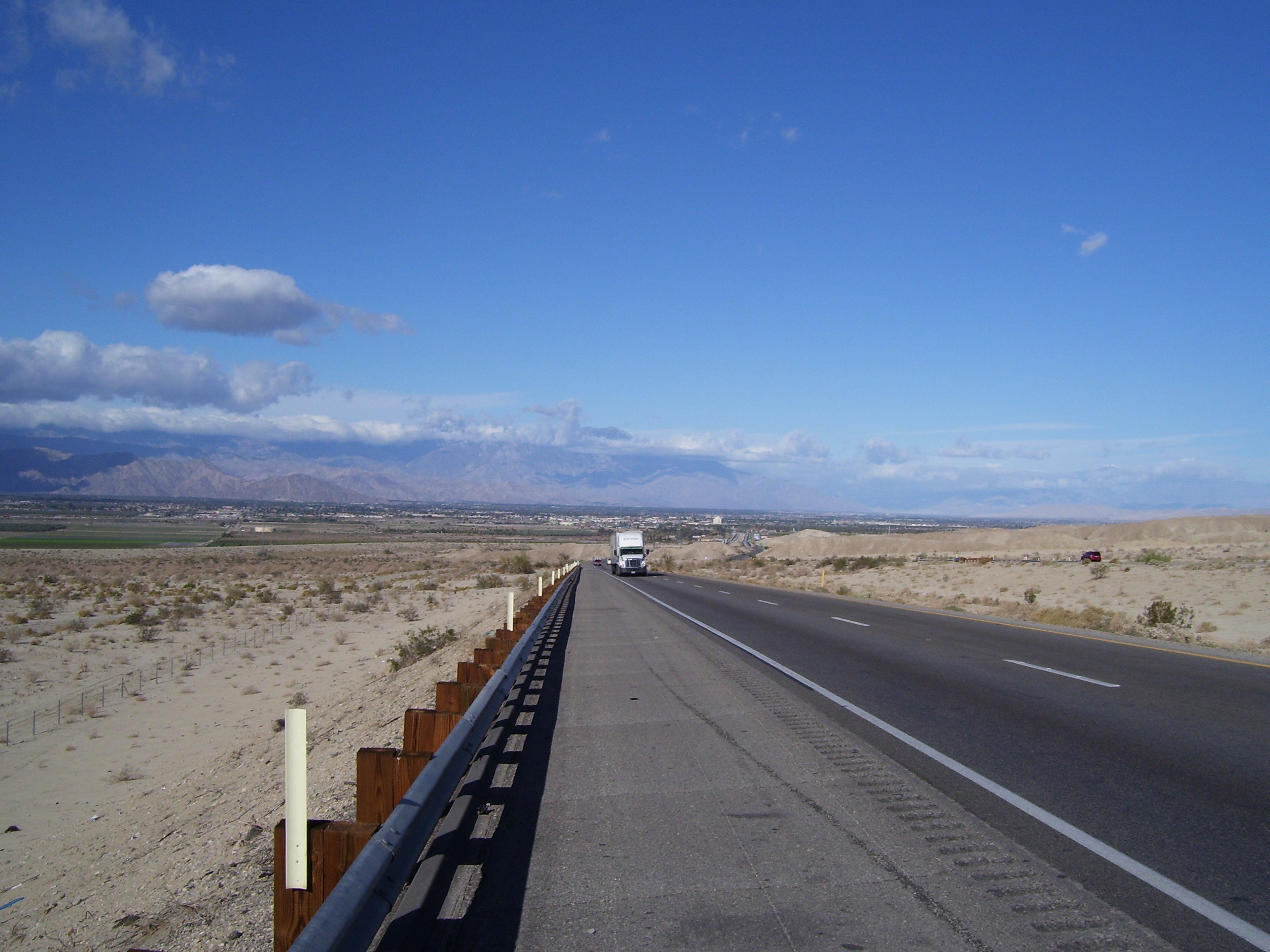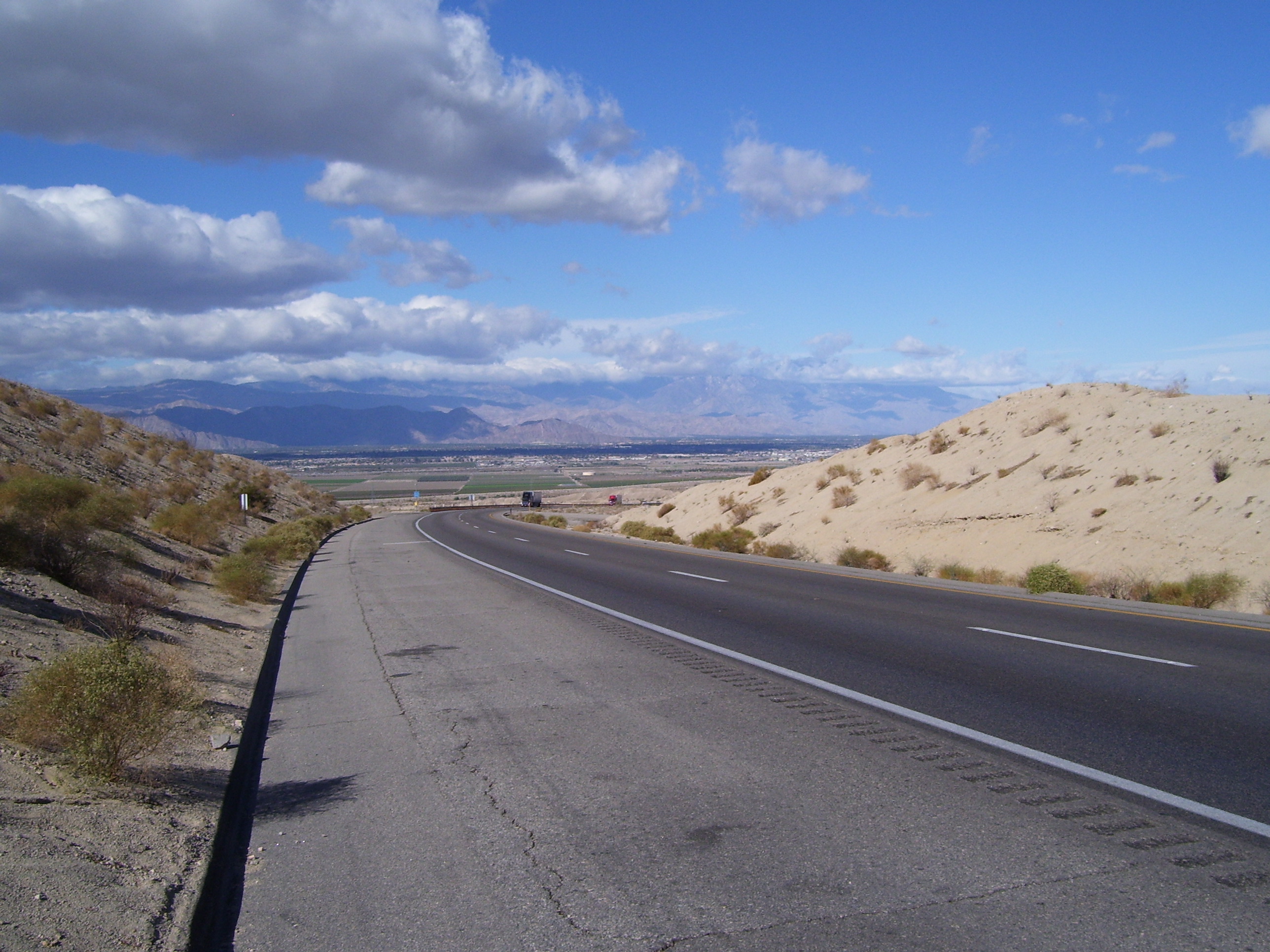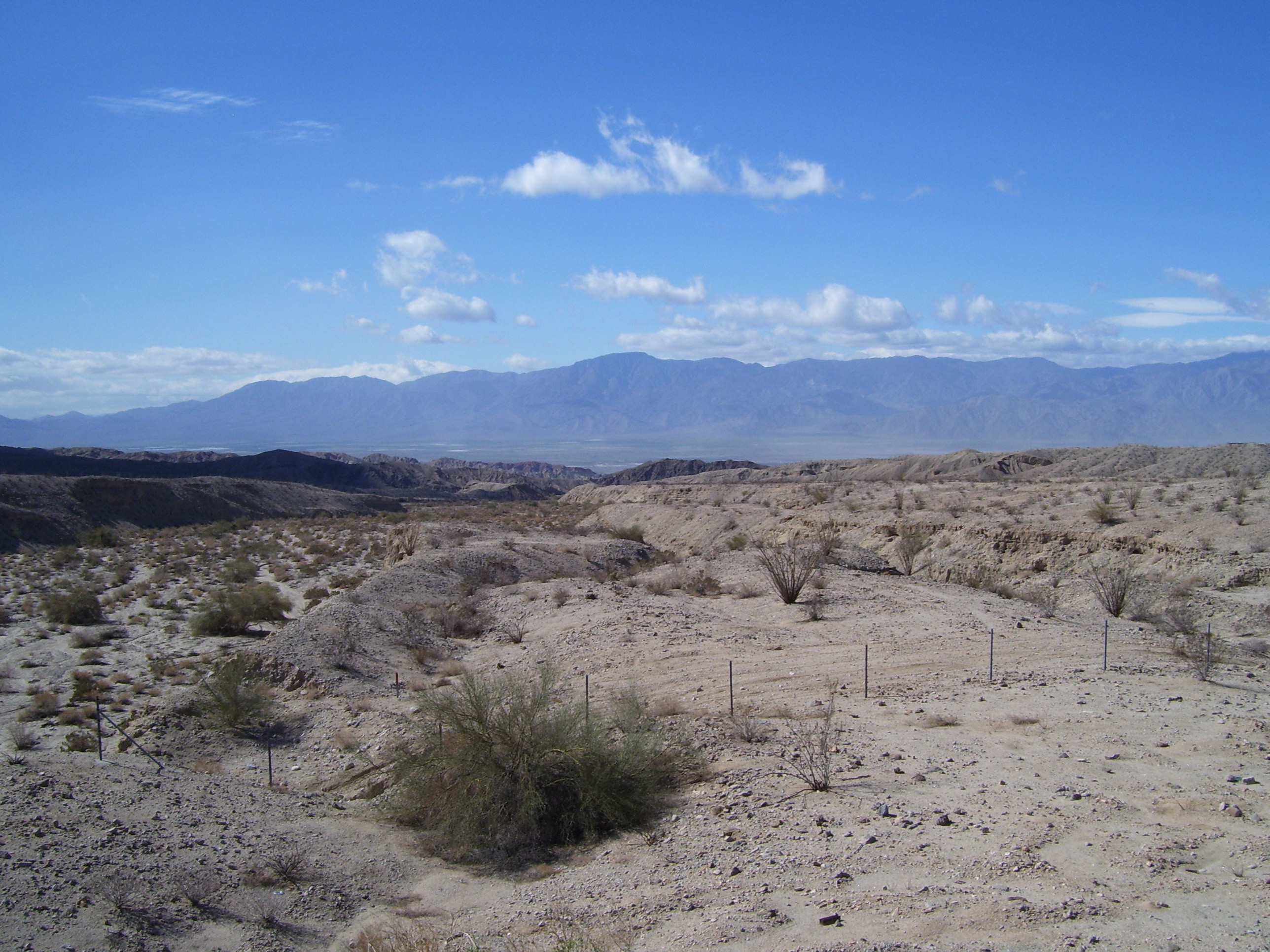 I soon came to the entrance to Joshua Tree National Park, where I took the day's only side trip, a couple miles up to a little hiking trail before you reach the main gate. I didn't spend much time here because on the way I got my first flat. I did happen to run into a van with some mountain bikers inside, who were kind enough to let me use their floor pump to get back up to 80 psi. I wish I'd gotten their names and a photo but they seemed in a bit of a hurry, but I do appreciate the assistance. I also would've liked to have had more time to explore some of the park, but maybe another day.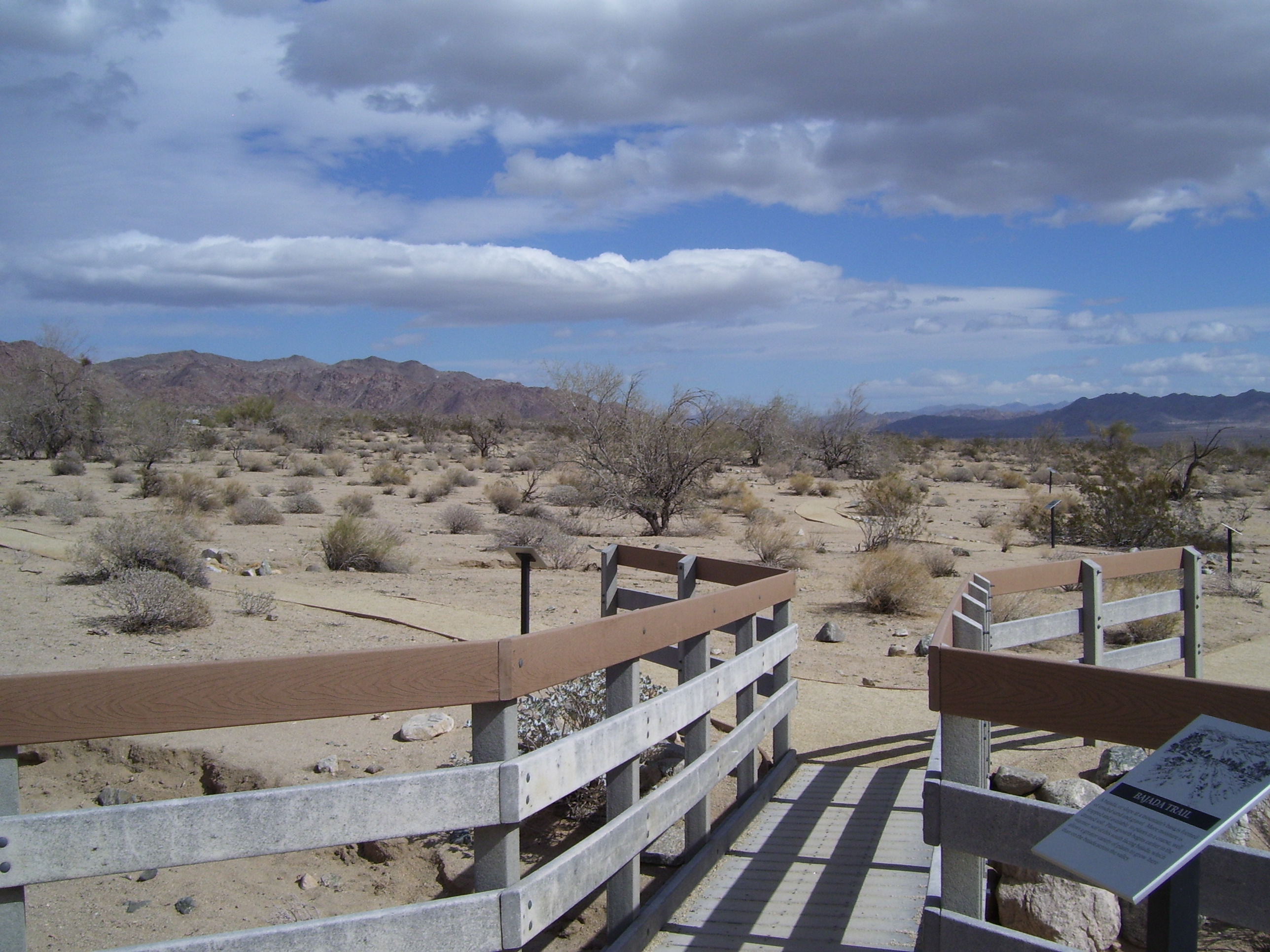 Back on the road, I finally reached this exit, where I could get some lunch and refill the water bottles. This was at about 34 miles into the ride. They weren't kidding about the services...flat out nothing until the Blythe outskirts.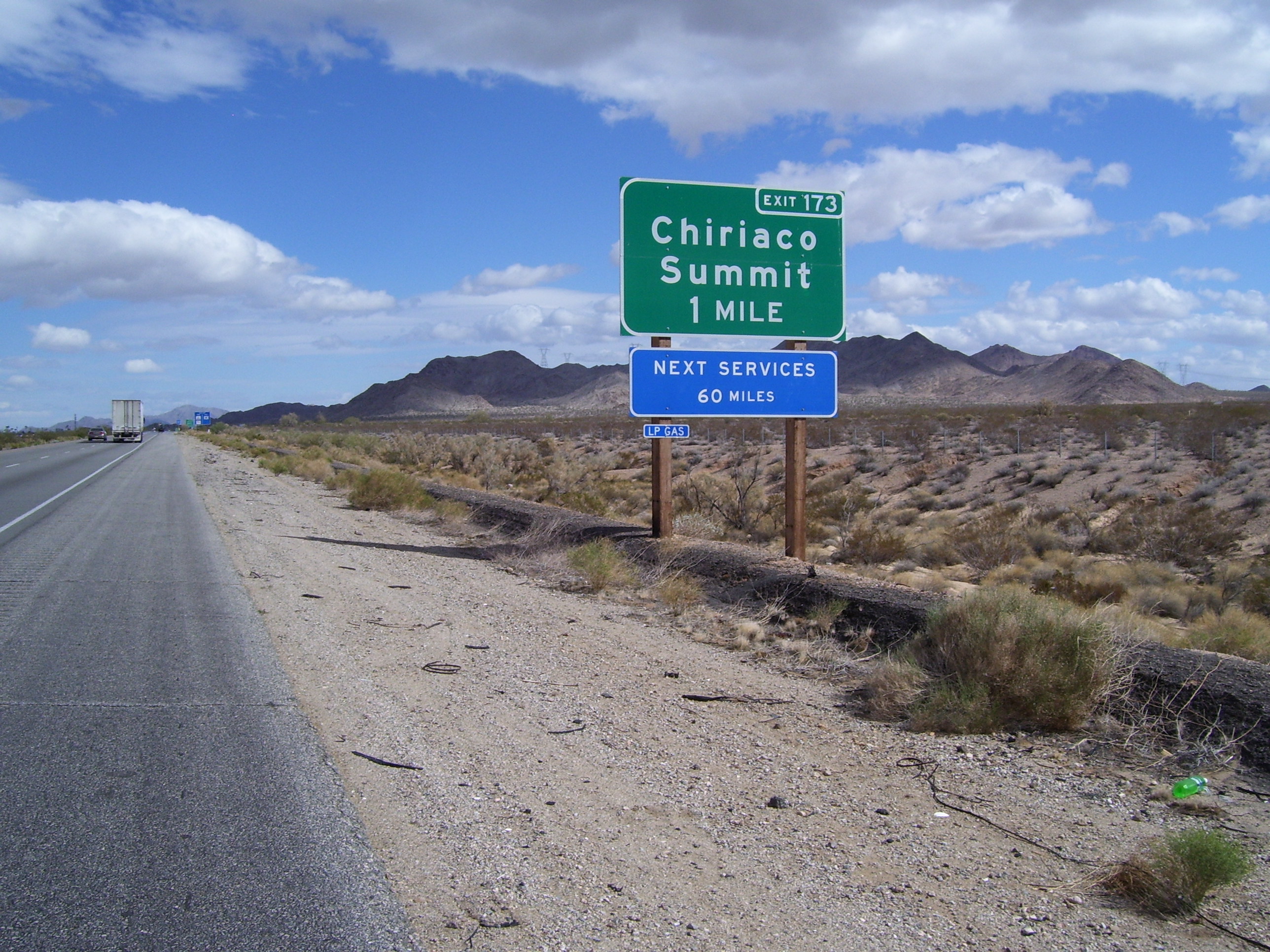 This particular exit did have one interesting feature...the Patton Museum. You wouldn't expect to see tanks here, in the middle of nowhere, but apparently during WWII this is the area where the US did all its desert warfare training. I would've really enjoyed exploring the museum but by this point it was already after 1pm and I'd traveled less than a third of my miles for the day. I settled for a couple of photos and moved on.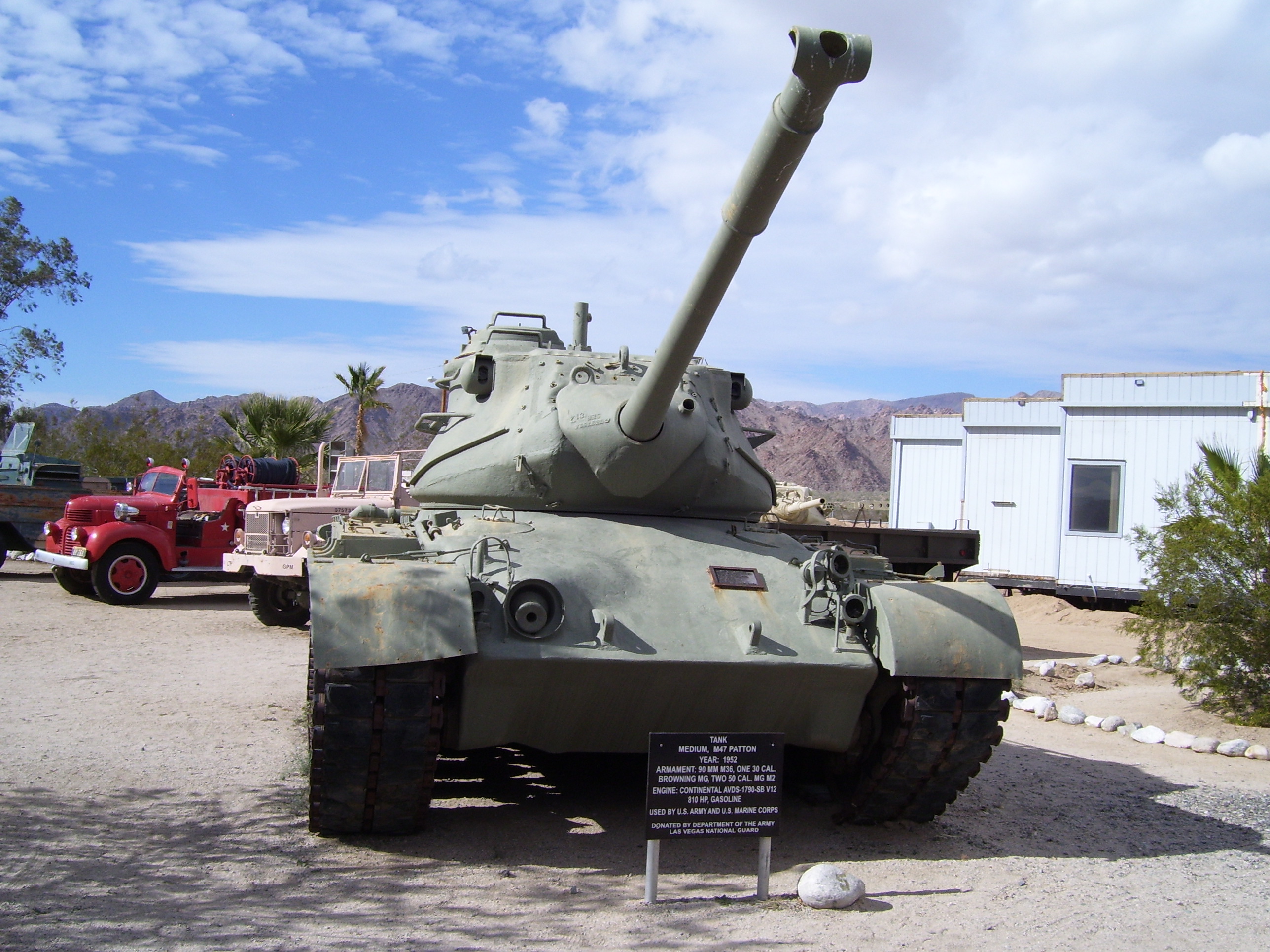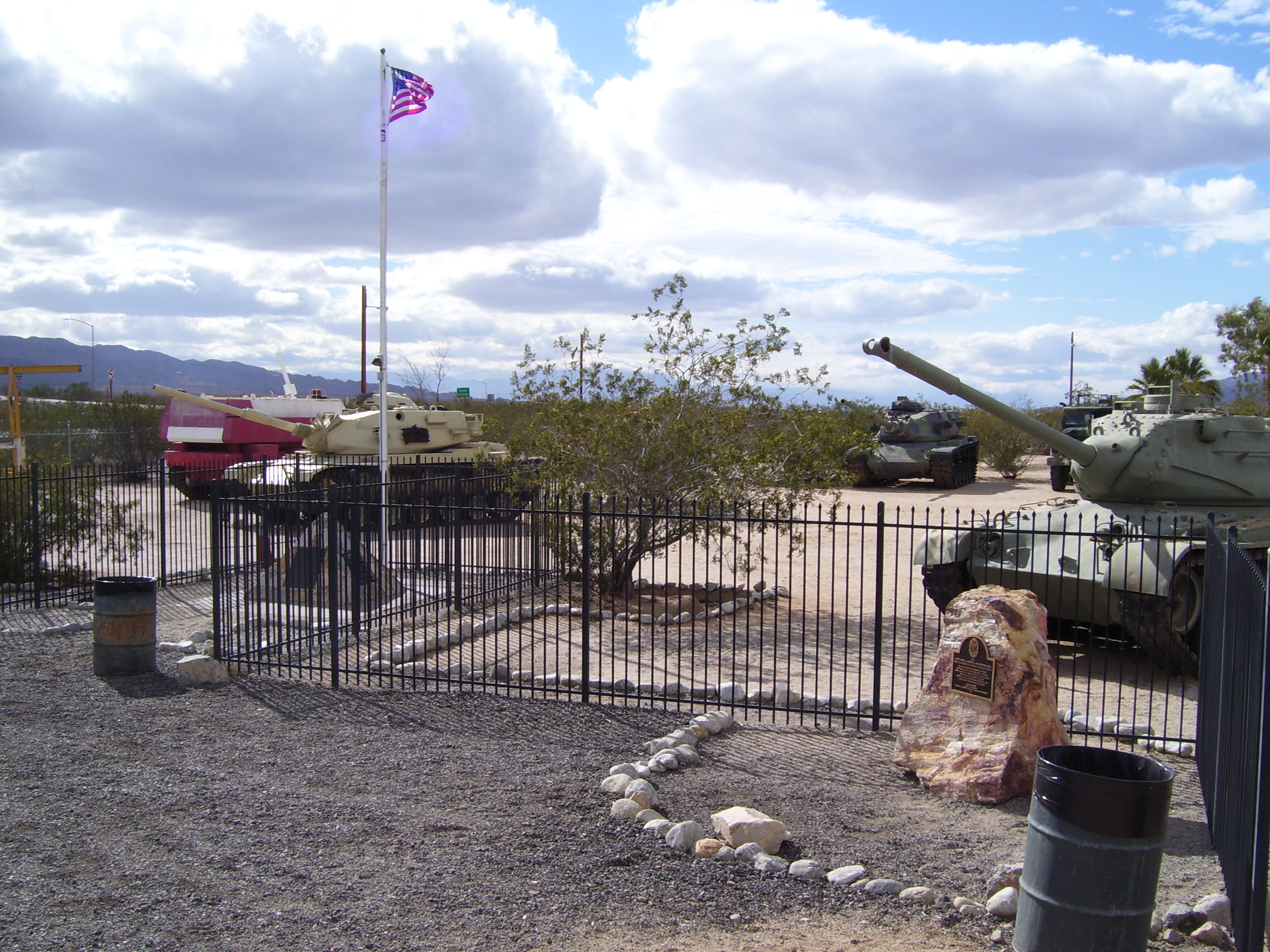 Back on the road for more picturesque desert terrain.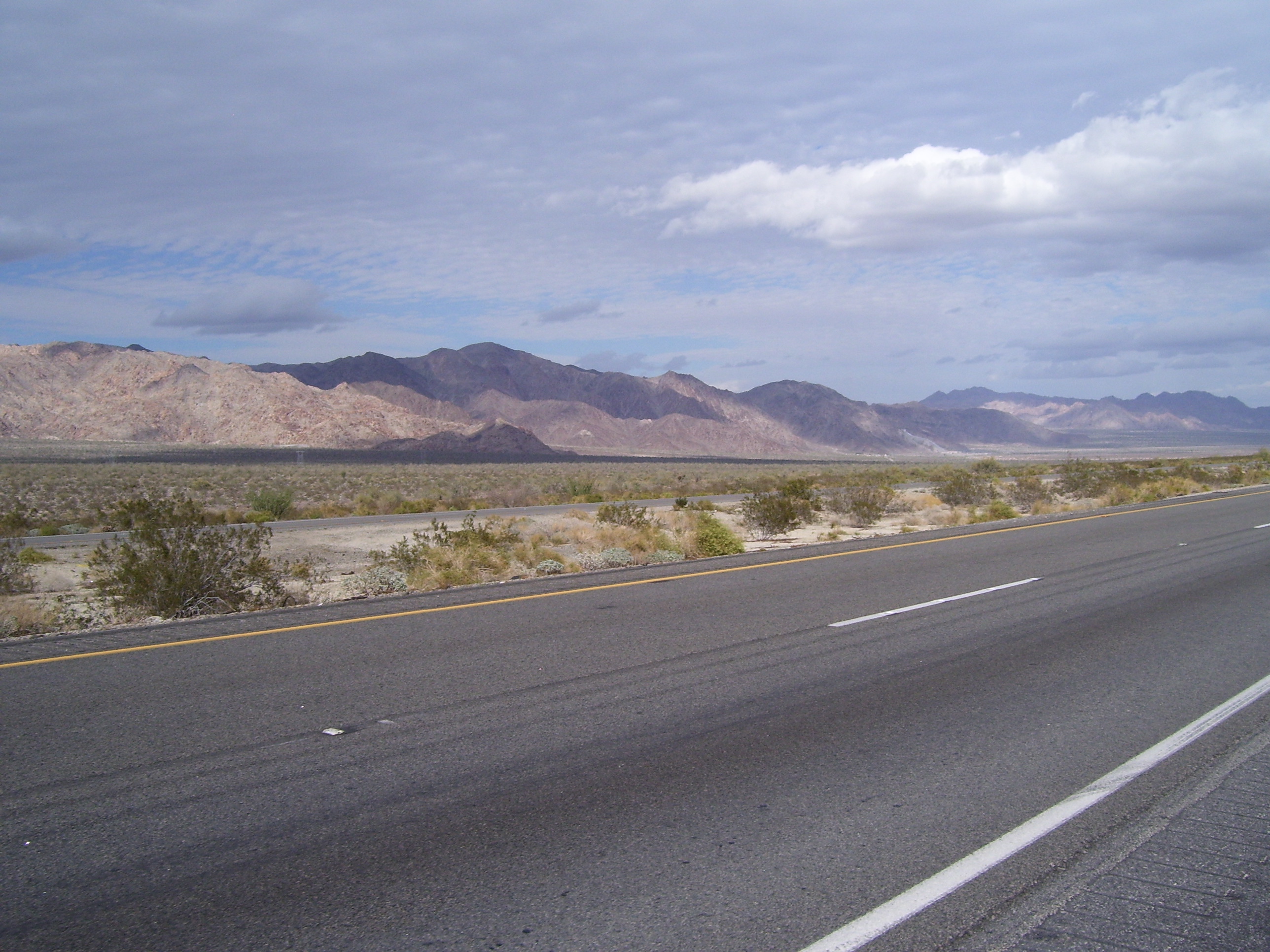 Then I got a surprise: I heard this strange scraping noise approaching behind me, and a second later a car raced by with one tire missing...he was riding on the rim! Before I could even hazard a guess as to what was going on, a wall of police cars followed. It was a high speed chase! I had just enough time to snap one quick photo before the last of the cops passed by, but if you look way up there at the top of that rise you can just see the leading edge of the chase. I never did find out what this was all about because a few minutes later I got another flat, and by the time I got any distance down the road they were long gone.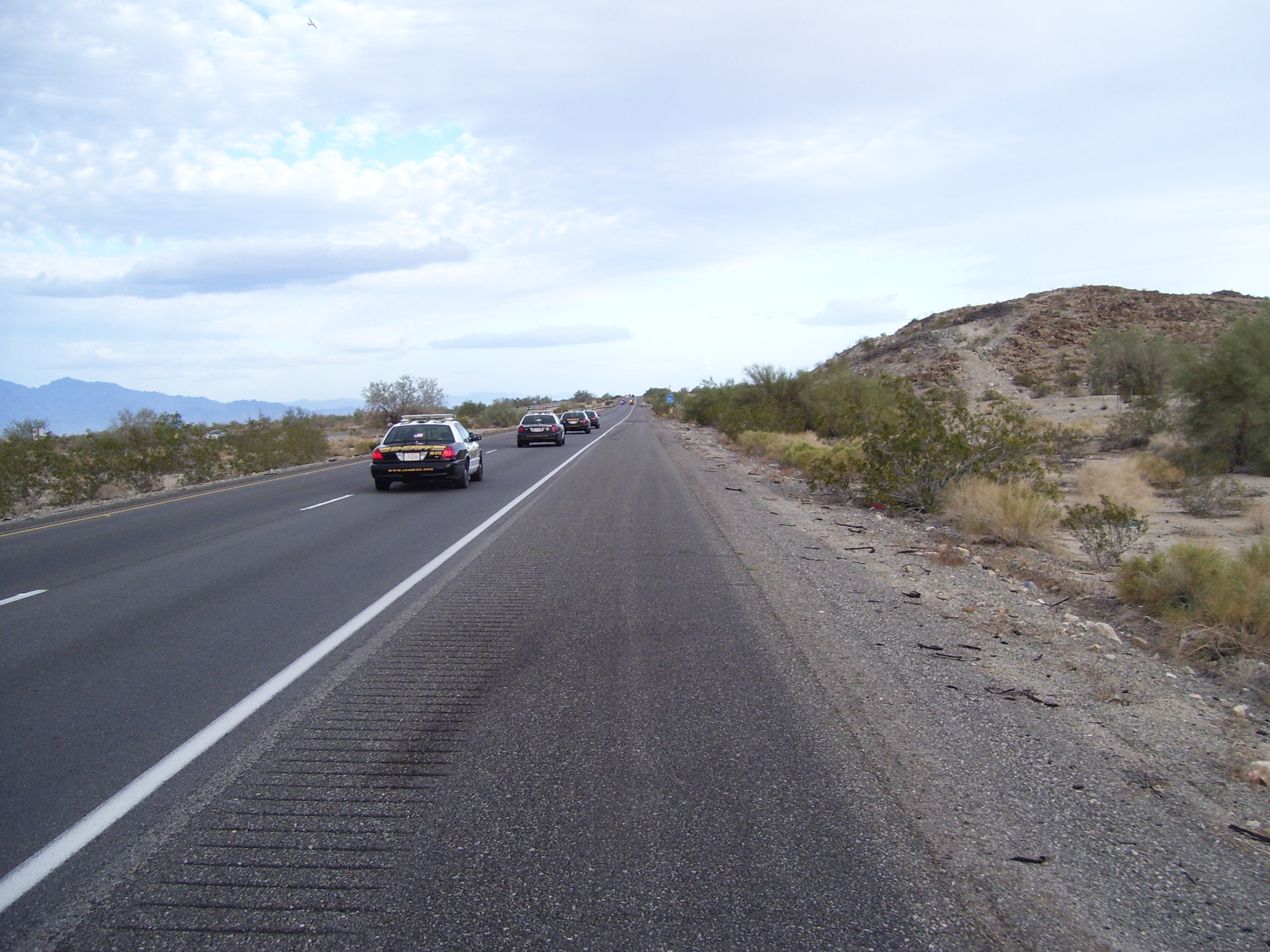 The sun soon started going down and I knew I'd be on the freeway in the dark, which was no fun especially with the cracks in the road and constantly dodging pieces of debris (old tires and such). There were also occasionally big black patches of partially melted asphalt which I assume were the result of cars overheating and catching fire. I had to slow down for those and always worried about getting some kind of metal in my tire from those places. Anyway, here's a picture of the last of the sun on the mountains to my left: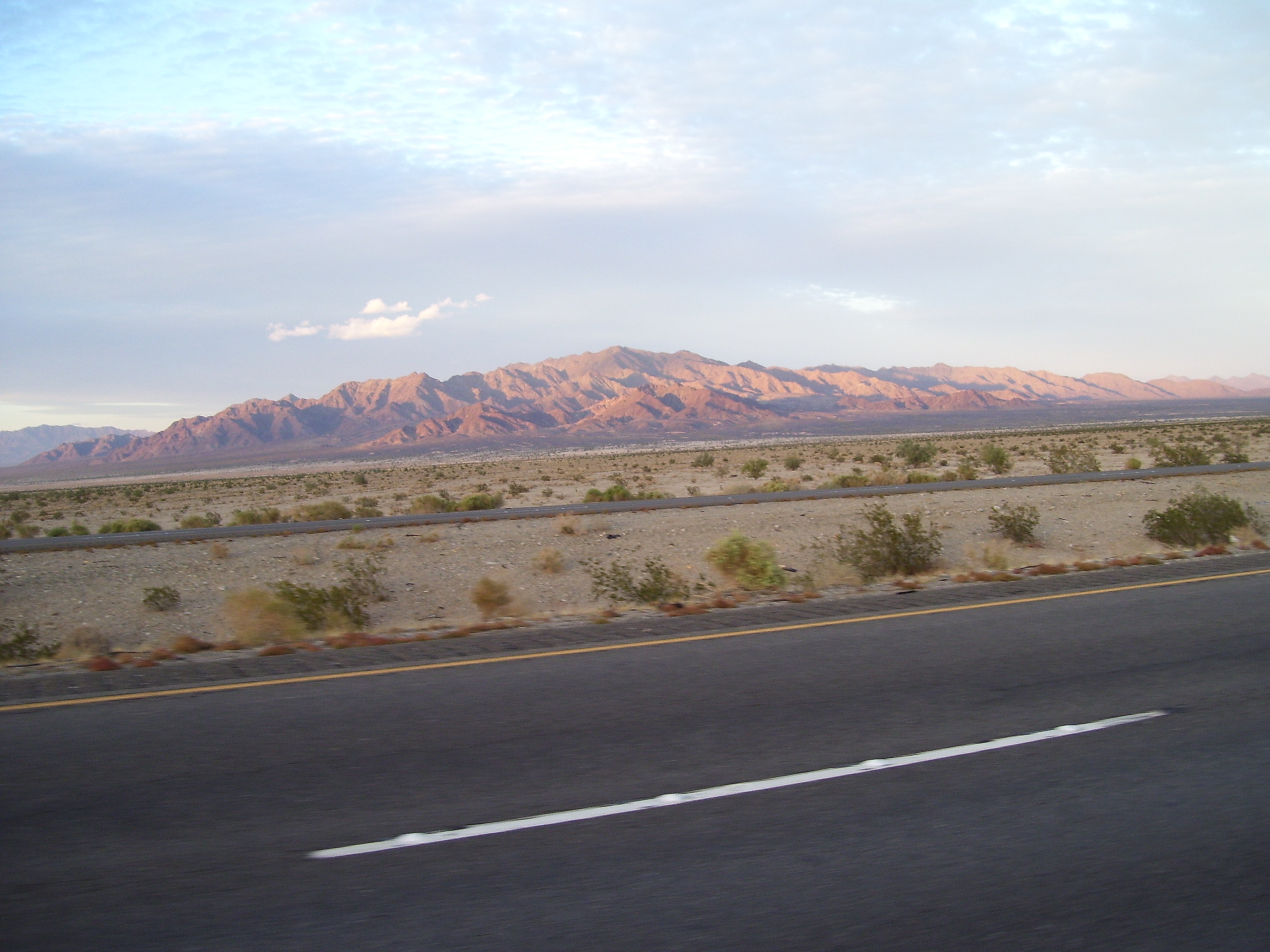 And another behind me as the sun just goes down behind the ridge.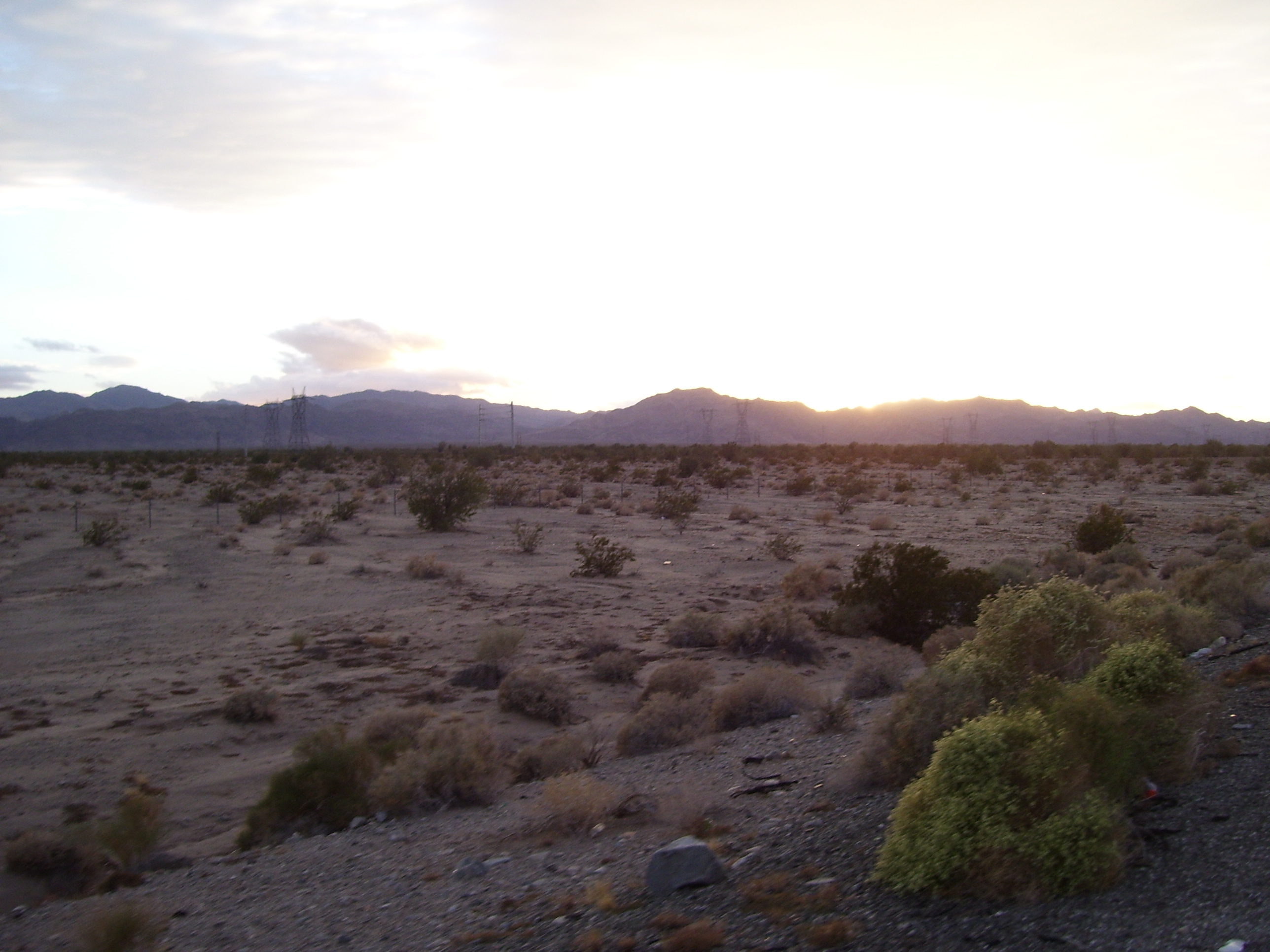 After this I biked on for another 3 hours in the dark until finally dragging myself into the hotel room at just after 9pm. By the time I had dinner and a shower I was spent, so I just went straight to bed.