Day 4 - March 1, 2015
Blythe, California to Quartzsite, Arizona
Miles: 33
Terrain: Basically one long 1200 foot climb
Weather: Rainy and cool, light southwest winds
After yesterday's crazy 14 hours on the bike, I needed some kind of rest today, and actually thought about taking the whole day off since I was in a super cheap hotel (40 bucks). Plus I got a late start, having slept in to let my body rest up from the marathon ride, and also, when I got up it was raining. However, checking the hotel listings, it seems there were a couple options in Quartzsite about 25 miles up the road (after a climb similar to the one that started off the day yesterday), so I decided to at least go that far. The next place with hotels is another 80 miles farther and that just wasn't happening.
I did have an option to take a side trip northeast to a small town 60 miles from Blythe, and then cut back southeast again towards Phoenix, but that would get me about 20 miles closer at the cost of 40 miles of biking. Still, I considered it, if only because taking such a short ride today felt like cheating, but then I got yet another flat (fortunately in between rain showers) and didn't roll into Quartzsite until after 2:30. Even better, I just crossed into Mountain Time upon entering Arizona so that's really 3:30. The forecast was for continuous rain after about 5 pm, too, which turned out to be completely correct. I just went ahead and stopped, and let my legs and back get some rest. I did indulge in a few geocaches after finding a room, but not many because, as I noted, it started raining pretty hard shortly after I got back on the road. This is the desert, it's not supposed to rain! Oh well, at least it should be over by tomorrow morning...in theory.
The flat, by the way, was caused by a tiny piece of metal, like an extremely thin wire, that was so flimsy I could snap it in half with my fingernail...yet it somehow managed to punch through my Kevlar tire and thick plastic liner inside to go straight into my tube. Sigh...and I have to stay on I-10 most of the day tomorrow, again, so I guess I'll just have to expect more flats. Not too many more, I hope, since I only brought four more spare tubes. In any event, while fixing the flat I decided my rear tire was getting too worn to leave on much longer, so I swapped it out for the new one I brought along. The old one can stay as an emergency spare, at least until I find a bike shop in the Phoenix area. (I need one of those anyway since I can't seem to locate my spoke wrench, and the front wheel needs a bit of adjusting after that near disaster with the panniers.)
One more thing before I get on to the photos. While looking for a room today I skipped the Super 8 that wanted $79 for a room, and headed on into town hoping for one of those cheap local places. There were only two, both restaurant/motel combos, one of which wanted $75 for a room, so I went on to the last hoping for some kind of deal. I told the guy I wanted the cheapest room he had, and he offered me a trailer that turned out to be an actual motor home parked in the RV lot out back. That's right, I'm staying in an actual motor home tonight! Only $39 tax included...cheapest stay so far! You don't find deals like this too often. I rewarded them by eating a spaghetti dinner in their restaurant tonight, too, which really hit the spot. Carbs are just what I need to get ready for tomorrow's 80 mile ride.
As for today's photos, sorry they don't seem like much, but the terrain was just like yesterday and the rain spoiled a lot of the views. I'll share what I was able to get, but first here's a shot of my bike computer proving I really did ride 110 miles yesterday. Notice the rain splatters already hitting the GPS, as soon as I step outside the hotel.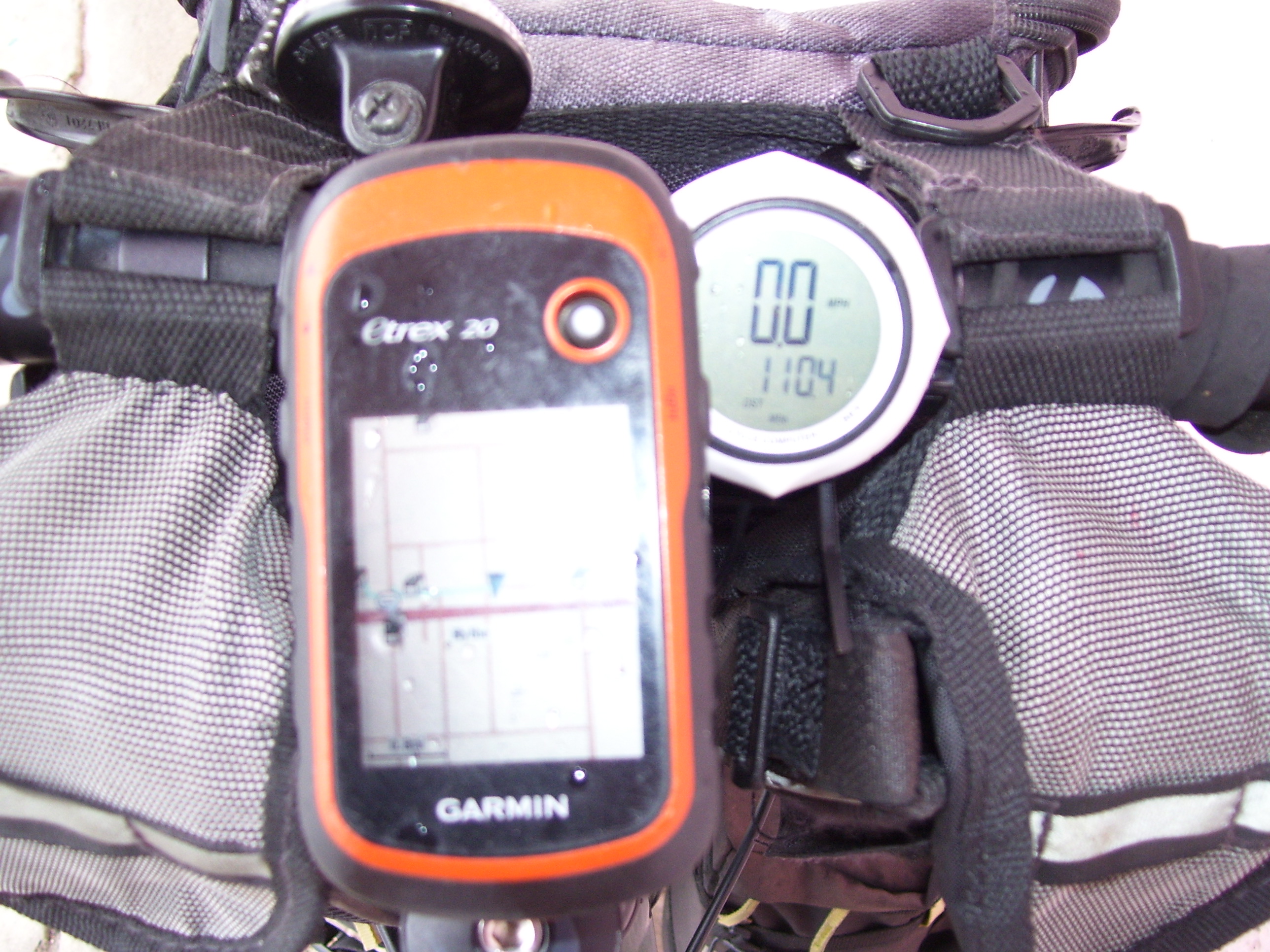 A few miles after leaving Blythe I crossed a river and found myself in Arizona, the second of at least 9 states I'll visit on this trip:
This is mostly what I got to look at all day...a freeway stretching on ahead, with desert and mountains all around. The cracks in the pavement weren't nearly as bad today, either. You can see they've been tarred over. Thanks, Arizona!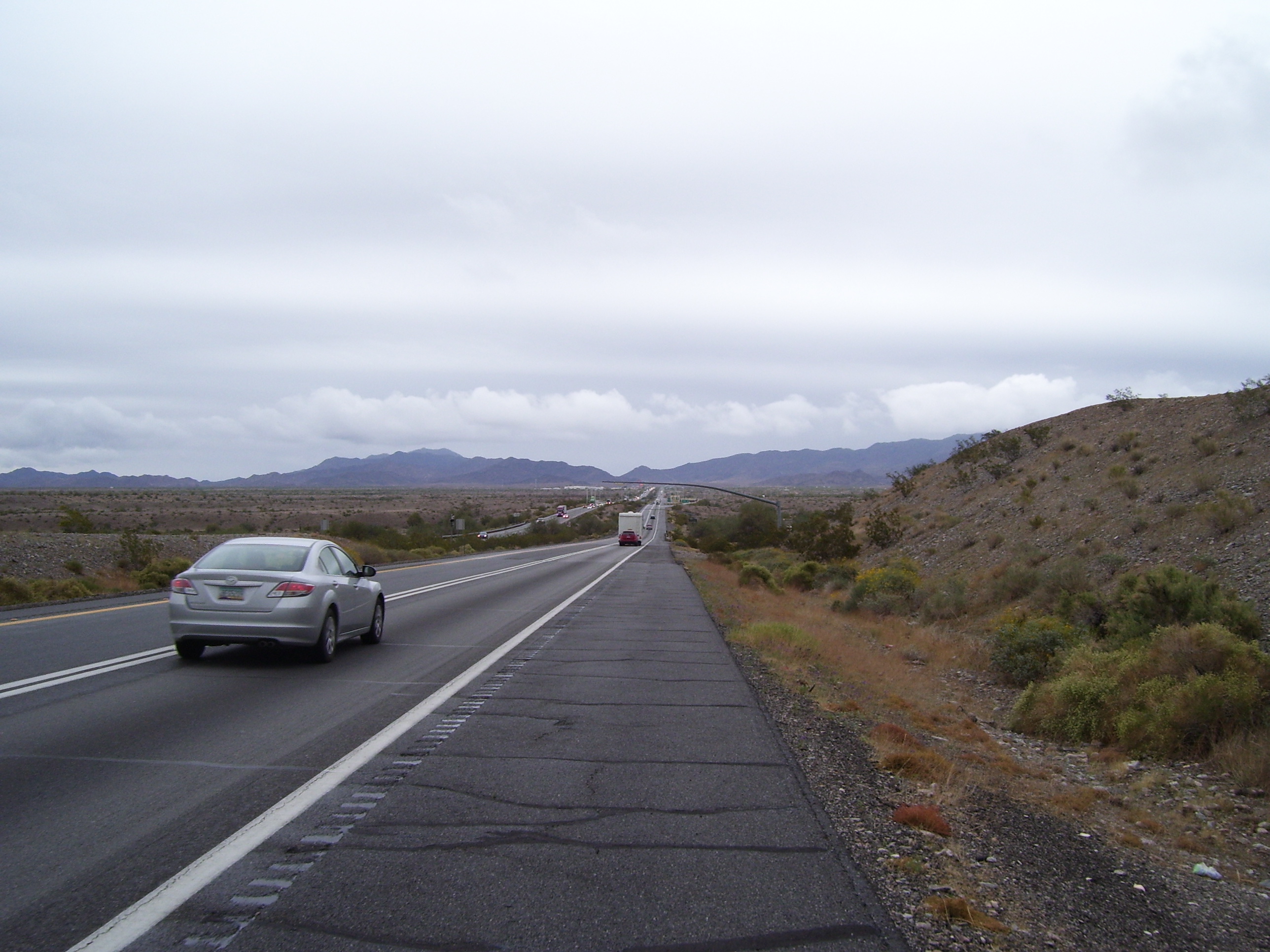 A better view of the mountains, once I got up closer. On the map at the top of this page (click on it to enlarge) it says I only reached right around 1200 feet, but my GPS said I was at 1300 feet at one point. Hey, it uses satellites, so it must be right!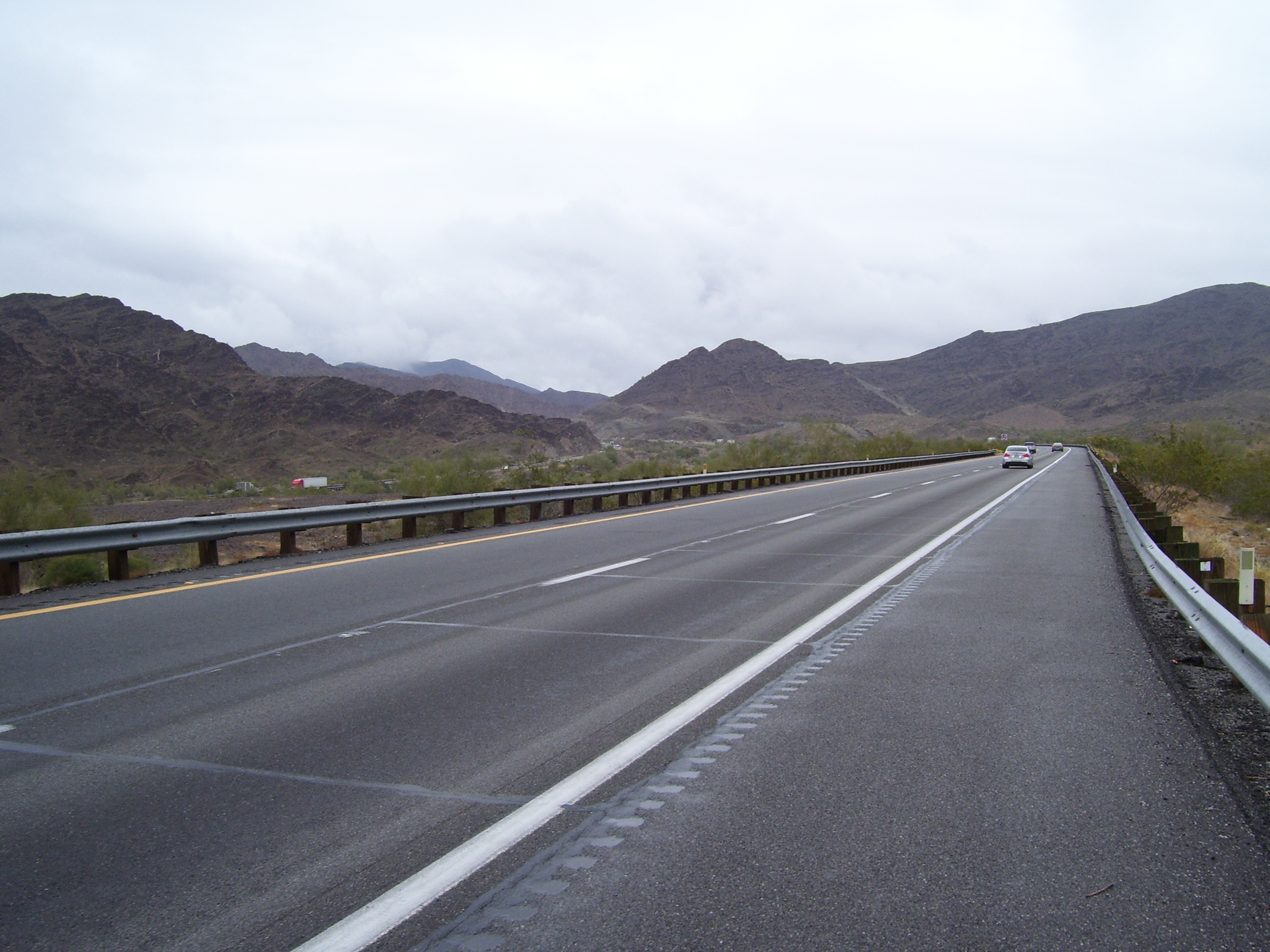 A view off to the right at some of the more interesting mountains, which I've been told are actually former volcanoes. Notice the low rain clouds nearby. Stupid rain!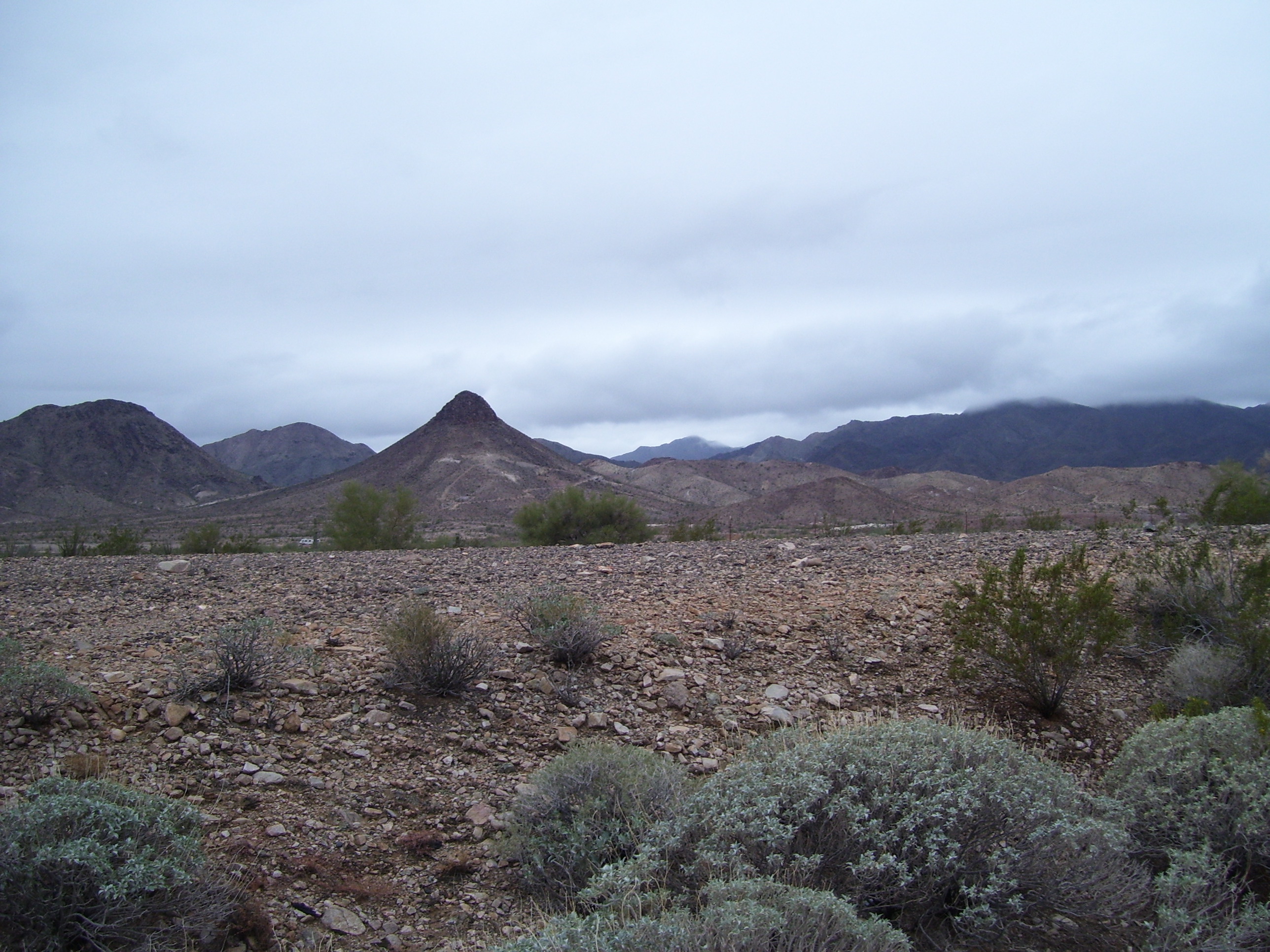 Another view of the cloud-topped mountains plus some of the typical boring vegetation. This picture was taken right where I had my flat tire for the day.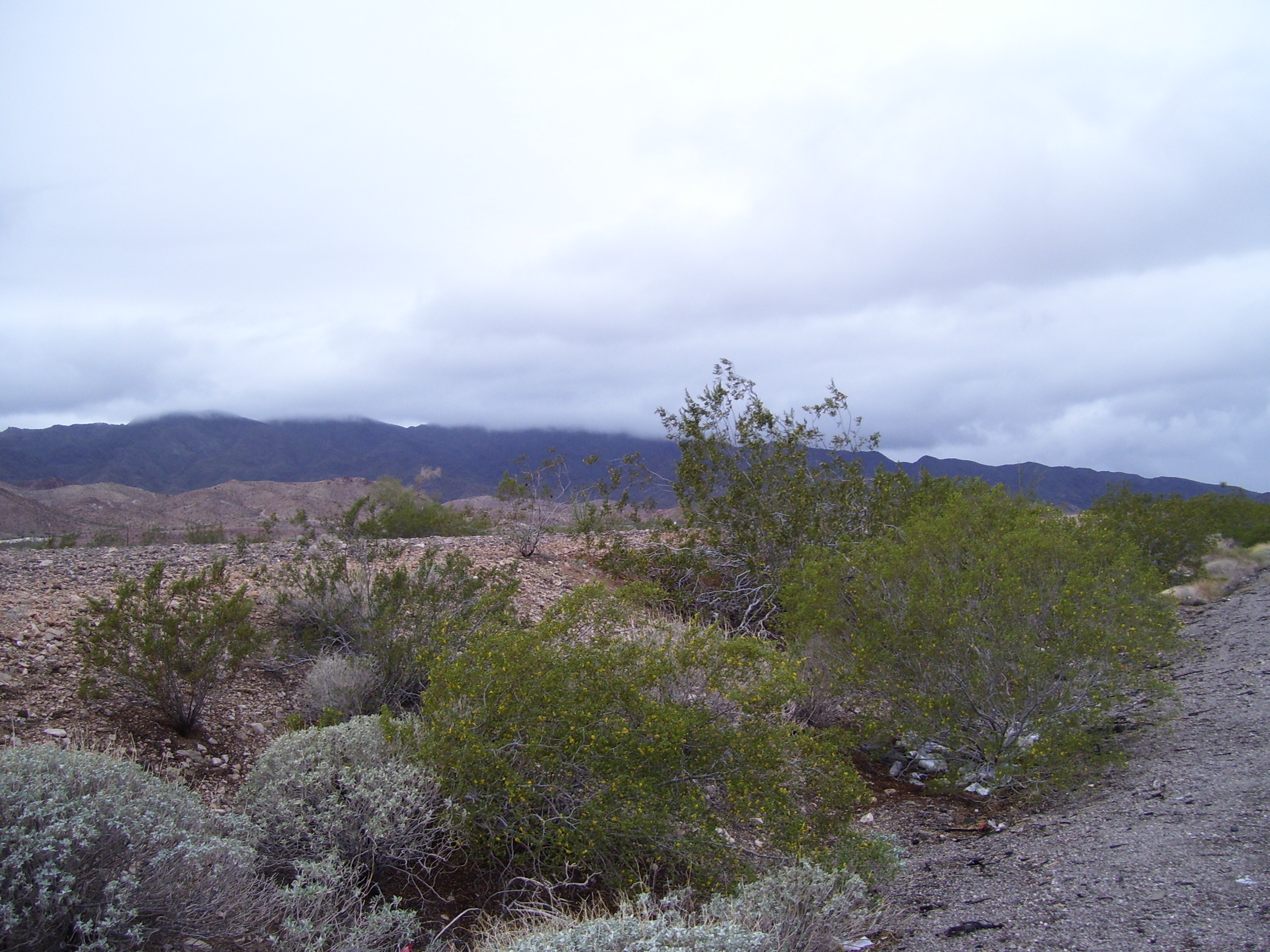 Sadly, the flat was just a couple of miles before the exit which took me to Quartzsite (the spelling threw me at first, as it wouldn't come up on a Google search). I'm not sure of the significance of the camels, except that they're everywhere in this town. Oh, and there's a geocache hiding spot in this photo...not too hard to pick it out, really.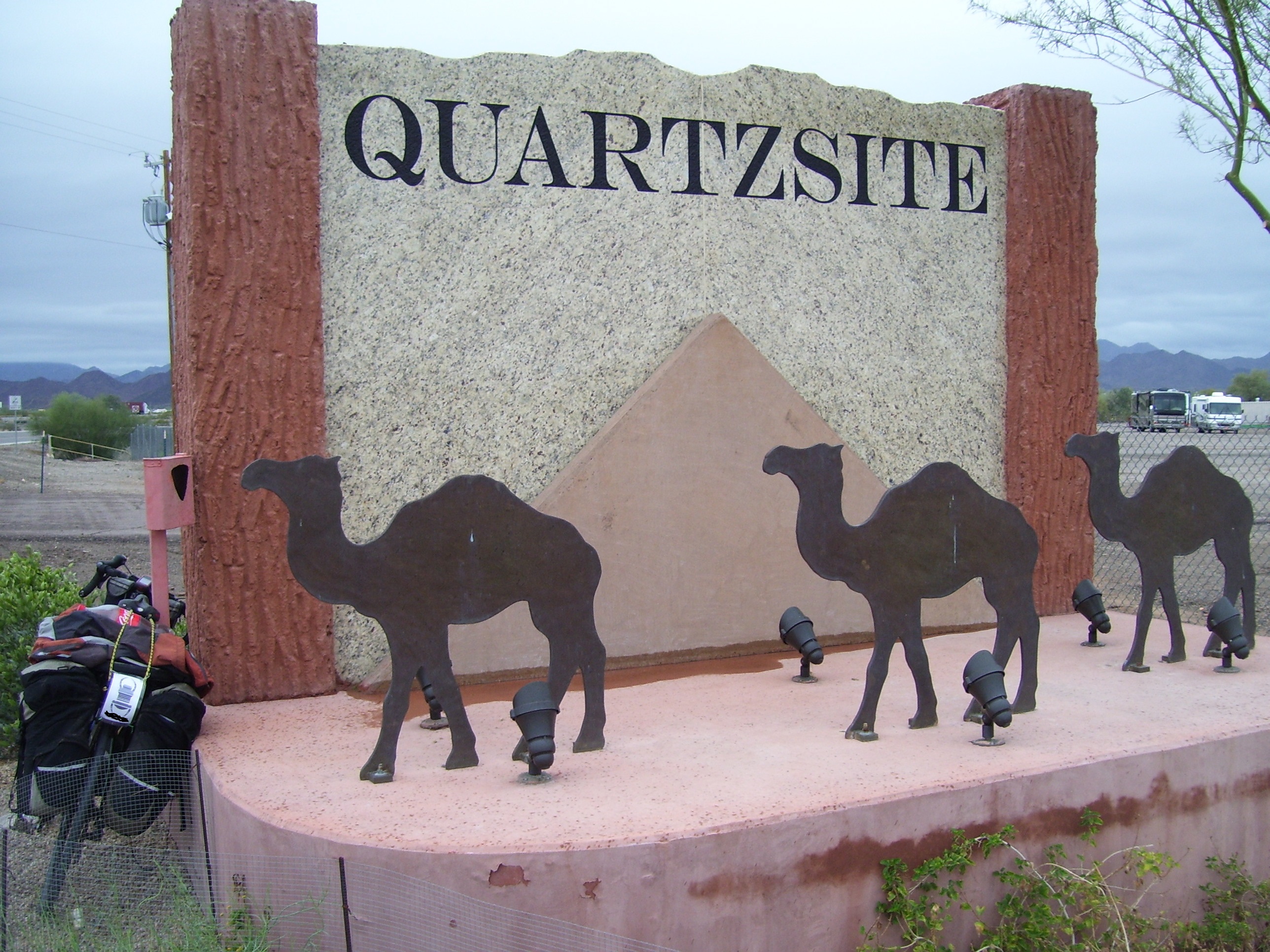 Riding around town a bit I encountered this interesting looking museum...too bad it's closed on Sunday (along with Monday and Tuesday, apparently). If you zoom in, though, you can read the interesting historical info on the sign.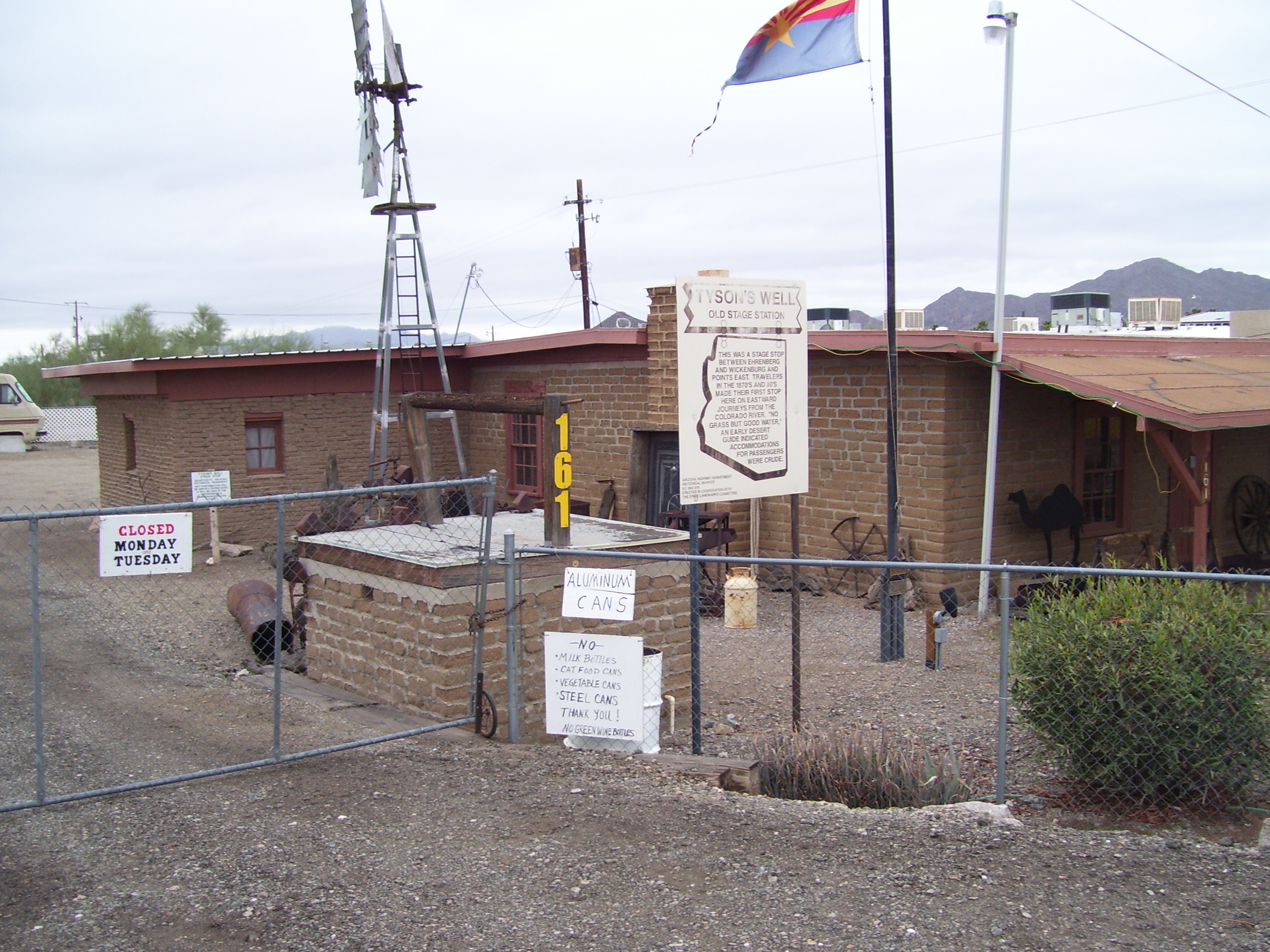 Here's a particularly pretty cactus formation I ran into while geocaching around for about an hour. There were cacti everywhere but this was the nicest one I came across.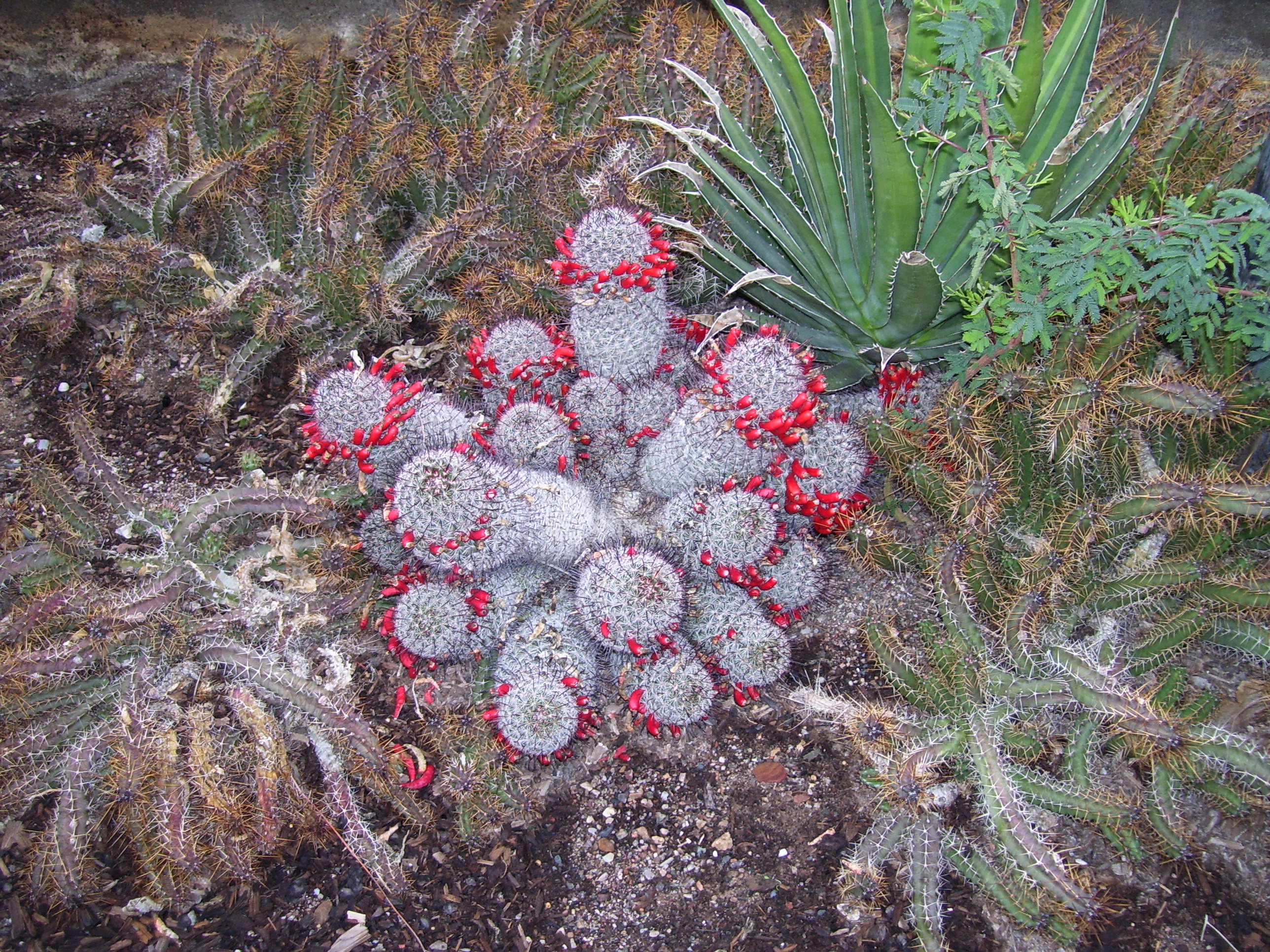 Finally, this is where I'm staying tonight...I had the proprietor click a photo of me in front of my "hotel room." I still can't believe I lucked into this one. It's very comfortable, though, with hot water and cable and everything. Plus the wi-fi's actually better than any of the hotel stays I've had so far.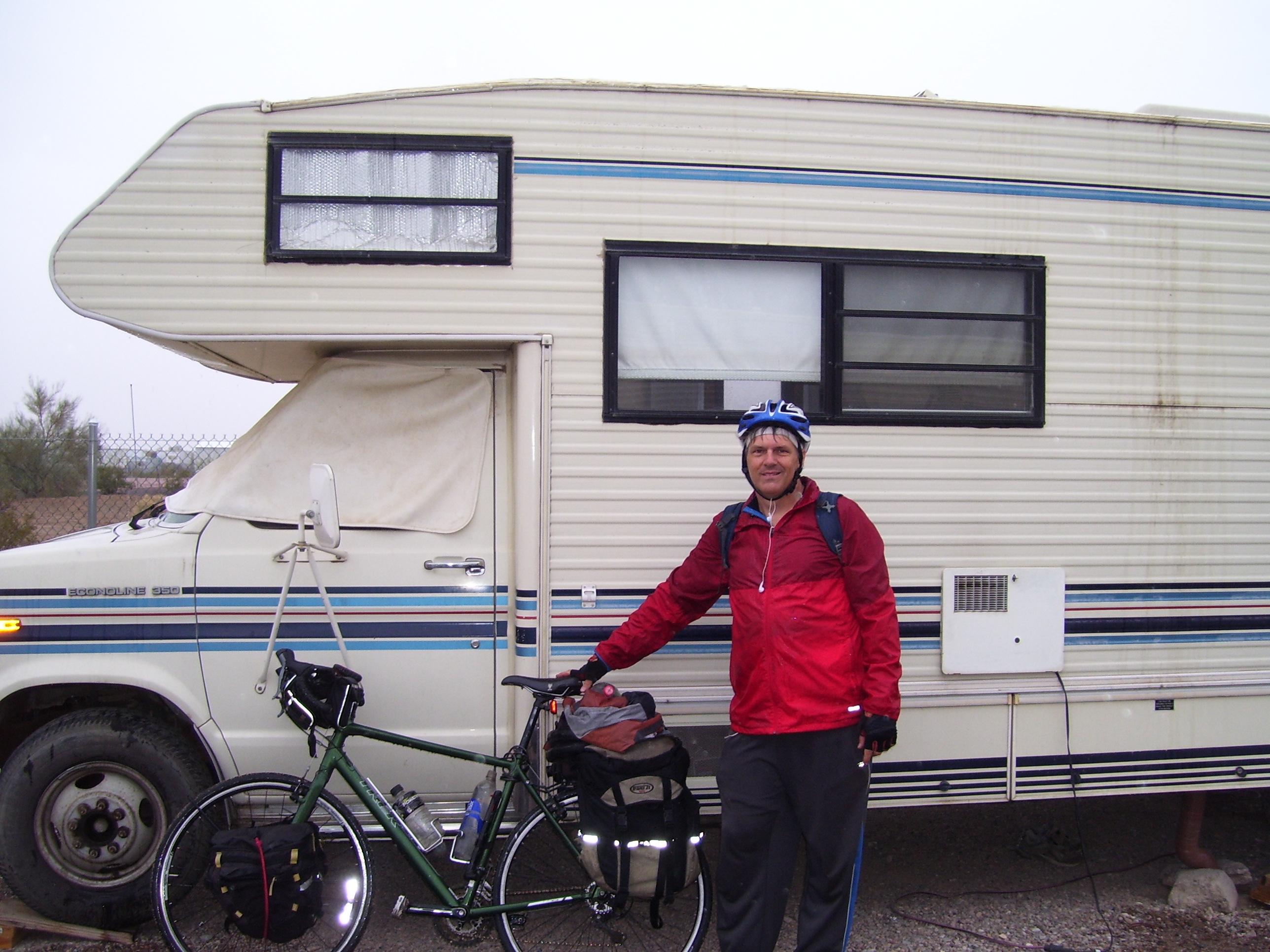 One last shot of the interior, just for the record. The bike fit inside, barely (I did put some towels down so as to not dirty up the carpet too much), although you can't see very much of it since it's covered with all my wet stuff that'll hopefully dry up overnight.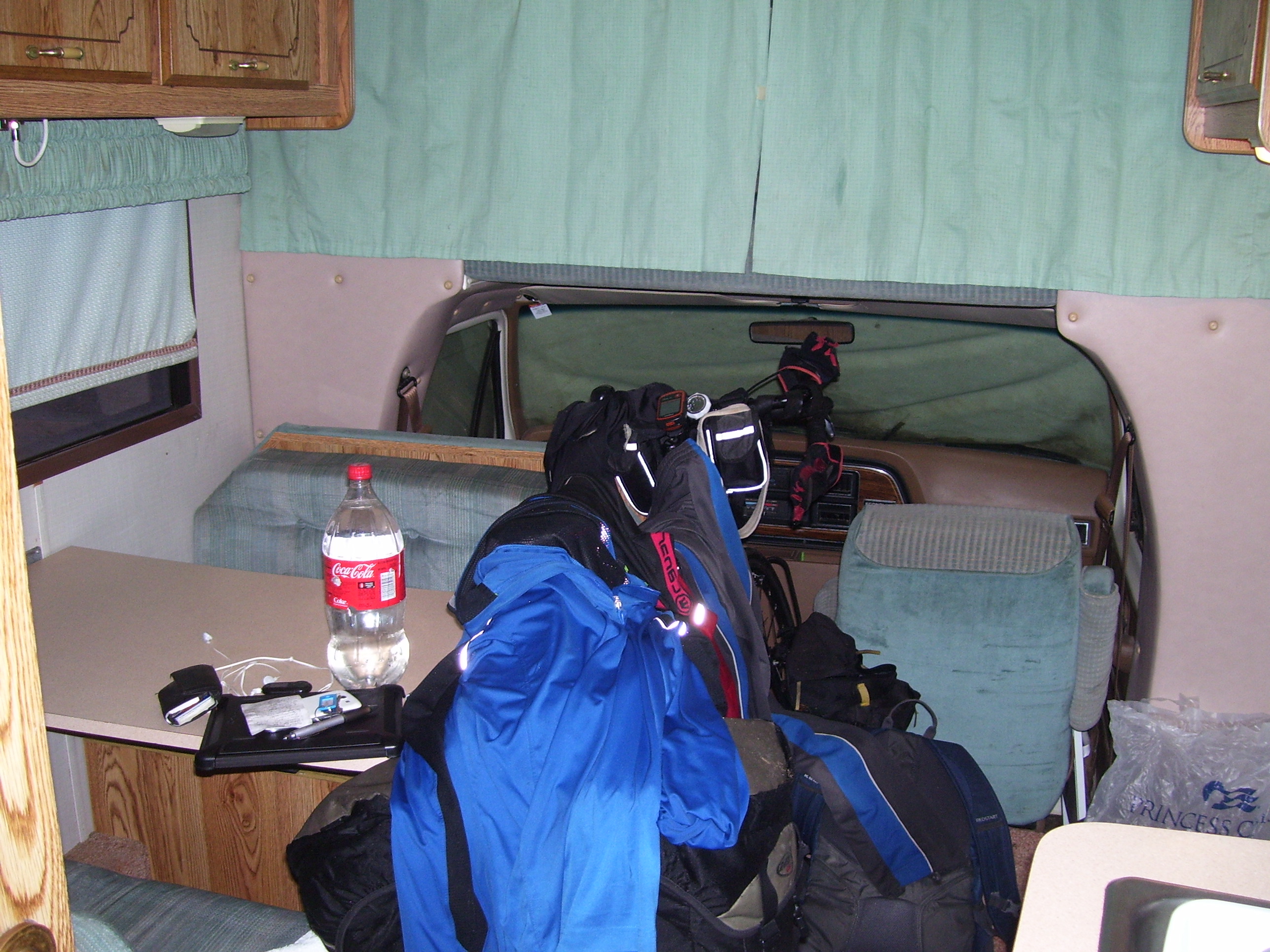 And that's it for today. I'm heading to bed early again, hoping to get started quickly tomorrow so I'm not still on the highway after dark. If I can avoid getting too many more flats, I should be okay.