Day 6 - March 3, 2015
Tonopah to Phoenix
Miles: 64
Terrain: Just a few minor ups and downs
Weather: Warm and pleasant, light south crosswinds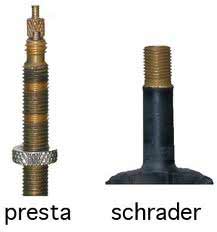 Yesterday's air pump blowout left me worried all night, especially with no internet or phone service to speak of, so I couldn't even look for hotel or bike shop options until the morning. Of course the glue job didn't work on the pump so it went right into the trash, and I headed out after waking up, on foot with my front wheel in hand, hoping to find someplace to get air. There were some gas stations back by the interstate but they weren't much help since my tires use Presta valves, not Schrader. (see picture) The pump I was using would work with the Presta type, but most common air pumps won't unless they're designed for bicycling. I had an adapter, but it wouldn't fit for some reason, and any attempt to jam it on there just let all the air out and threatened to break the flexible tip at the end of the valve. So after wandering around an RV park for a while asking people if they had Presta capable pumps, which they didn't, I wound up back at one of the gas stations, where I managed to hold the adapter onto the valve stem long enough to get maybe 10 psi in the tube. Not much, but since it's the front wheel (which holds only a fraction of the weight the rear carries, which is why most of my flats have been on the rear), it would have to do.
With that taken care of after quite a lot of walking (the hotel was not exactly right on the highway offramp, sadly) I set off, riding very slowly and doing what I said I would...namely, counting down the miles. Someone had informed me that I could find a Walmart about 16 miles down the road, which turned out to be more like 25 miles, and if nothing else I figured I might find a cheap pump there that could get me started. 12 miles down the road I came to an exit with a truck stop, where I had lunch and got on the net, where I scouted out a bike shop location about 10 miles past the Walmart. The problem here was this: I didn't want to leave the bike locked up in front of a store like that, where someone could steal it while I wandered around inside. In fact I really don't want to ever leave the bike out of my sight, quite frankly. I read a blog another cyclist wrote about having his touring bike stolen in Phoenix while on a cross-country ride, and now I'm paranoid about that, so the bike stays in view at all times.
So anyway, as I counted down the miles, praying for no more flats, I decided to stop at Walmart only if forced to. Once I got that far I'd be off that accursed freeway anyhow and the surface roads would surely be less trying (seeing as all my flats so far have been on the highway, it seemed a fair bet). Much to my surprise I actually managed to get all the way to my exit (#117) without any incidents, and so I just kept on going. When I finally reached the bike shop, it was permanently closed, so then I had to endure another 8 more miles to the next shop, fretting the whole time because a single flat would ruin my day. Every bump and rock I hit made me check nervously to see if I could hear any hissing or feel the rim bumping the street.
When I finally rolled into that bike shop parking lot I was quite relieved, that's for sure. I didn't mess around with one of those weak hand pumps, either, I bought a lightweight floor pump that now sticks out of the back of my right-hand pannier. (I'm going to have to attach a flag or something to it, actually.) While there I also stocked up on tubes and got a couple of patch kits, plus a spoke wrench so I can finally adjust that front wheel. With the tires now at a comfortable 80 psi the rest of the day went quite smoothly. I could've gone farther, but it got dark, and riding around a big city at night is not advisable. Celebrated with some Chinese takeout and that's that.
Not many photos today as the terrain didn't change much, but here are a couple of good ones. First off, this sign in Tonopah made me do a double take, until I realized just enough of it was hidden to disguise the missing letter.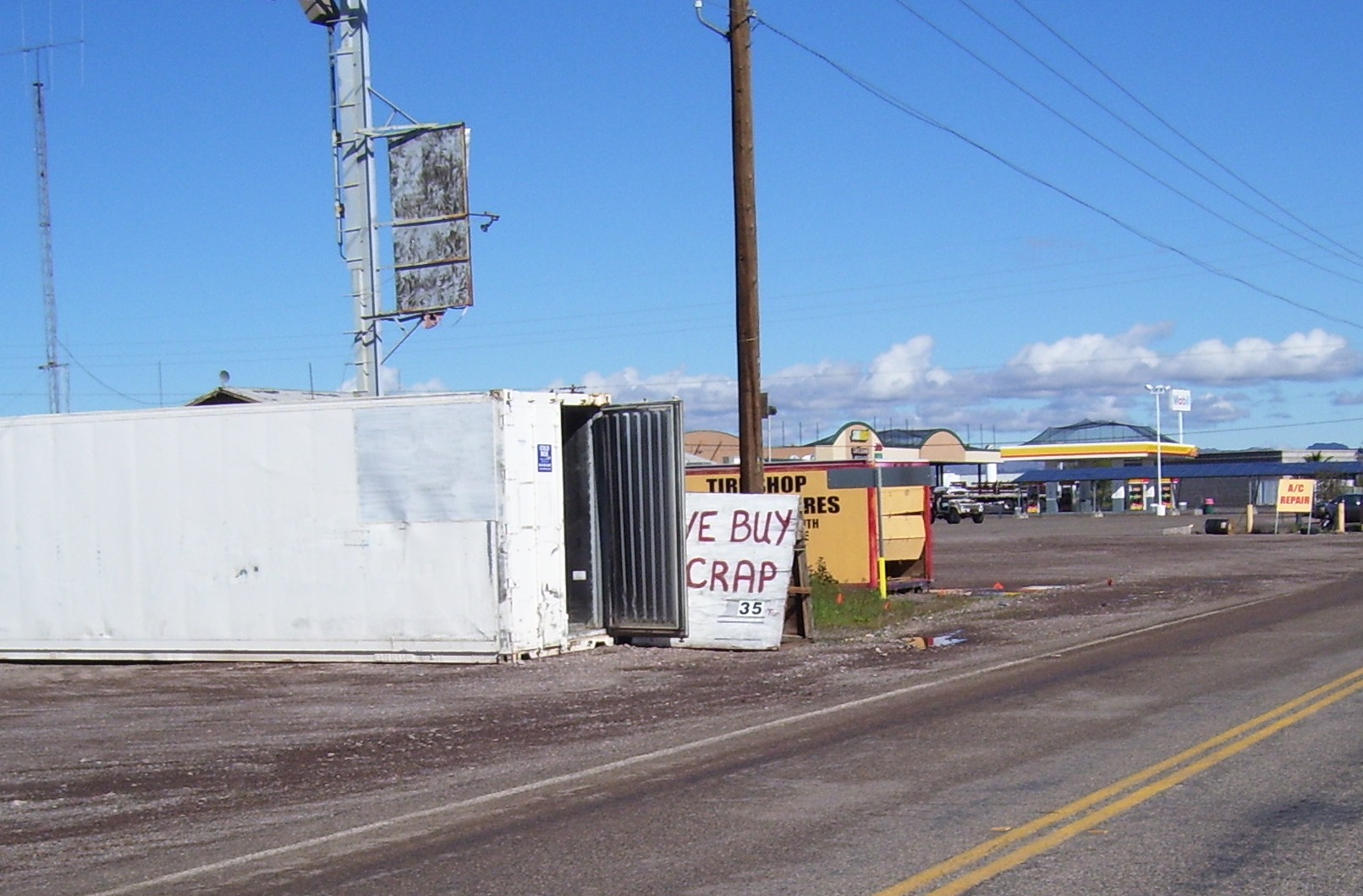 While taking a break along the side of the road I took a shot of these wildflowers growing right next to the freeway. It's starting to get a little less arid, I guess...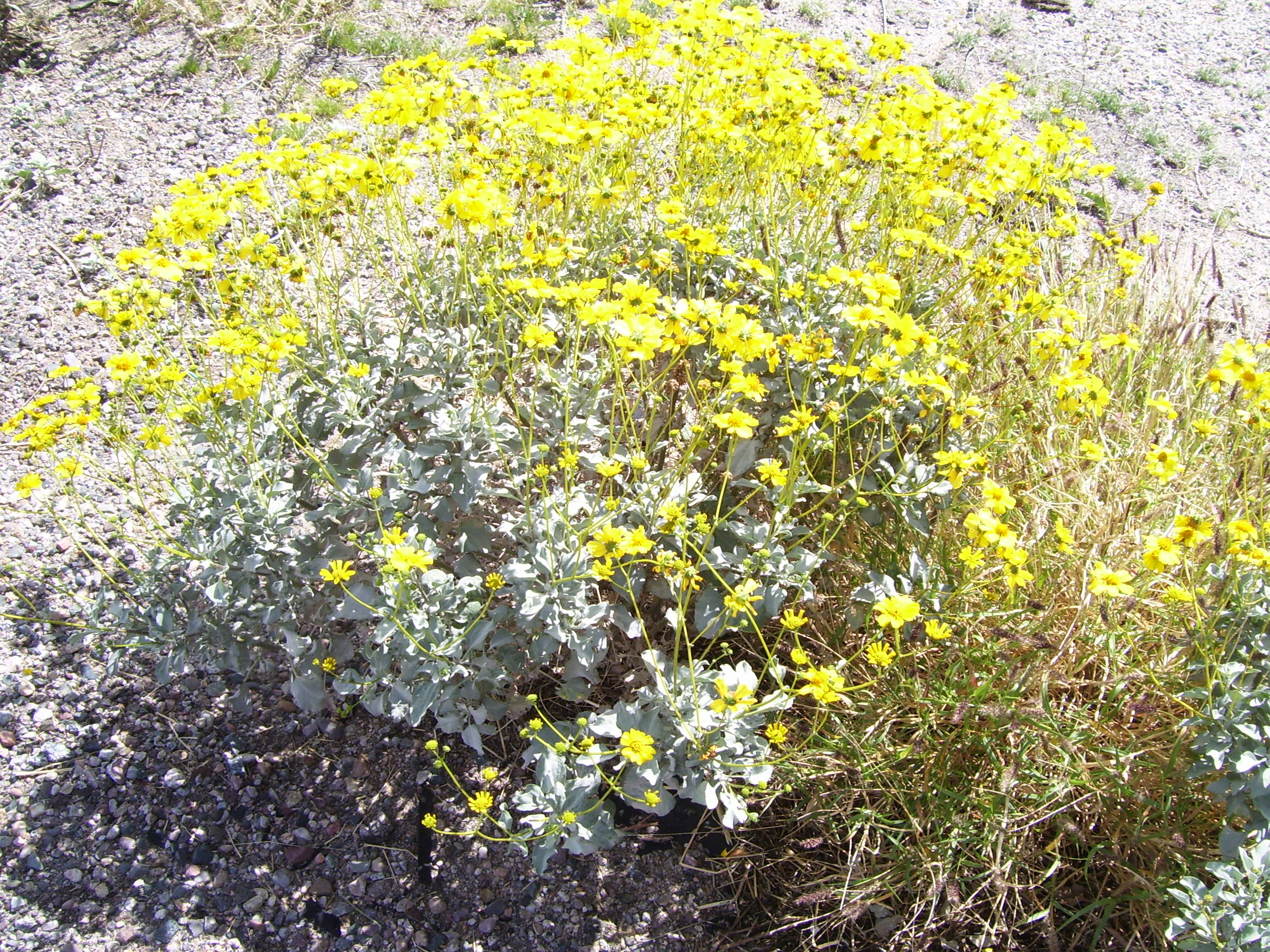 Or is it? Nope, still arid. This is typical of what I saw today for the 25+ miles I spent on the freeway. Nothing else to see, really.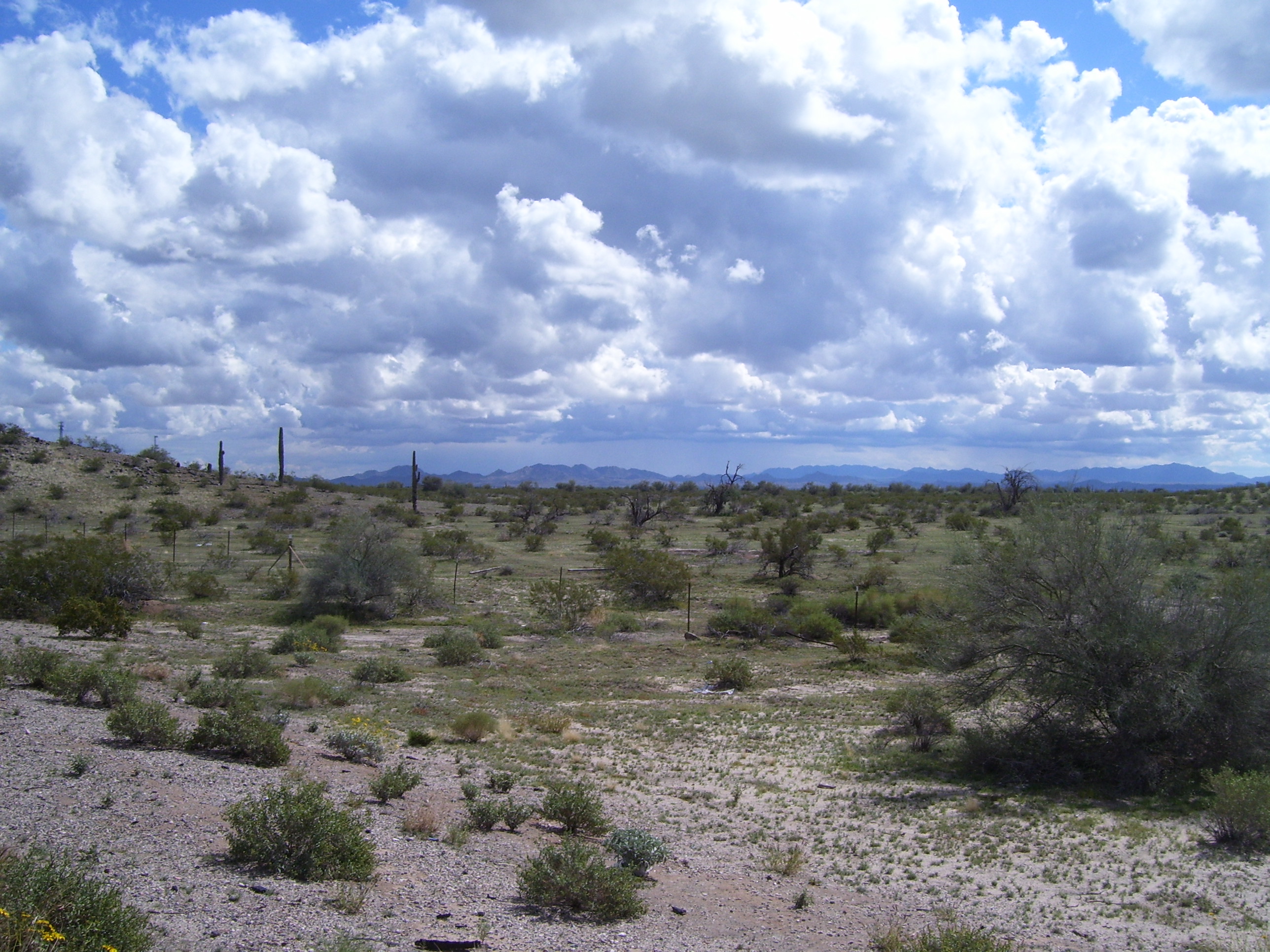 There were some nice mountains in the distance to my left, at least.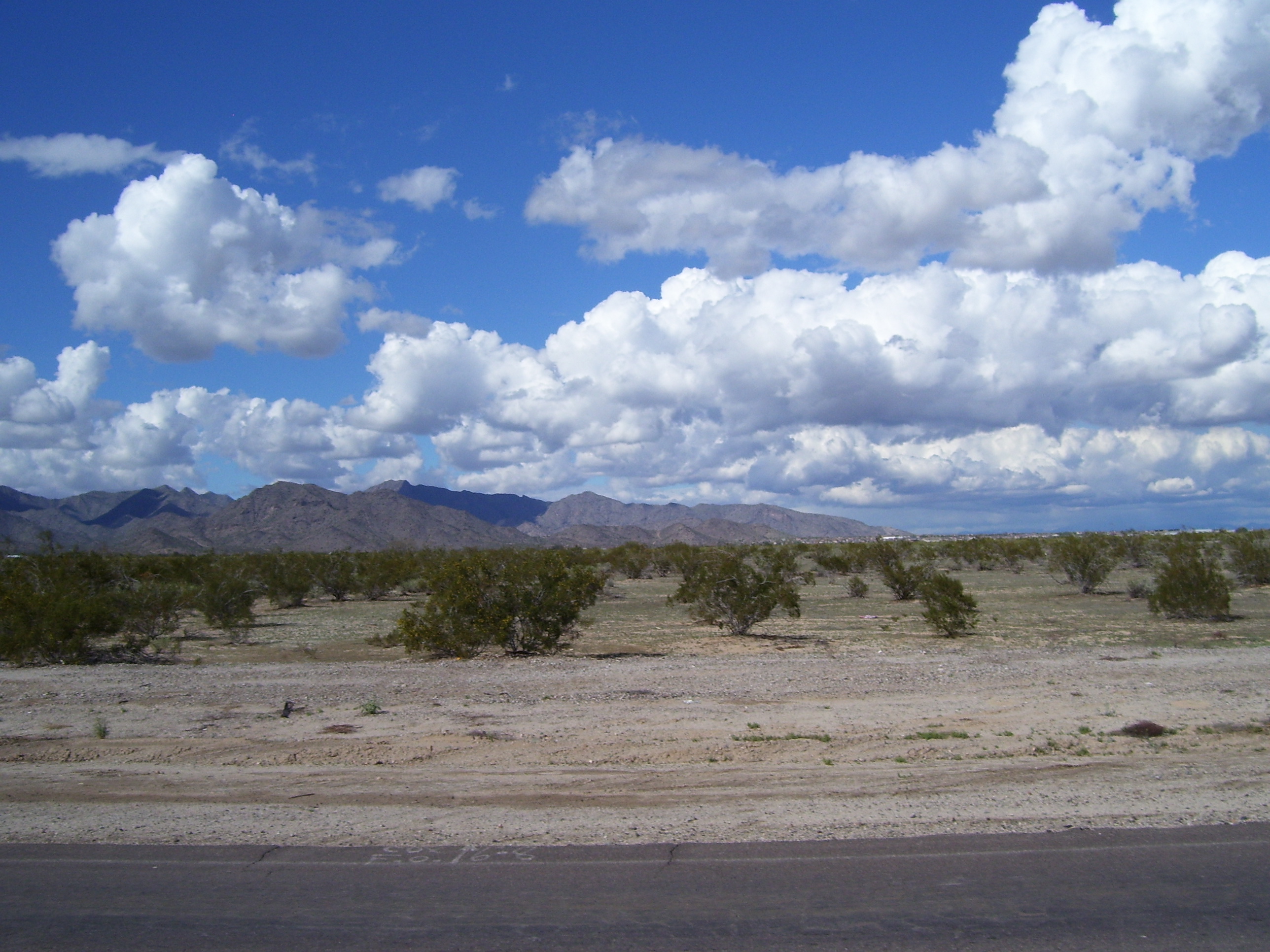 As I started to enter the suburbs of Phoenix (a town called Buckeye, actually...I like that name for some reason), I found quite a few farms surrounded by loads of irrigation. A storm menaced the horizon for a while, but never came my way. That's as close as I got to rain this afternoon.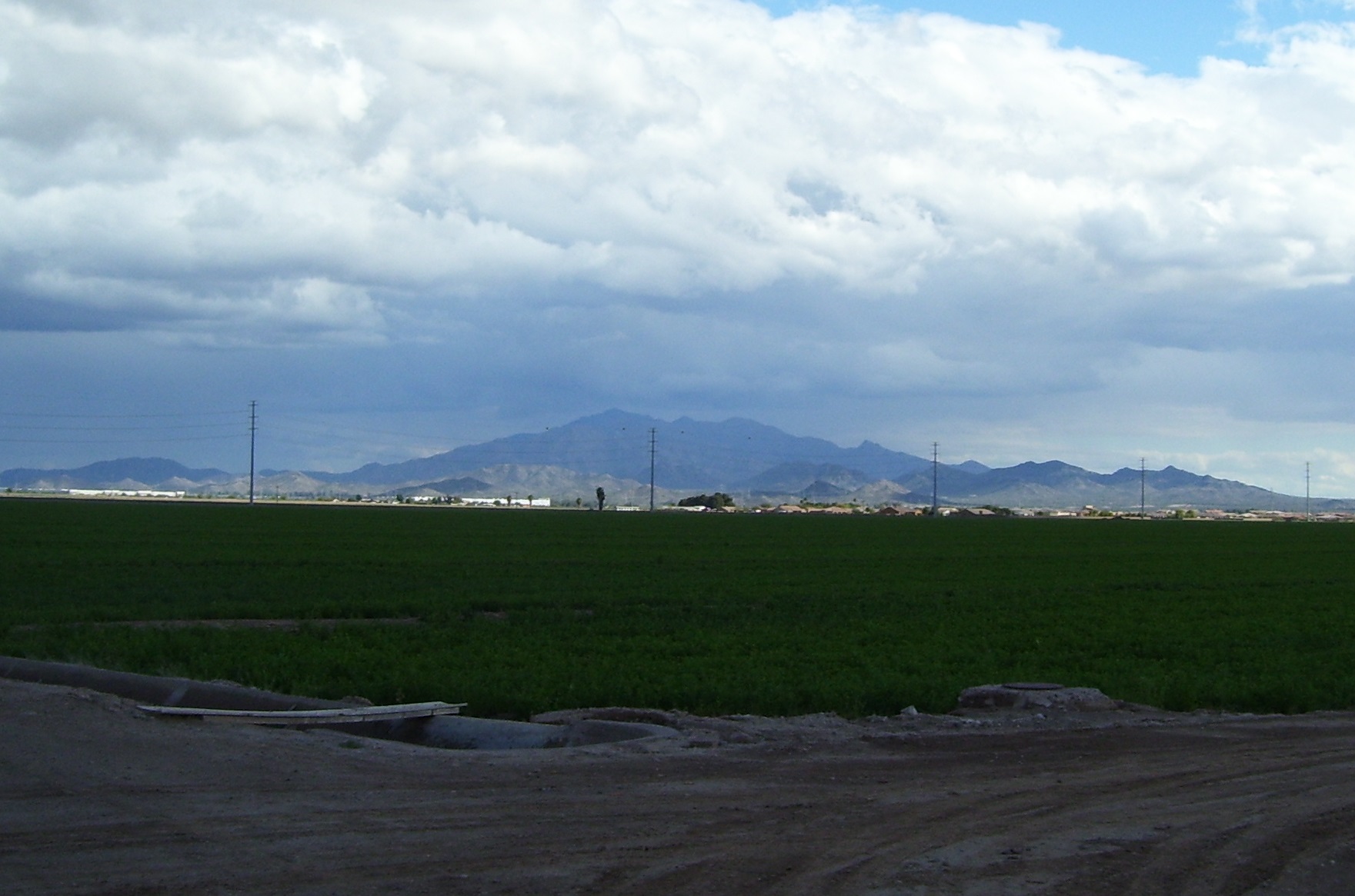 Here's a look at the supplies I collected at the bike store: One brand-new floor pump (can do either Presta or Schrader valves), three new tubes, two patch kits, and a spoke wrench in a pear tree.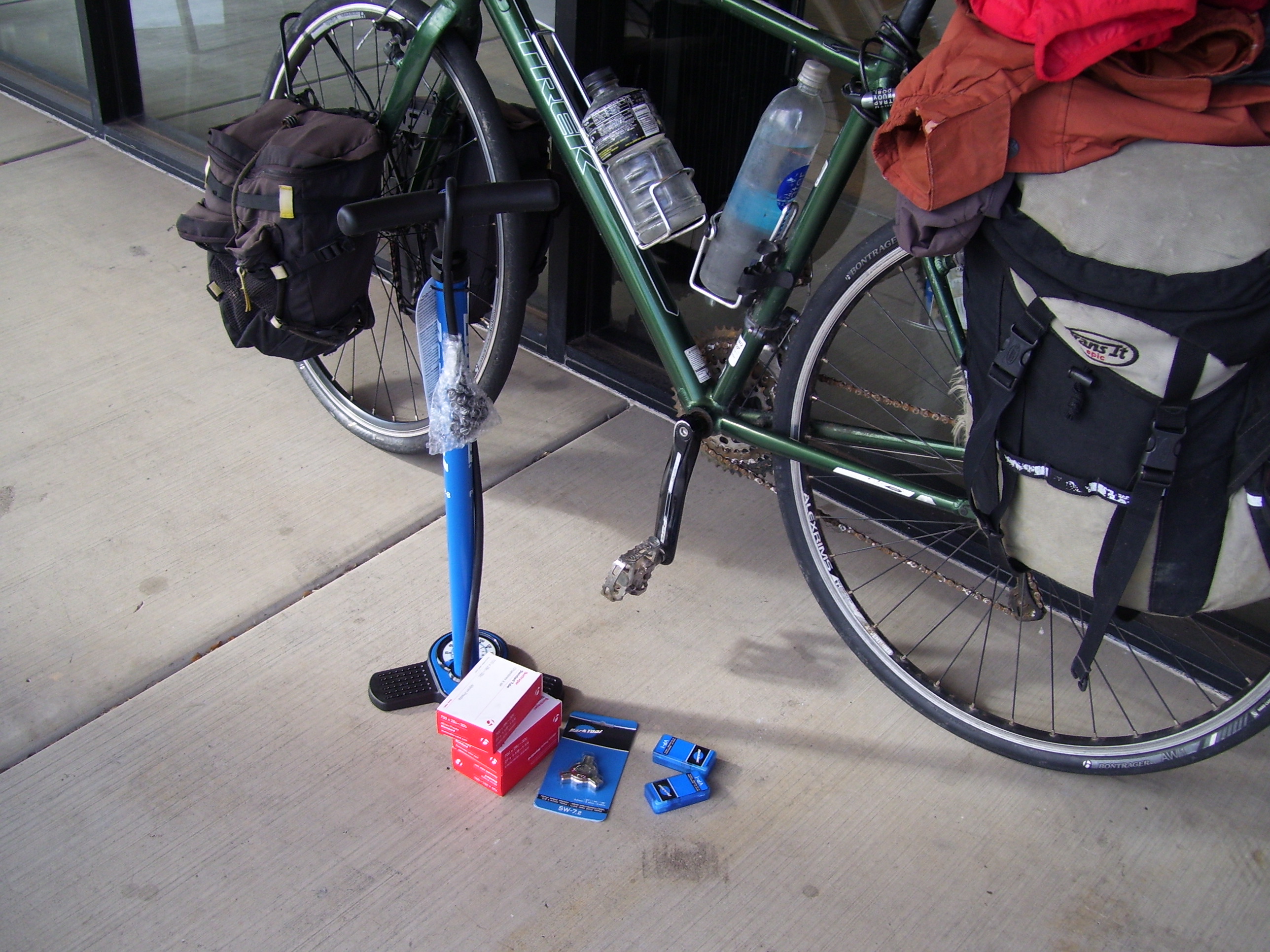 This is the bike shop...quite a busy place, with four repair techs busily fixing bikes nonstop in back, but not so busy they couldn't hook me up and listen to my story for a few minutes. It's nice to find a Trek store, too, seeing as I'm riding a Trek.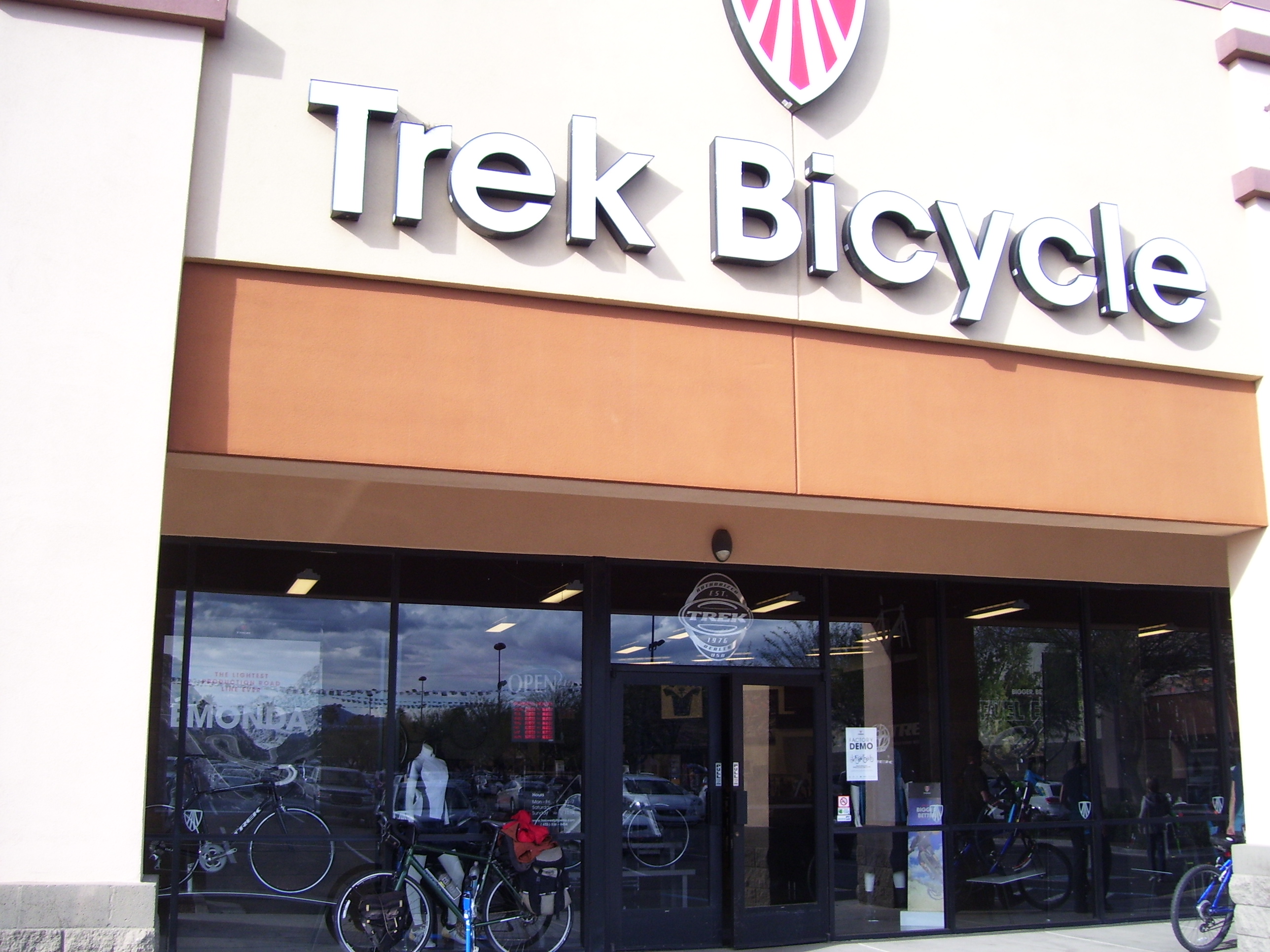 After this the next 20 miles or so went through just your typical urban areas so nothing really interesting to photograph. I got to the hotel just after 7:30, a little later than I would've liked but the first part of the day took a long time, thanks to the underinflated tires. You just have no idea how much better it is now. I seriously could've done another 20-30 miles today if I had the light. Not that it matters much, though. Tomorrow will just be an easy touring day as I explore Phoenix for a bit, and then stop somewhere on the east side, in position for what's sure to be the toughest day of the ride so far...a 75-mile climbfest to Payson the day after tomorrow. Ouch!