Day 7 - March 4, 2015
Phoenix to Mesa (Touring Day)
Miles: 34
Terrain: Flat, urban streets
Weather: Warm and clear, no noticeable wind
This was a tourning and rest day as I get set up for what will be the most extreme climbing days of the tour coming up, starting tomorrow. I've been worrying about the section of route between Phoenix and Winslow for pretty much the entire trip, and in fact trying very hard to come up with excuses to take the easier (and shorter, but less scenic and more dangerous) border route through El Paso. Unfortunately it looks like the weather's going to be okay in Albuquerque by the time I get there so I couldn't get out of it that way. Plus I convinced myself that if I took it easy today, I'll be ready to tackle the hills tomorrow. I doubt it, but we'll see what happens.
Anyway, with that in mind I picked the cheapest hotel near the start of Route 87 (the road I'll be on for the next few days as I meander through the Tonto National Forest (yes, that's its real name) and through Payson on my way to Winslow, Gallup and eventually Albuquerque). Then I set off to meander my way through Phoenix seeing what I could see, in no particular hurry. The terrain was basically flat and easy, the weather was perfect and I had no reason to rush, so it was a wonderful day...a far cry from the challenges of the last few days. In fact it was so easy I even helped another cyclist who was having problems (more on this later) and was glad for once it wasn't me having to get help.
So here are some photos I took while roaming around the Phoenix area today. The first is a great mural I chanced upon while looking for a geocache nearby (it was off to the right of the picture). The Star-Bellied Sneetches is one of Dr. Seuss's best, and whoever painted this captured it perfectly.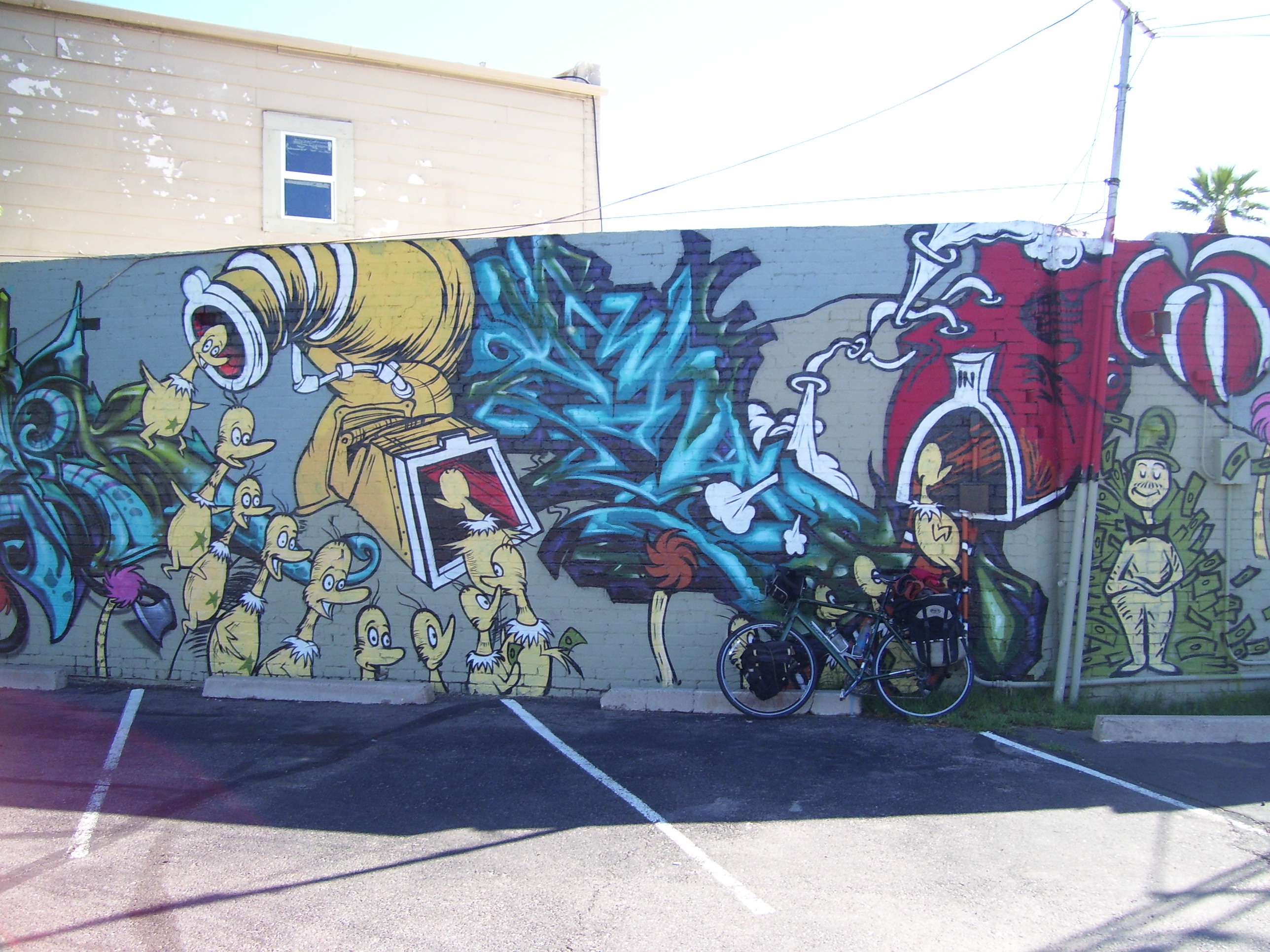 Next I arrived at Arizona Memorial Park, which had a great tribute to the USS Arizona, along with memorials to various wars, fallen Arizona natives, local law enforcement heroes, and so on. The Arizona Memorial features these two guns, a 14-inch one from the Arizona itself (actually it wasn't on the ship when it sank, it had been removed for repairs and eventually wound up on a different ship), plus a 16-inch gun from the USS Missouri. The idea here is that one signified the beginning of WWII (for the USA) and the other signified its end. The Missouri, you'll recall, is the ship on which the Japanese formally surrendered. Oh and there's a bunch of other symbolism going on here, too. Just read the plaque for more details.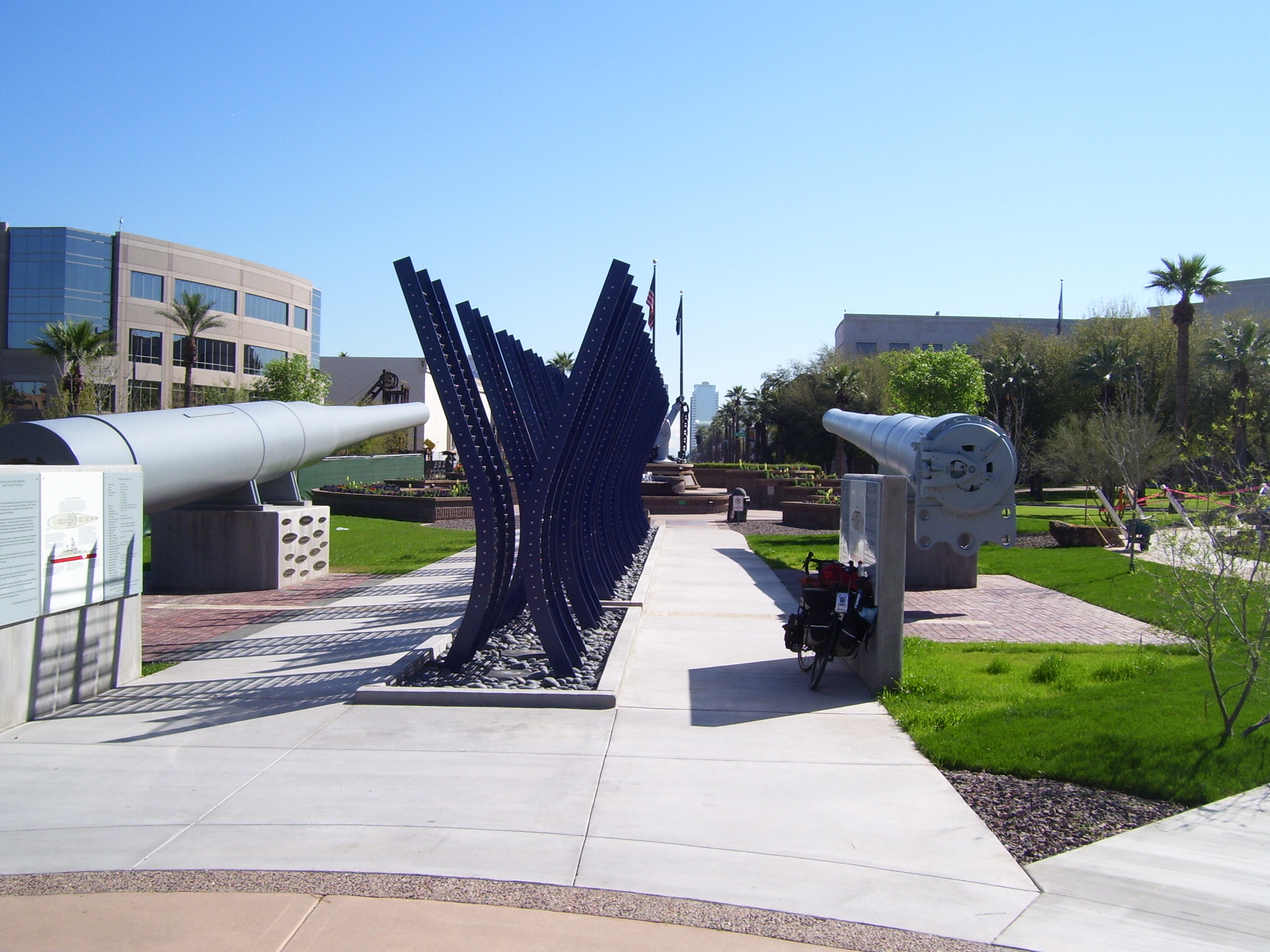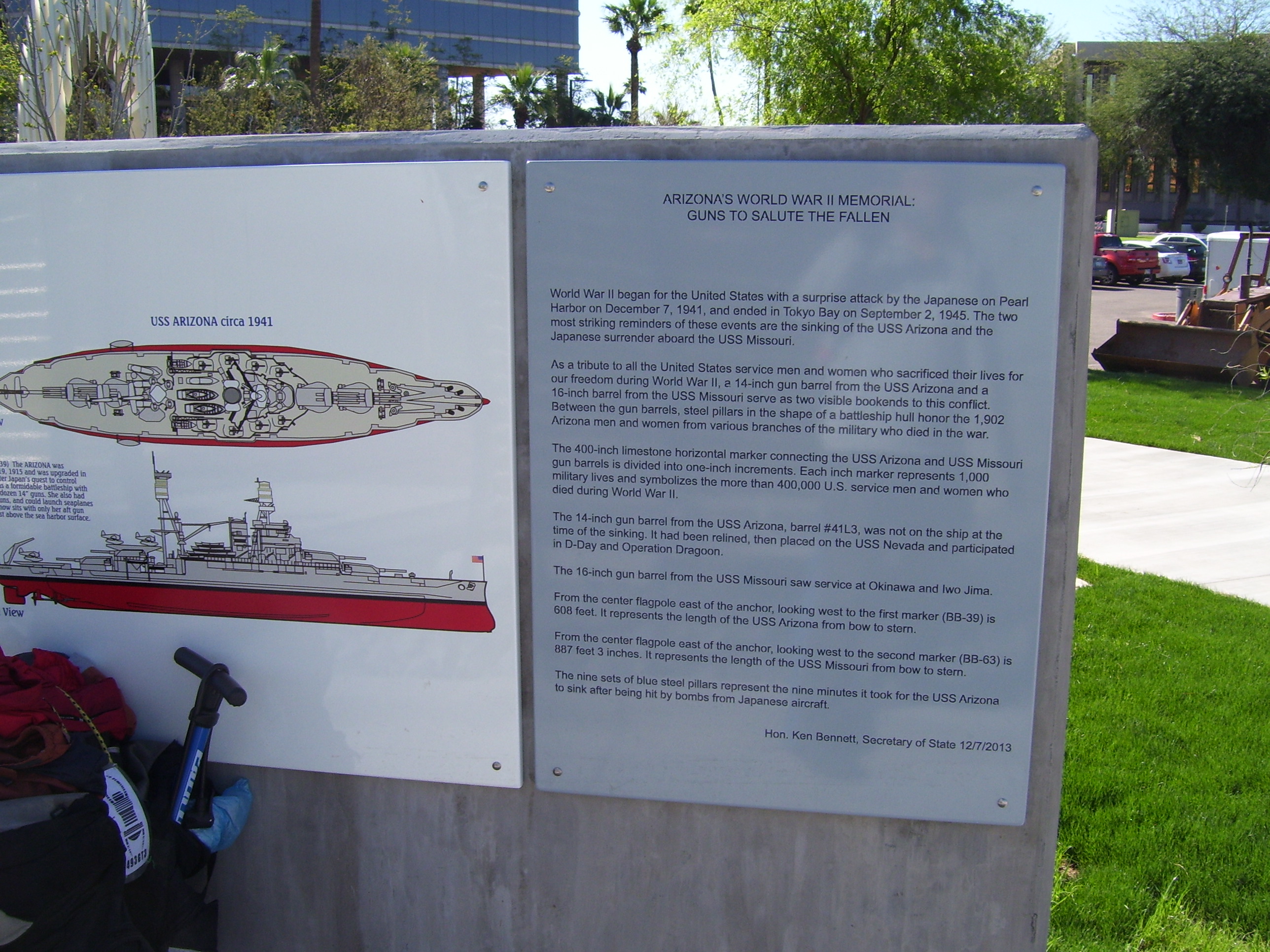 Beyond the guns stands the actual anchor from the USS Arizona. It's really big!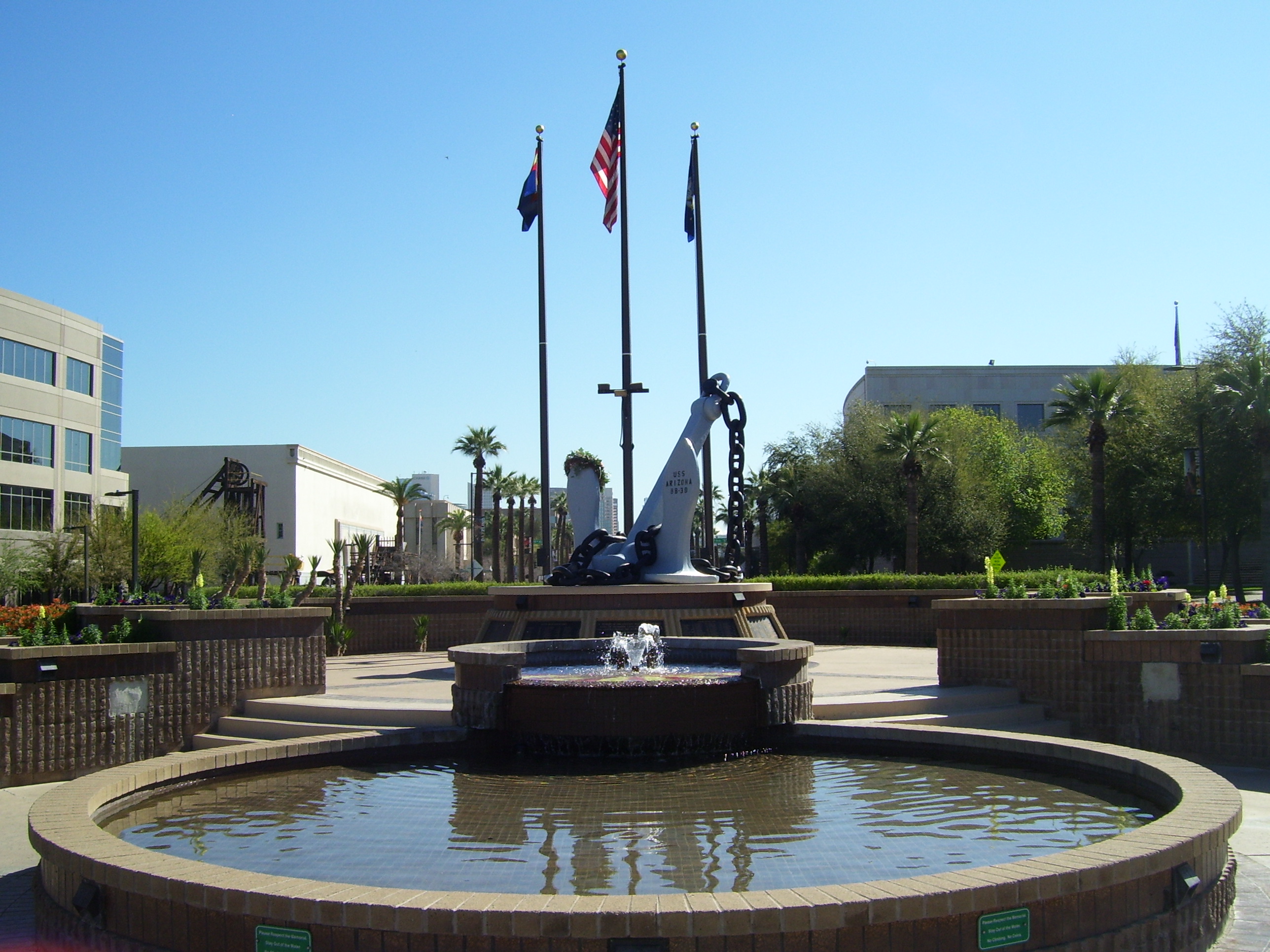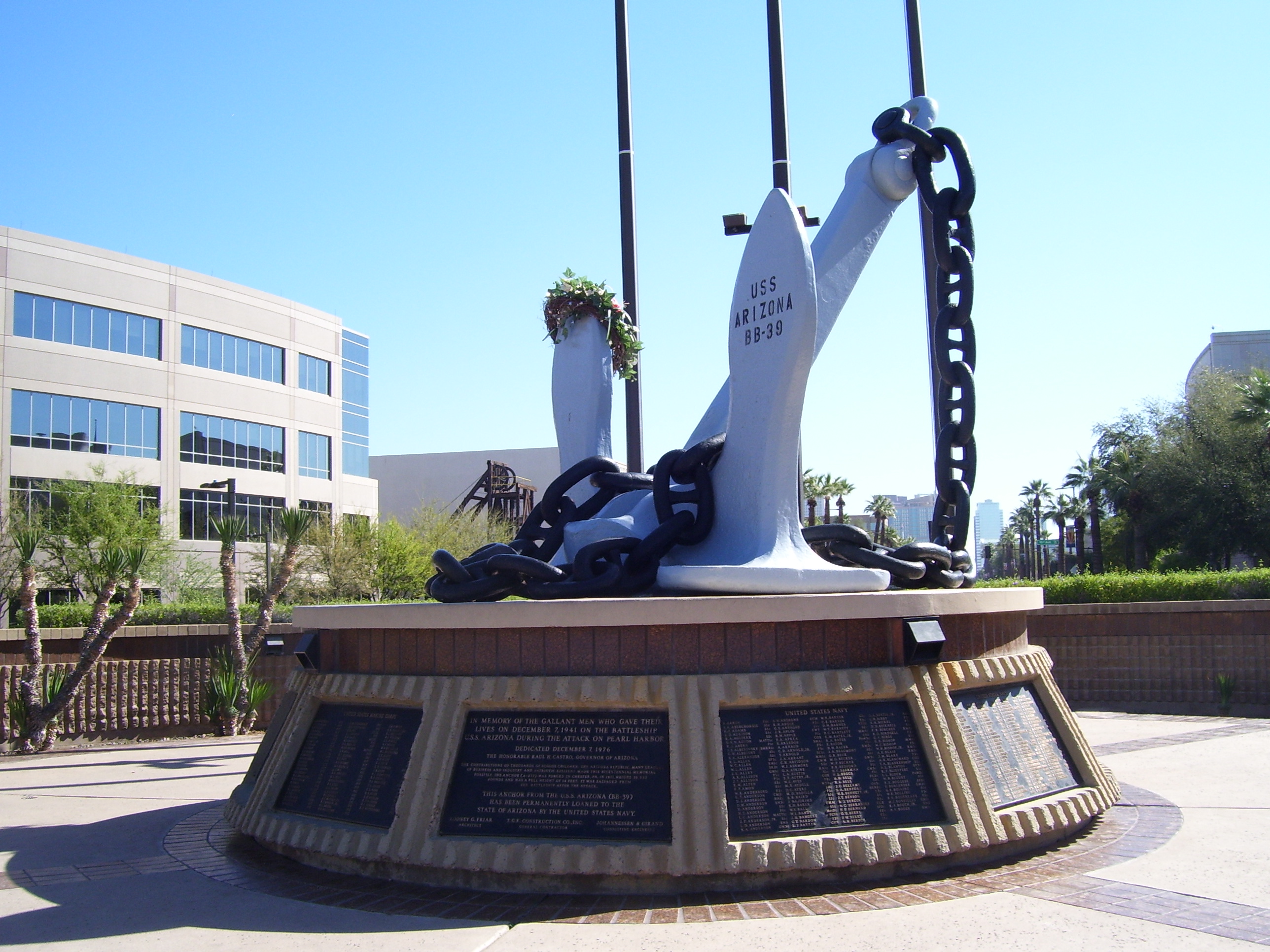 After leaving that I meandered around looking at the other memorials, including this one for the Korean War. An unusual bell, to be sure.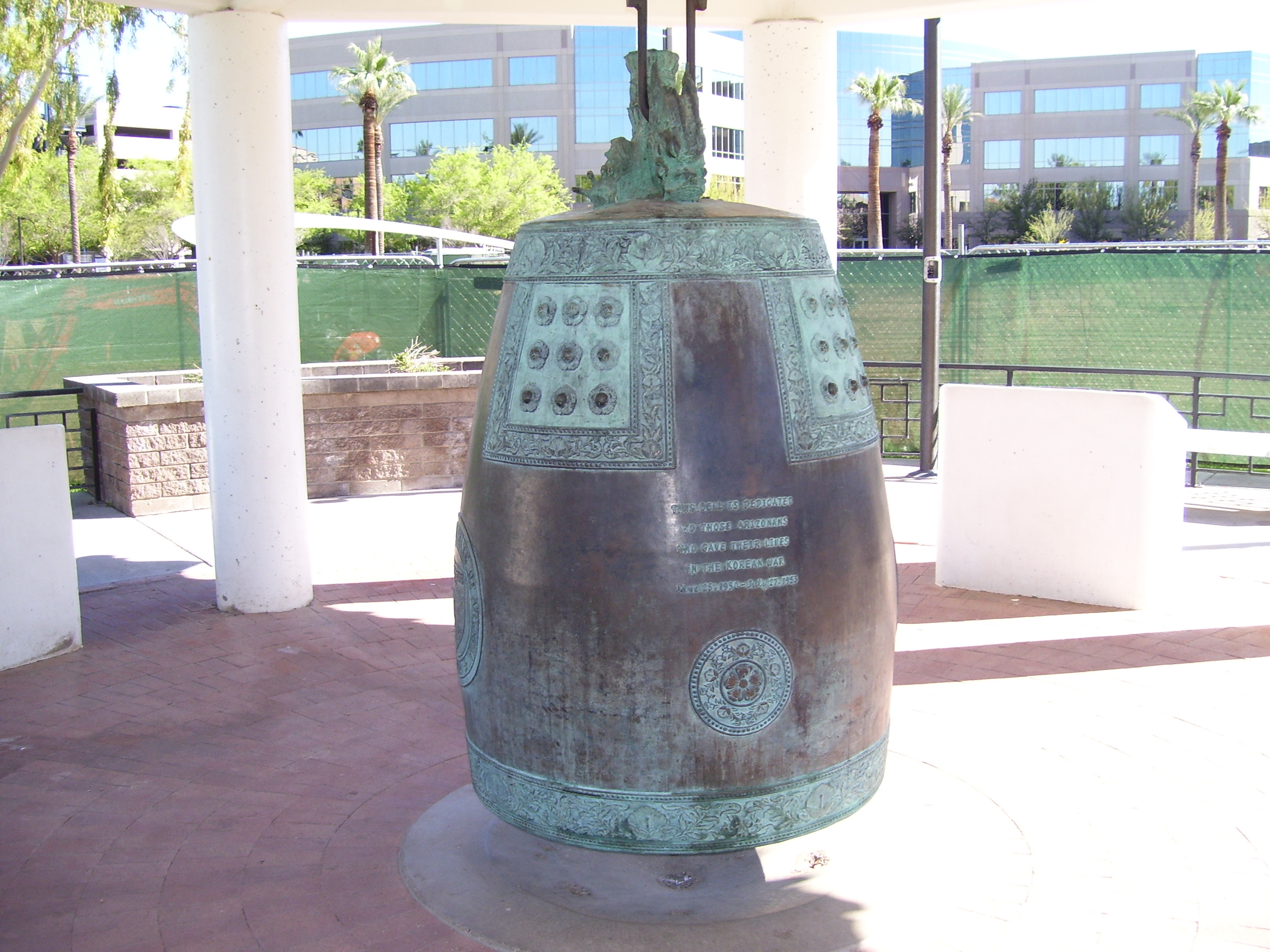 Across the street was the state capitol building, in front of which sat this exact replica of the Liberty Bell. In fact it supposedly will ring with exactly the same tone if struck, not that I have any way of proving that or anything.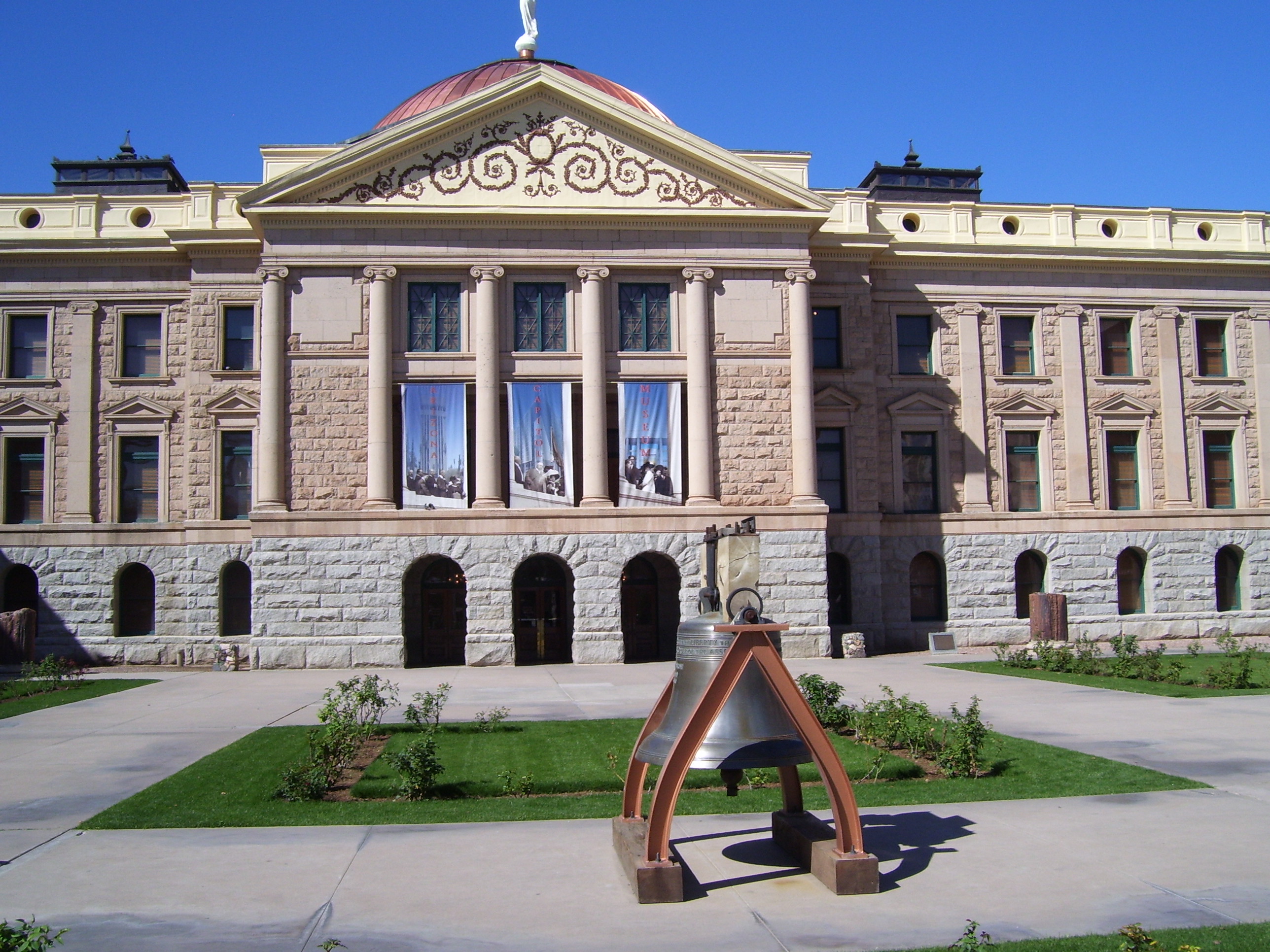 Leaving there, I headed on into Phoenix proper, which looks something like this. Very clean and well designed with lovely bike paths on most of the roads, and palm trees giving it all character. Plus the sky was amazingly clear today. A perfect day for touring. Seriously.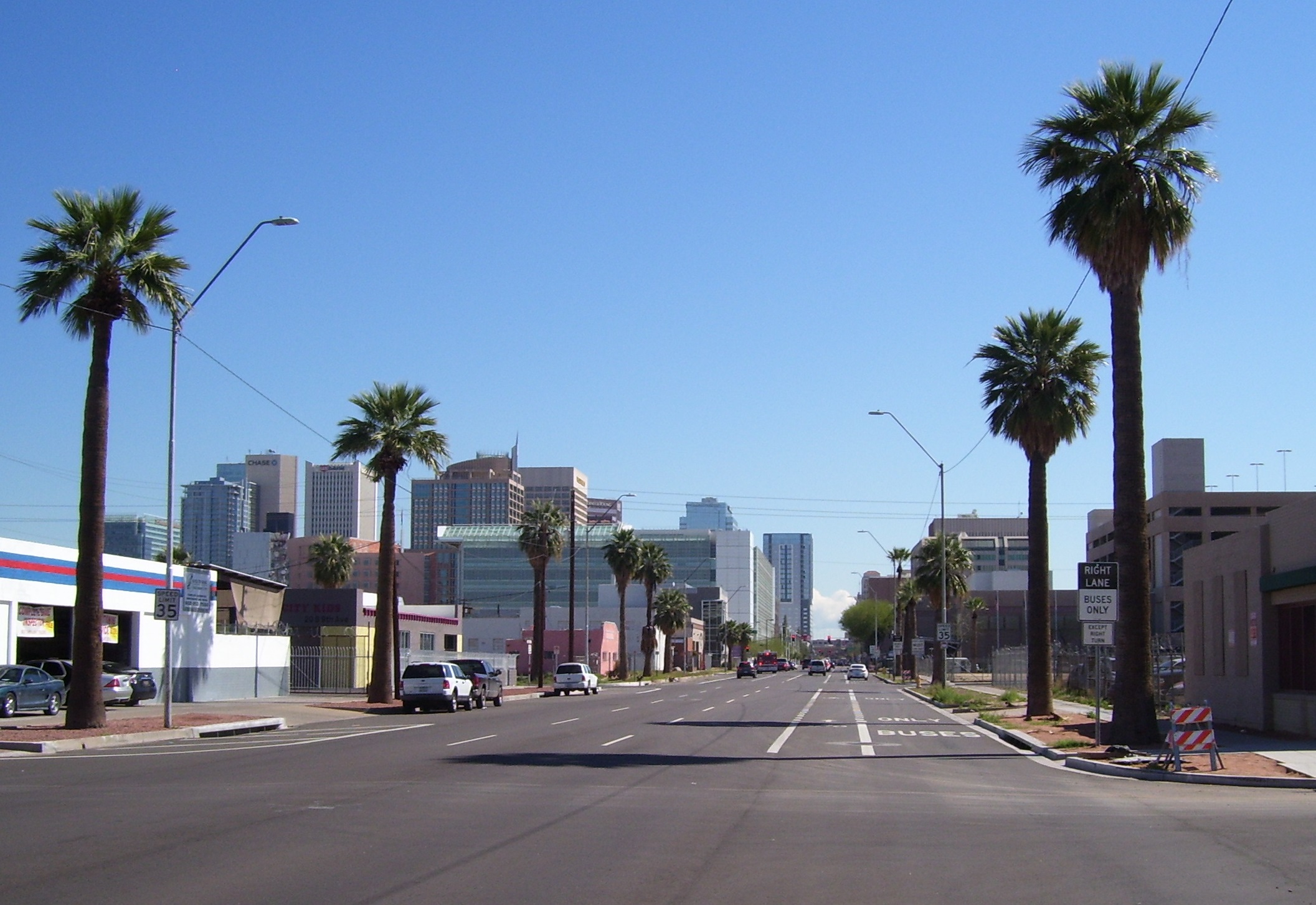 Eventually my ride took me right past the stadium where the Diamondbacks play. I'm starting to develop a habit of taking photos of all the major sports stadiums I ride past on these tours. Notice the name of the street I'm going past. Very nice.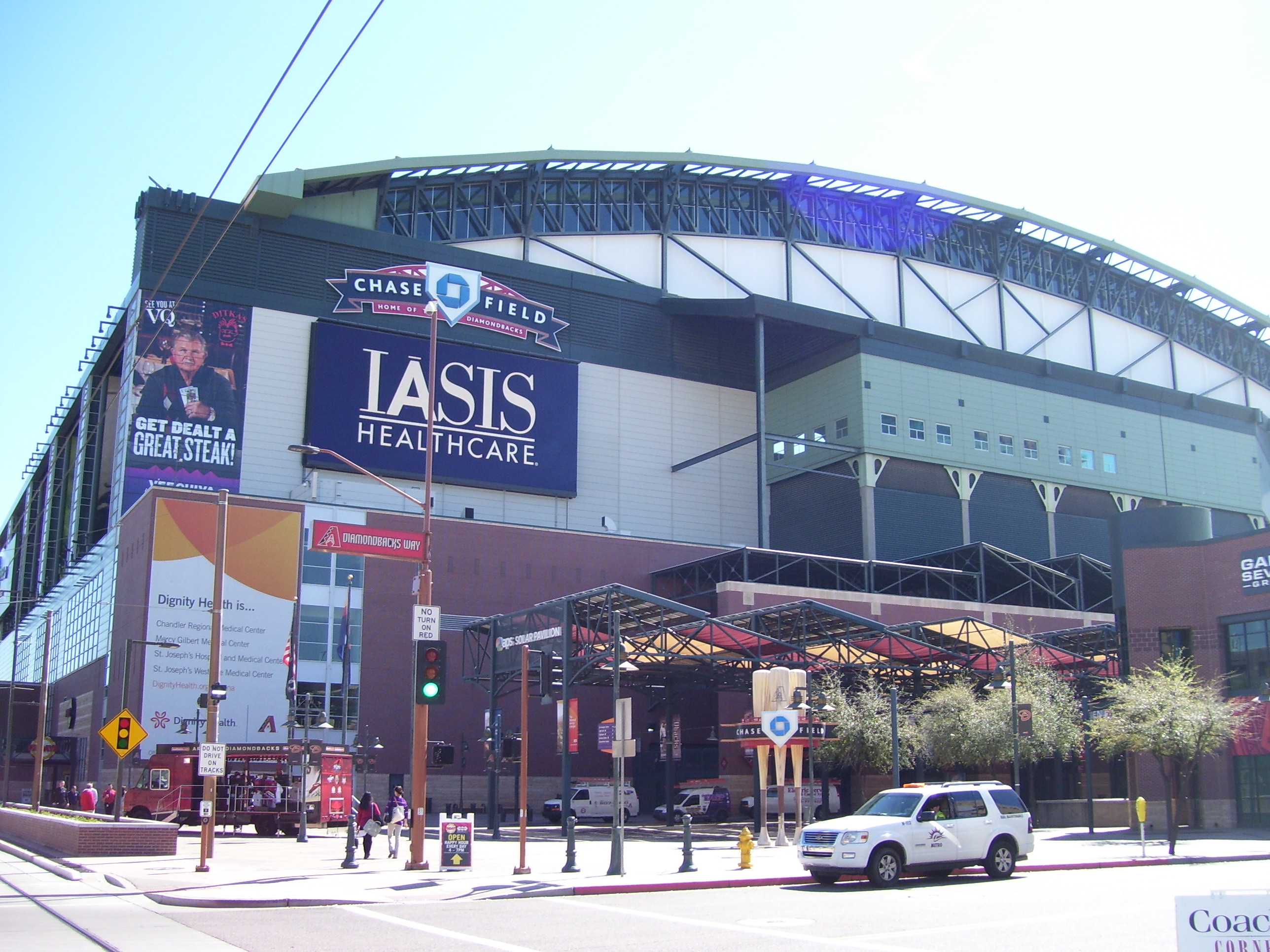 At one point the buildings sort of petered out to my left and turned into desert, but there was this interesting building out there...not sure what it is, but the whole area was marked private property and you couldn't get in. Probably something historical. If someone out there knows, tell me and I'll update the page.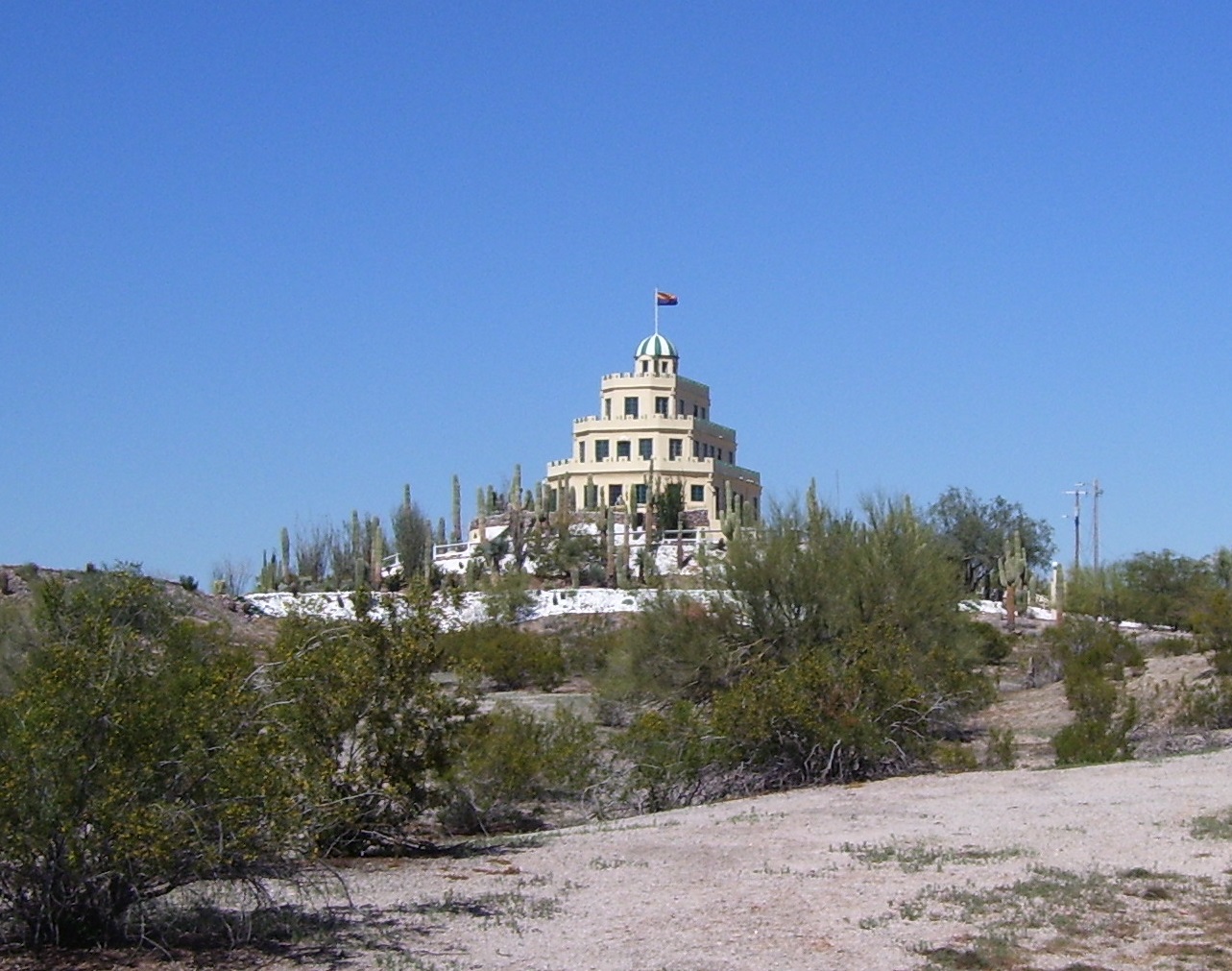 There were several areas set aside for natural terrain surrounded by parks, walking trails and so on. This is one of the more interesting rock formations I came across.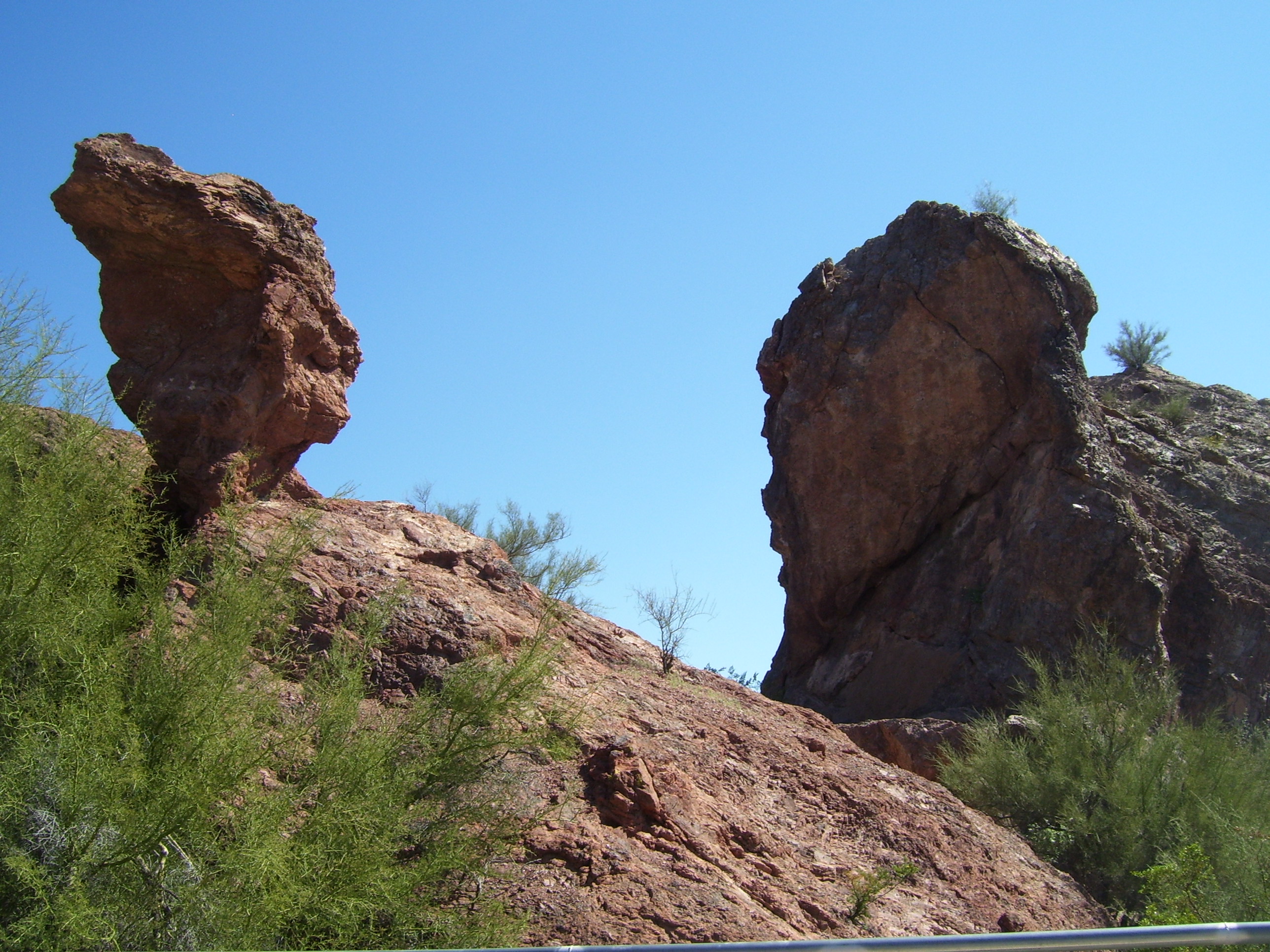 Continuing along I came to some bike paths around a lake, and ran across a couple of cyclists with some bike trouble. Just as I arrived, one of them rode away with a wheel slung over his shoulder, heading off to get it fixed. I caught up to him and offered to help, and it turns out he had a flat. Well, after the last few days I can safely say I'm pretty well trained in repairing flats, plus I just bought two patch kits, so I patched it up for him. While doing that we swapped stories and I learned his name was Kent, and he'd borrowed this bike and another for his wife (it was hers that had the flat) and they had no way of fixing it in the field. Being in no hurry, and feeling like I needed to pay it forward a bit after getting help on the highway a couple of days ago, I was perfectly happy to take care of it. Here's a photo of Kent with his freshly fixed wheel. Hopefully the patch held long enough to get home!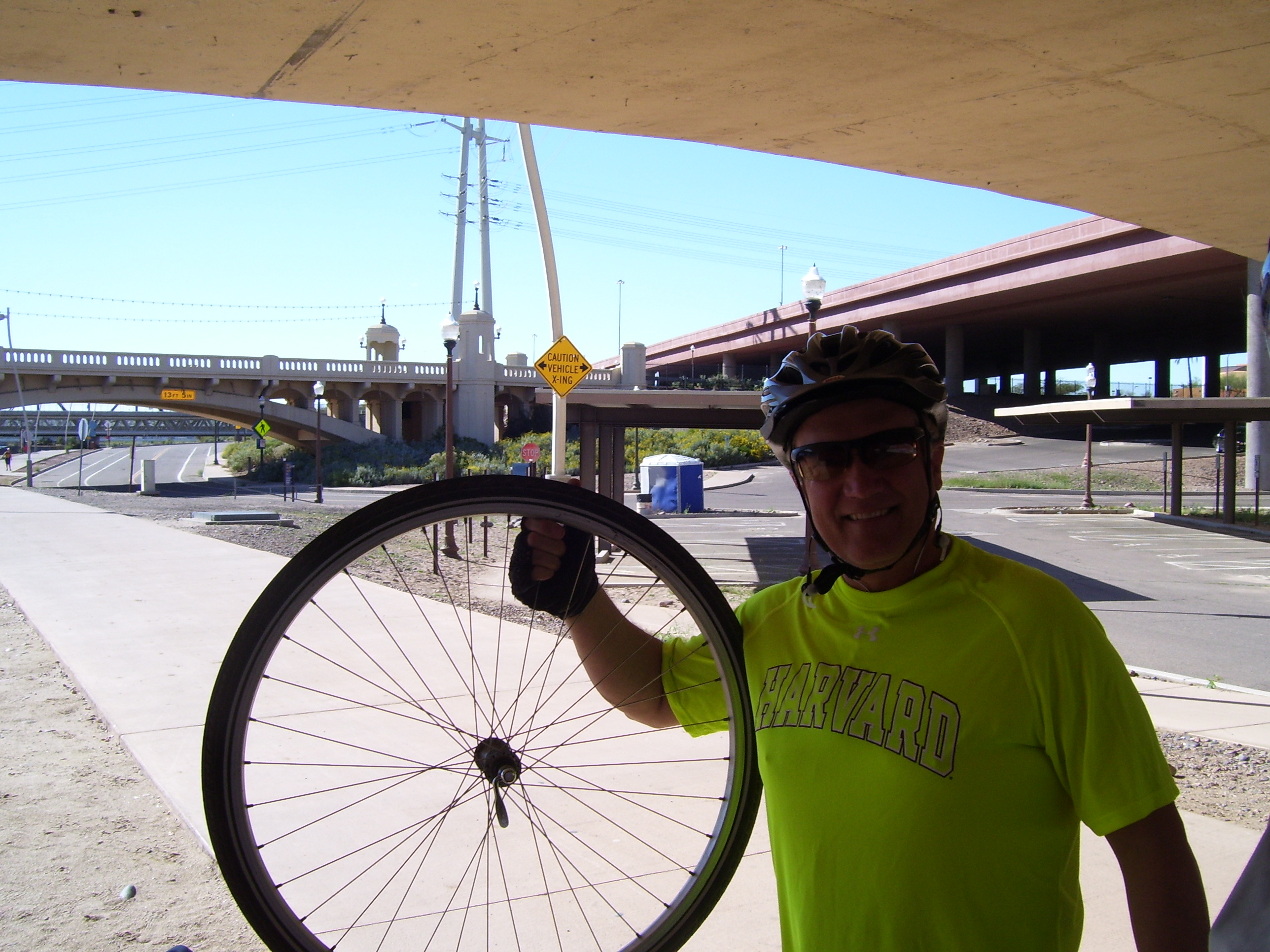 With my karma shifting in the right direction for a change, I continued on. Here's a shot of the lake as I rode across it on a pedestrian and cyclist shared bridge (no cars allowed). They were doing some work on the other side, so I didn't include a view looking that way. Plus that building going up over there is another new addition. There were tons of people running, biking and just hanging out in this park, which looks like one of the more happening places in Phoenix.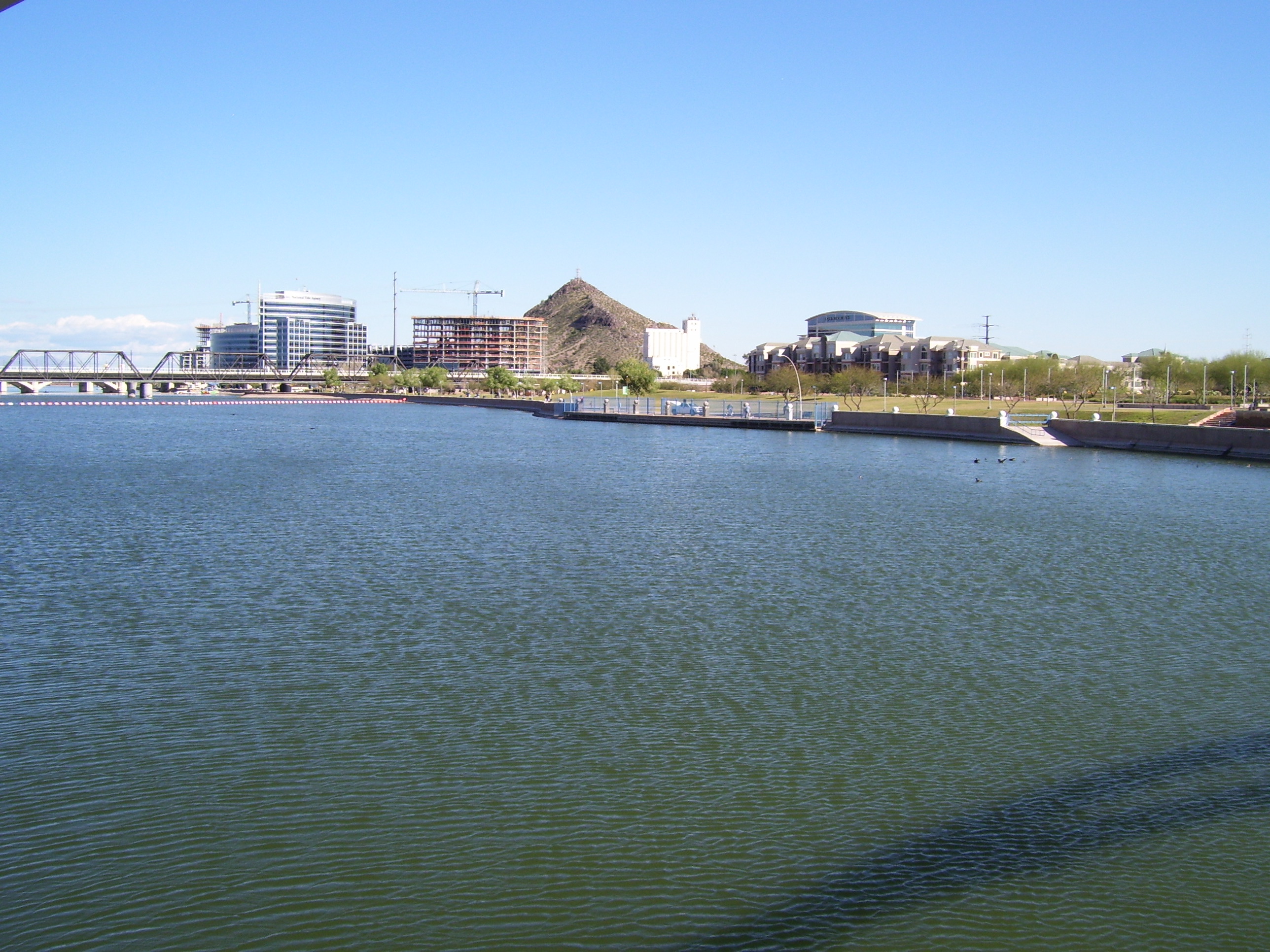 It may have something to do with the close proximity of Arizona State University, which is where I came across my second sports venue of the day, Sun Devil Stadium. You might recognize this as the former home of the Fiesta Bowl and the NFL's Arizona Cardinals.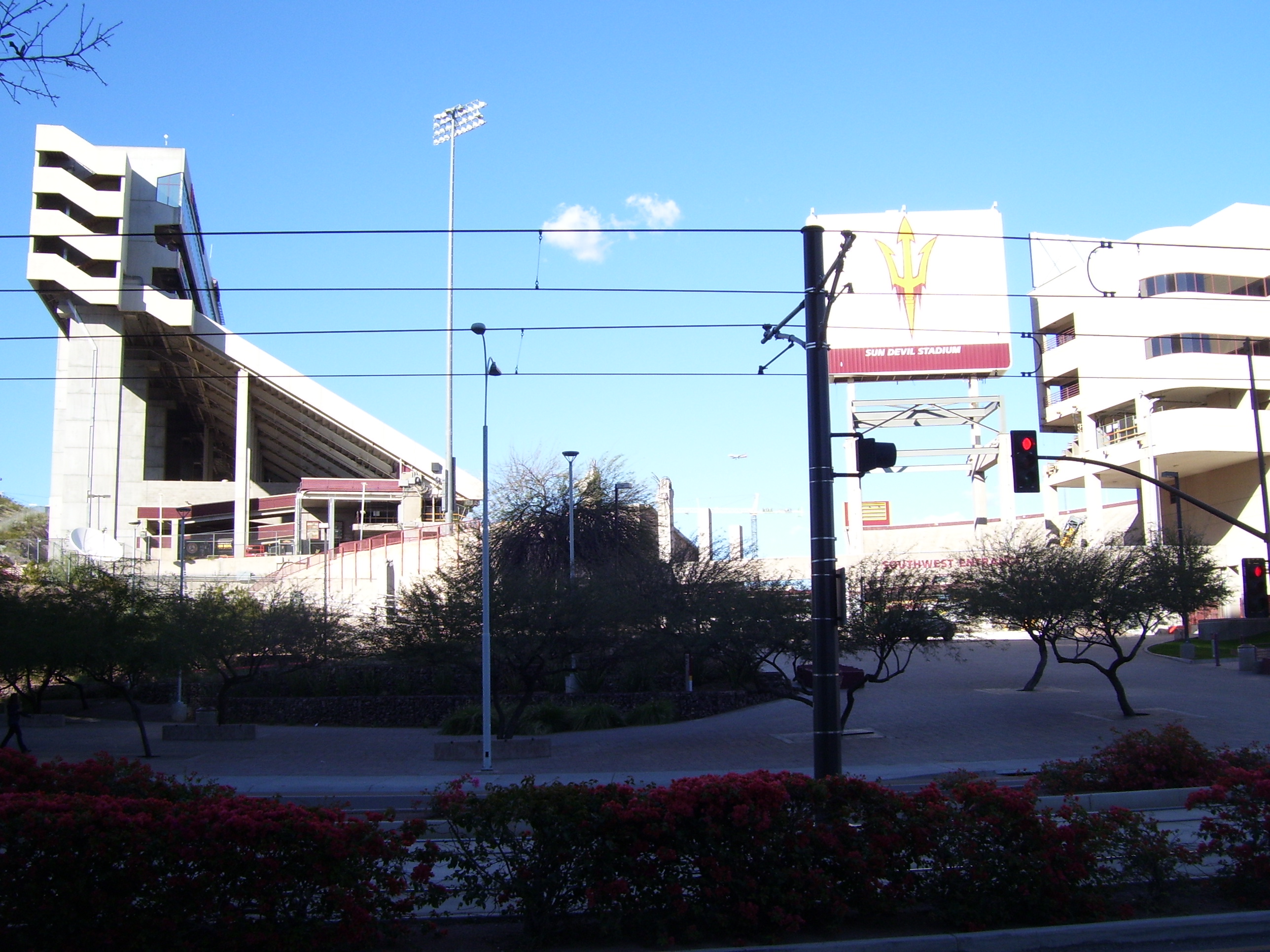 Riding on through Tempe and on into Mesa, I came across a couple more interesting pieces of art by the side of the road. Unfortunately it was getting a little dark for the second one, but you get the idea.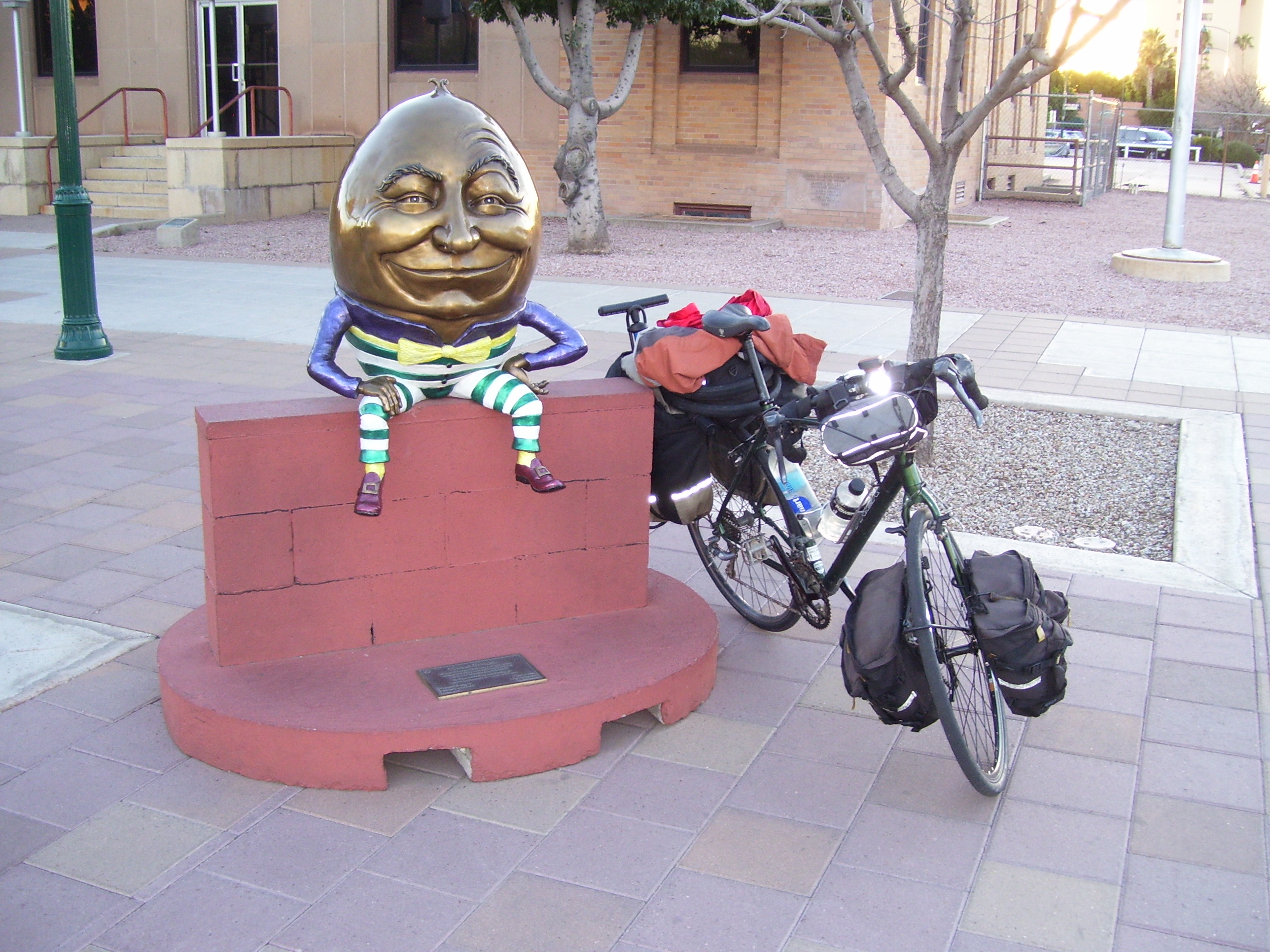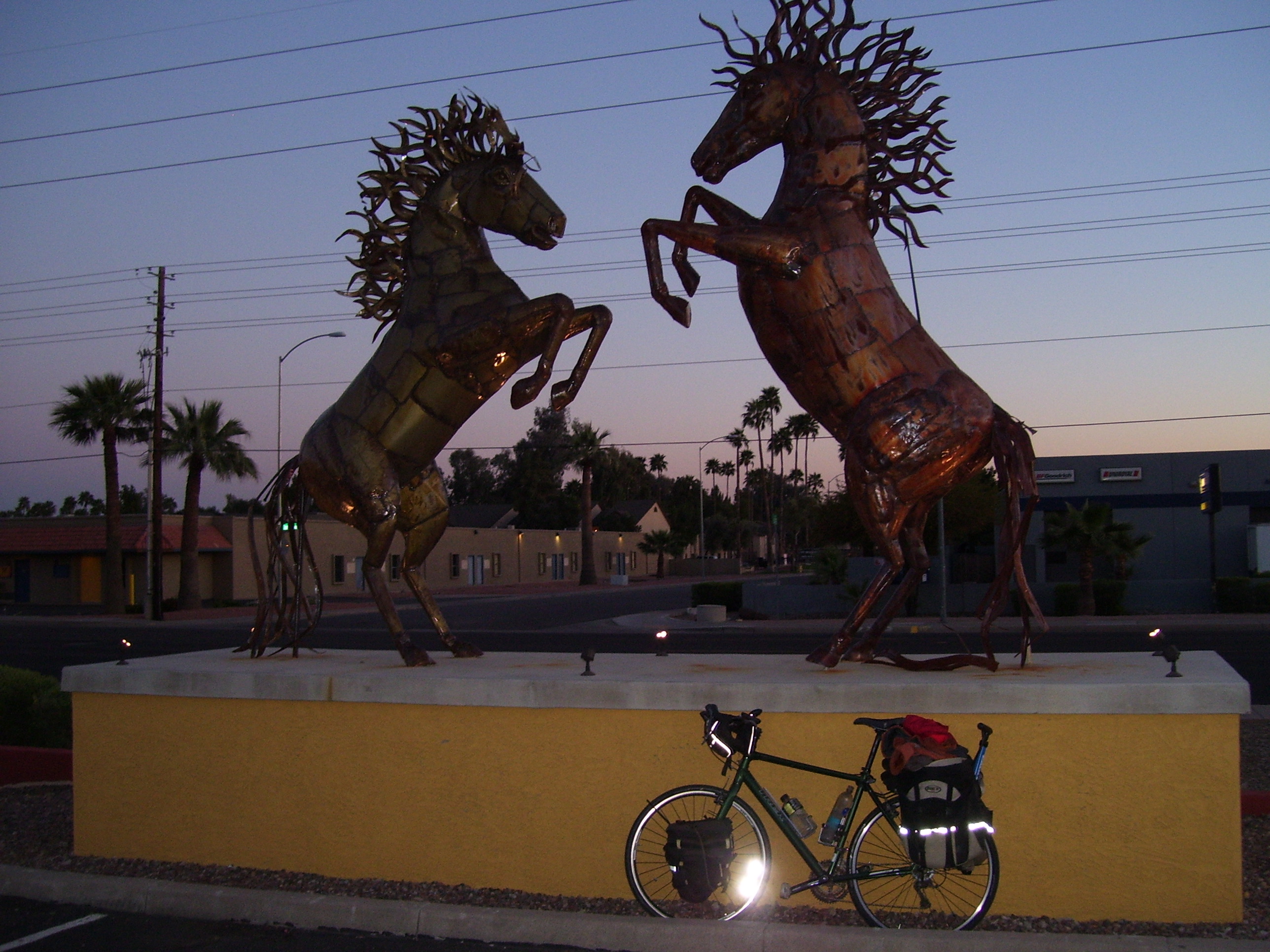 After that I got some dinner at a local Italian eatery (for once not a chain restaurant), and then checked into my hotel, another Knights Inn. It's very unusual for me to use the same chain two nights in a row, but when they're $10 cheaper than the dumpiest looking places nearby, and with much nicer rooms, I'll use 'em. In fact, Knights Inn is now my go-to hotel...Motel 6 has gotten more expensive and also charges for internet now, while most Knights Inns have everything I would want at a lower price.
In any case I'm going to bed early tonight since tomorrow will be a huge climbing day. The bike is prepped (I even got the front spokes fixed, I hope), I've got two full 2-liters of water and 2 extra 1-liter water bottles, and you can bet I'll be picking up some spare food in case I don't make it to Payson before the restaurants close tomorrow night. With over 8000 feet of elevation gain in my future, it might very well take me all day and into the night to get there, even if I start at 8am. Ah well, if it's too easy it wouldn't be fun, right?