Day 8 - March 5, 2015
Mesa to Payson
Miles: 82
Terrain: Exceptionally tough climbing
Weather: Cool and beautiful with a side helping of obnoxious headwinds
I knew this was going to be a tough one, and I was right. In fact, this probably ranks up there with one of the top 10 hardest rides I've ever done, maybe even #1 (but I still think a couple of runs on the west coast beat it out, and of course the nightmare run through Baltimore on the east coast ride that nearly dropped me). I'm pretty sure today will wind up being the hardest day of this trip overall, though. Take a look at the map up there...that's over 8000 feet of elevation gain, an average of about 100 feet every mile, and with the vast majority of it happening after the first half of the ride, which featured some really nasty headwinds. Fortunately those died out when I reached the mountains, but they sure turned what was supposed to be the easy part into a will-sapping grindfest.
The first hills started out fairly gradual, just long...at one point I felt like I rode 20 miles of nothing but uphill, before finally getting a couple of miles of steep descent and then starting on up again. From the 34 mile point to about 50 miles I did nothing but climb, followed by a very short break and then another 6 miles up a steep slope to just over 4500 feet above sea level. Then I got treated to an 8-mile descent of 6% grade or higher, which just made my hands hurt from clenching the brakes so much. Some ups and downs followed and then, after the sun went down, I came to the worst part of it: 12 miles of uphill, some of it quite steep, without a single descent or level spot at all. When I finally crested that last hill, and could see the lights of Payson ahead, it was almost 9:45pm, and I left at 7:40 that morning...so I spent 14 hours on the bike today, most of it uphill.
A couple of quick notes. First off, I had lunch about 16 miles in at a small town with an Arby's, and bought a couple extra sandwiches to bring along. This was a brilliant move as sometime around 6pm I was getting really hungry and there was nothing at all between that restaurant and Payson, so the food really hit the spot. Second, I brought along a ton of water: one 24-ounce bottle, two 32-ounce ones, a 1-liter Coke bottle and two 2-liter bottles (those were in the front panniers to help balance the weight). Another great plan as I used all but about half of one of the 2-liters, and again there were zero services. If I'd only brought one 2-liter bottle I would've been super thirsty by the time I got there. As it was I stayed hydrated all day.
The other smart thing I did was bring along a heavy coat as well as gloves and a hood, in case it ever got cold. Well, it did. Once the sun set out here the temperature dropped down into the 40s pretty fast. I spent the last hour and a half with all my cold weather stuff on and if I hadn't had all that, I would've been freezing. Hypothermia was thus avoided.
Anyway, now on to the pictures. A lot of these speak for themselves, but a few deserve comment. First off is this one which I passed very early in the ride...a section of the road sponsored by the Arizona Geocachers. Nice job, fellow cachers!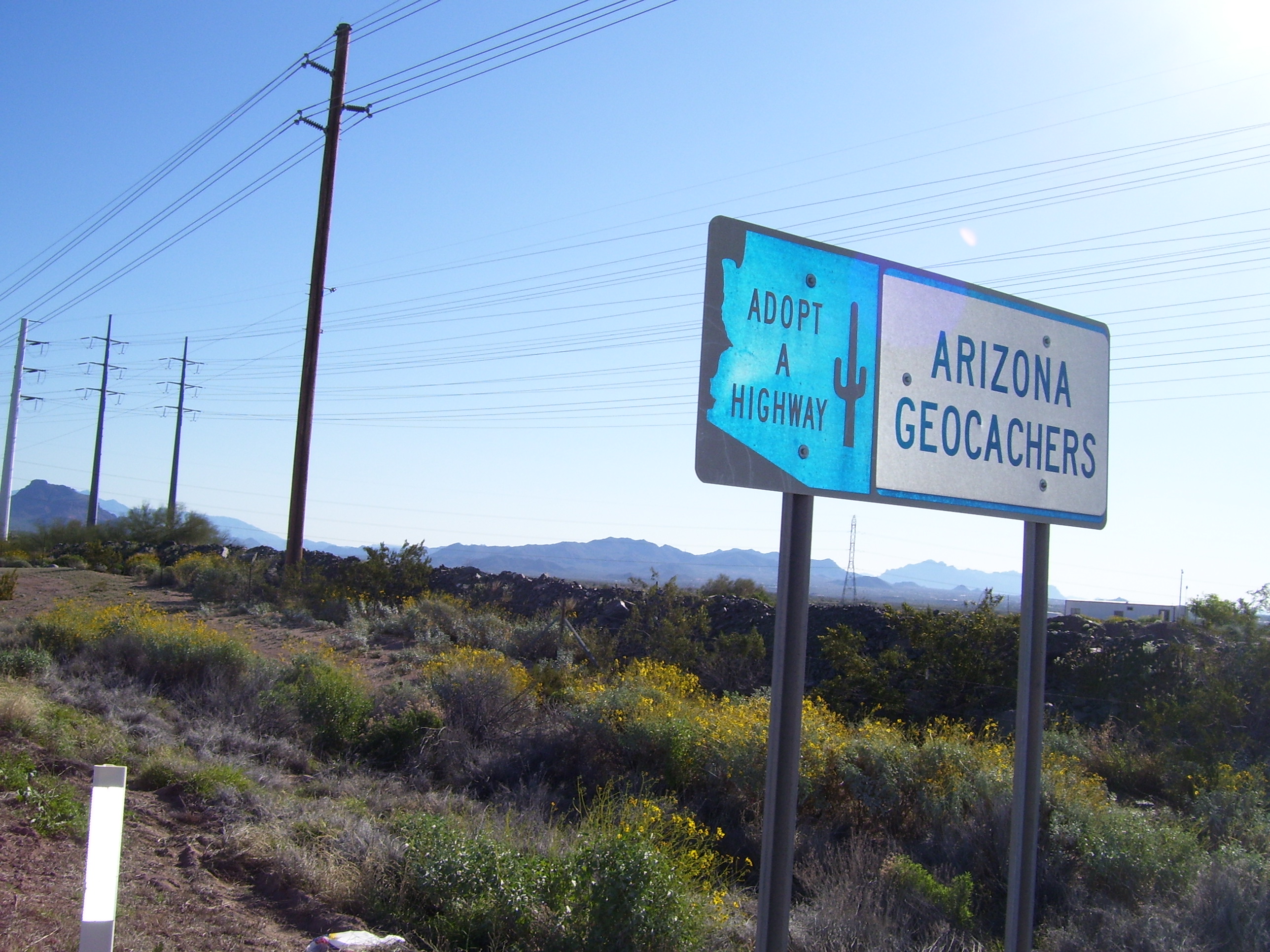 As I spent much of the morning hammering my way through 20mph+ northeast winds, I at least got to enjoy looking at this: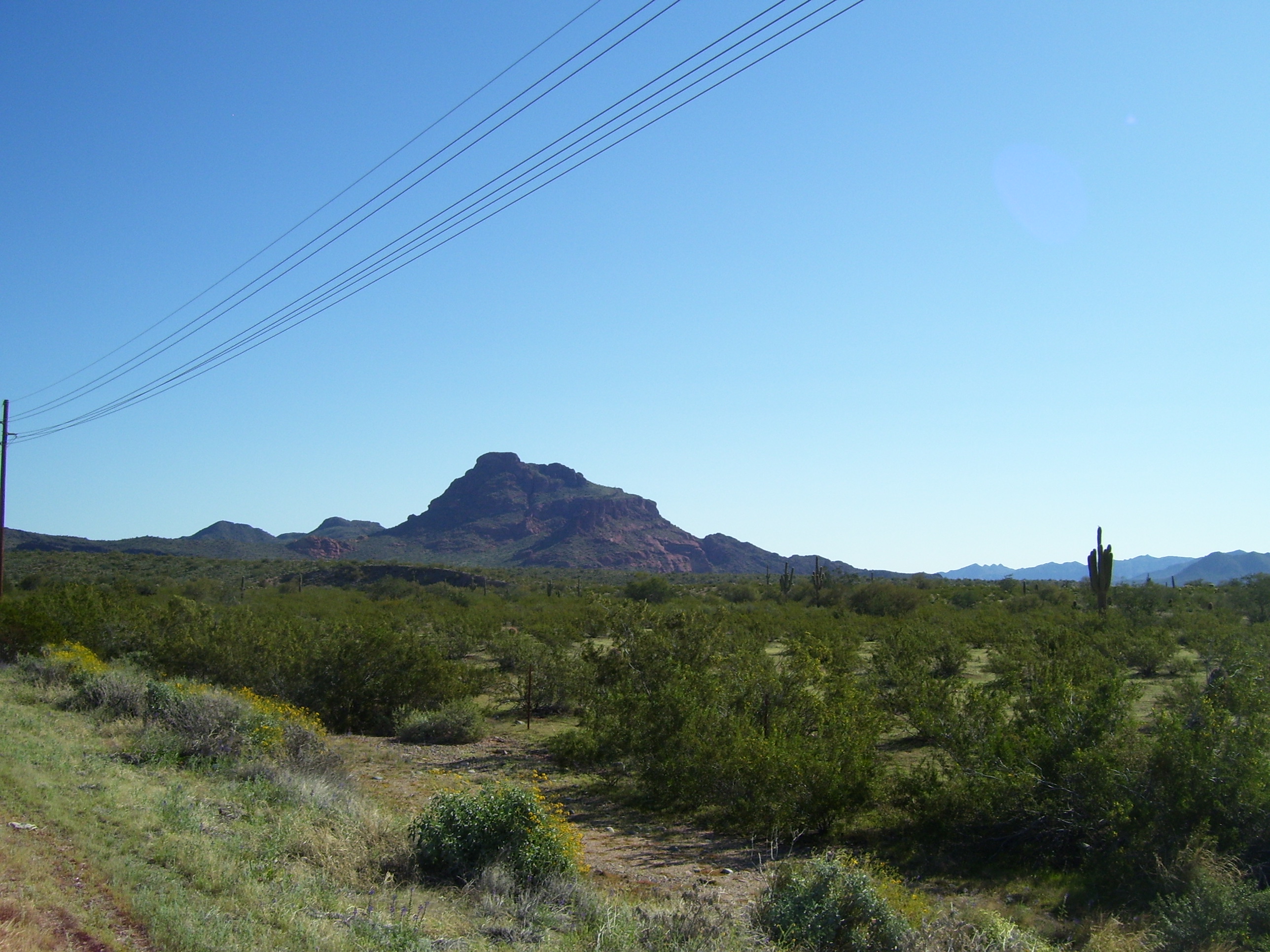 Eventually I entered the national forest, which isn't so much a forest of trees as it is saguaro cacti. You'll see what I mean in some of the pictures later on.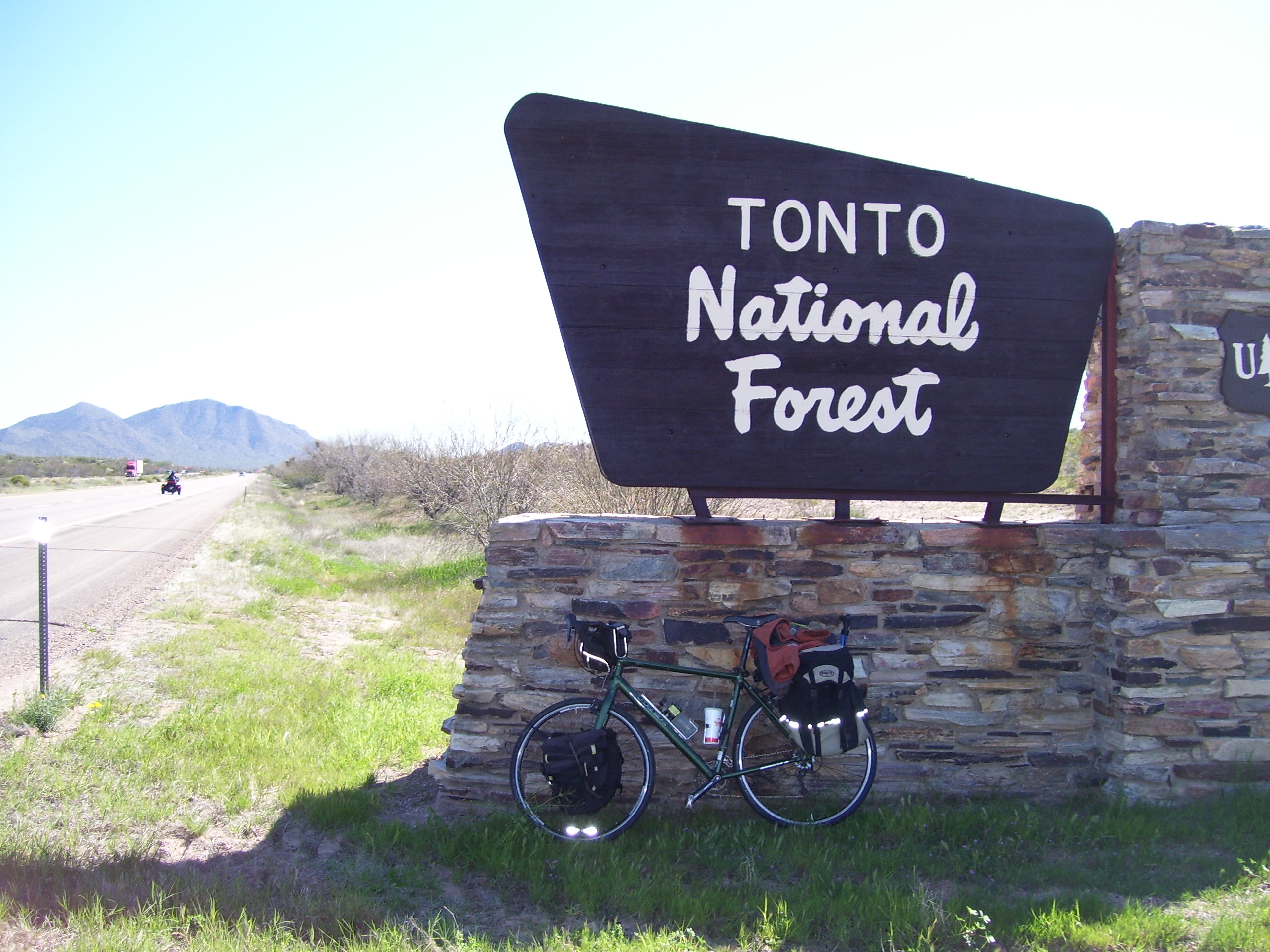 Like this one for example.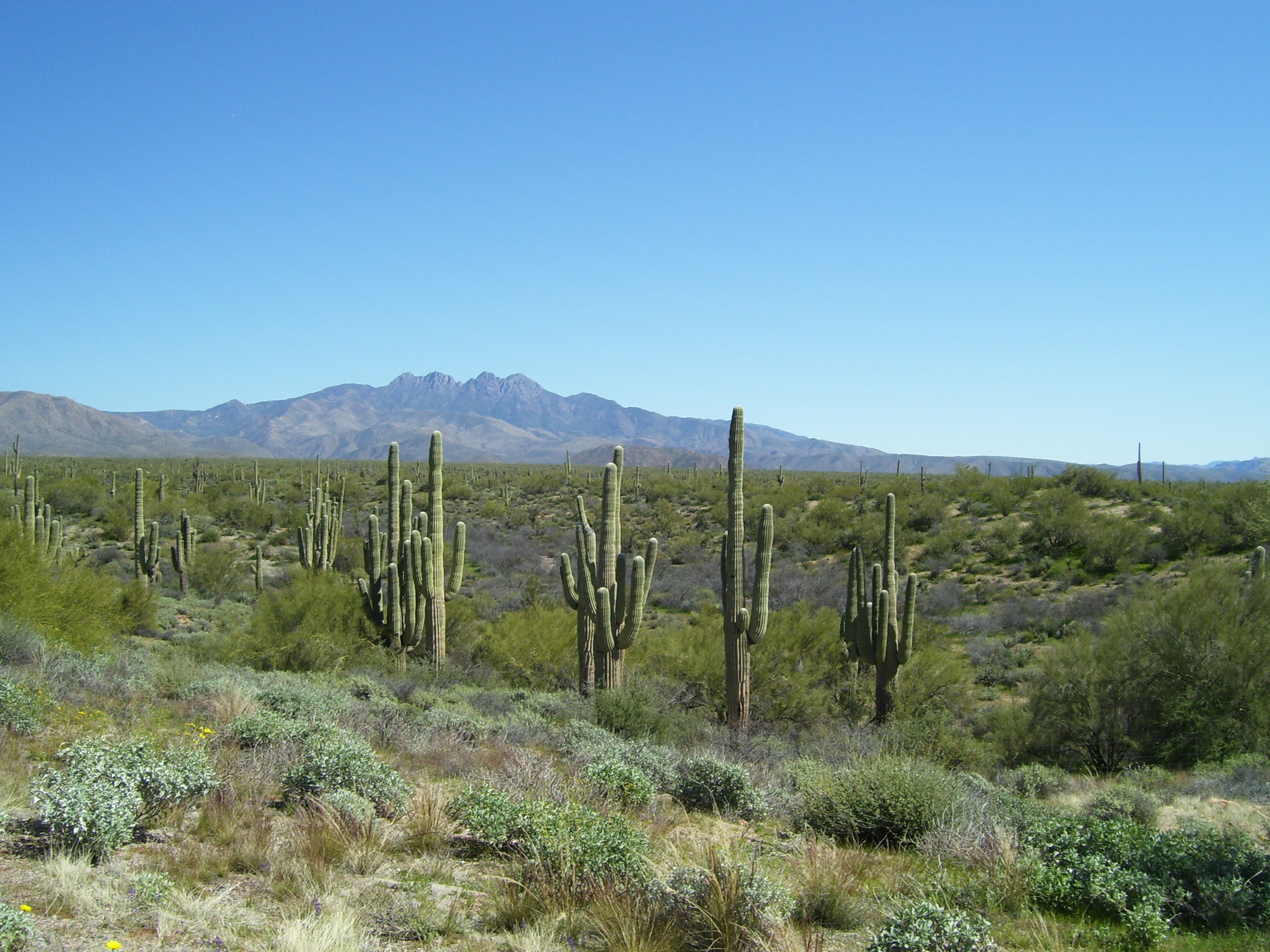 Some of the cacti had the occasional bird perched on top.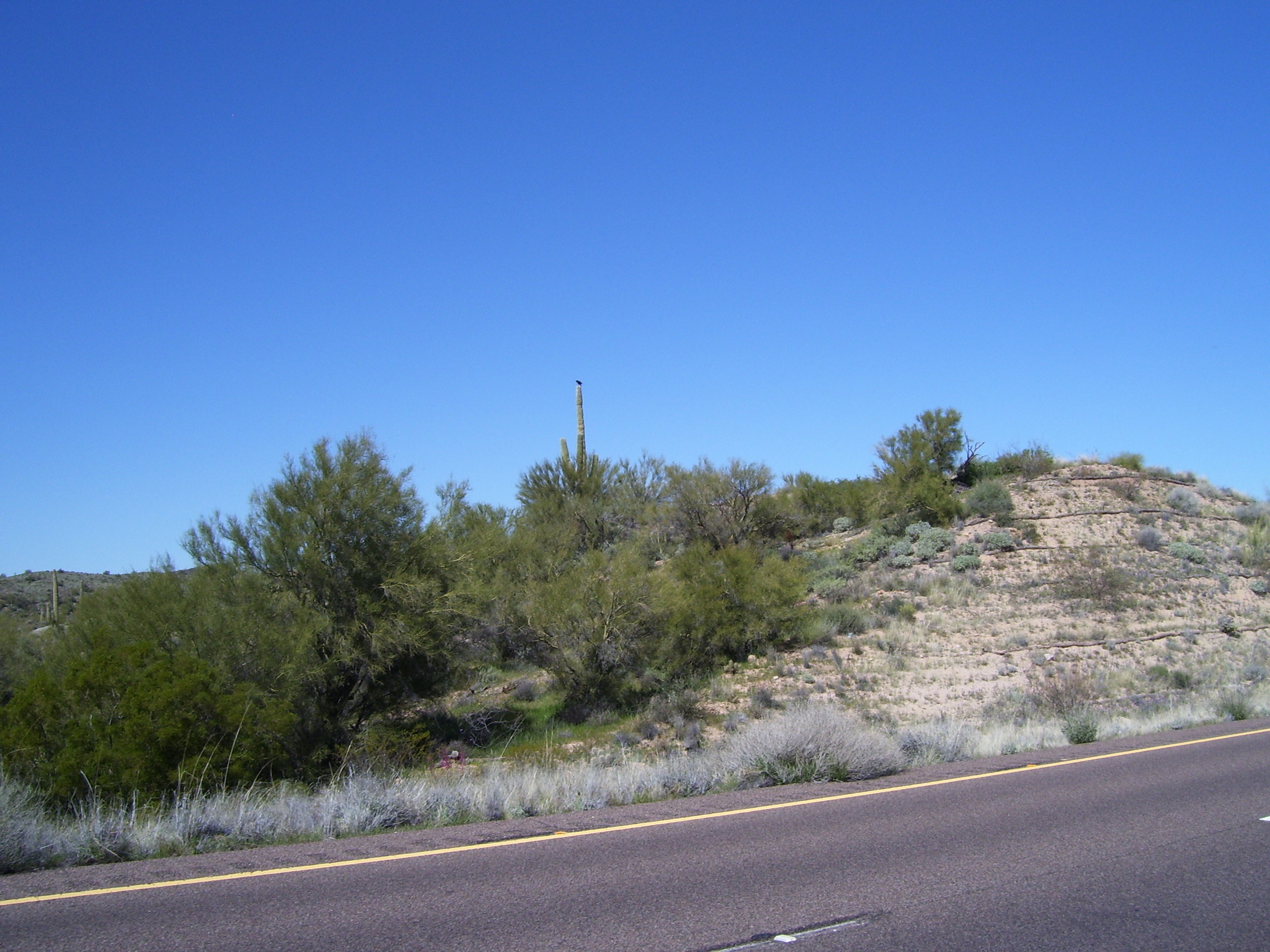 This is the view as I got close to my first mountain climb of the day. I didn't have to go over those hills, as the road turned left.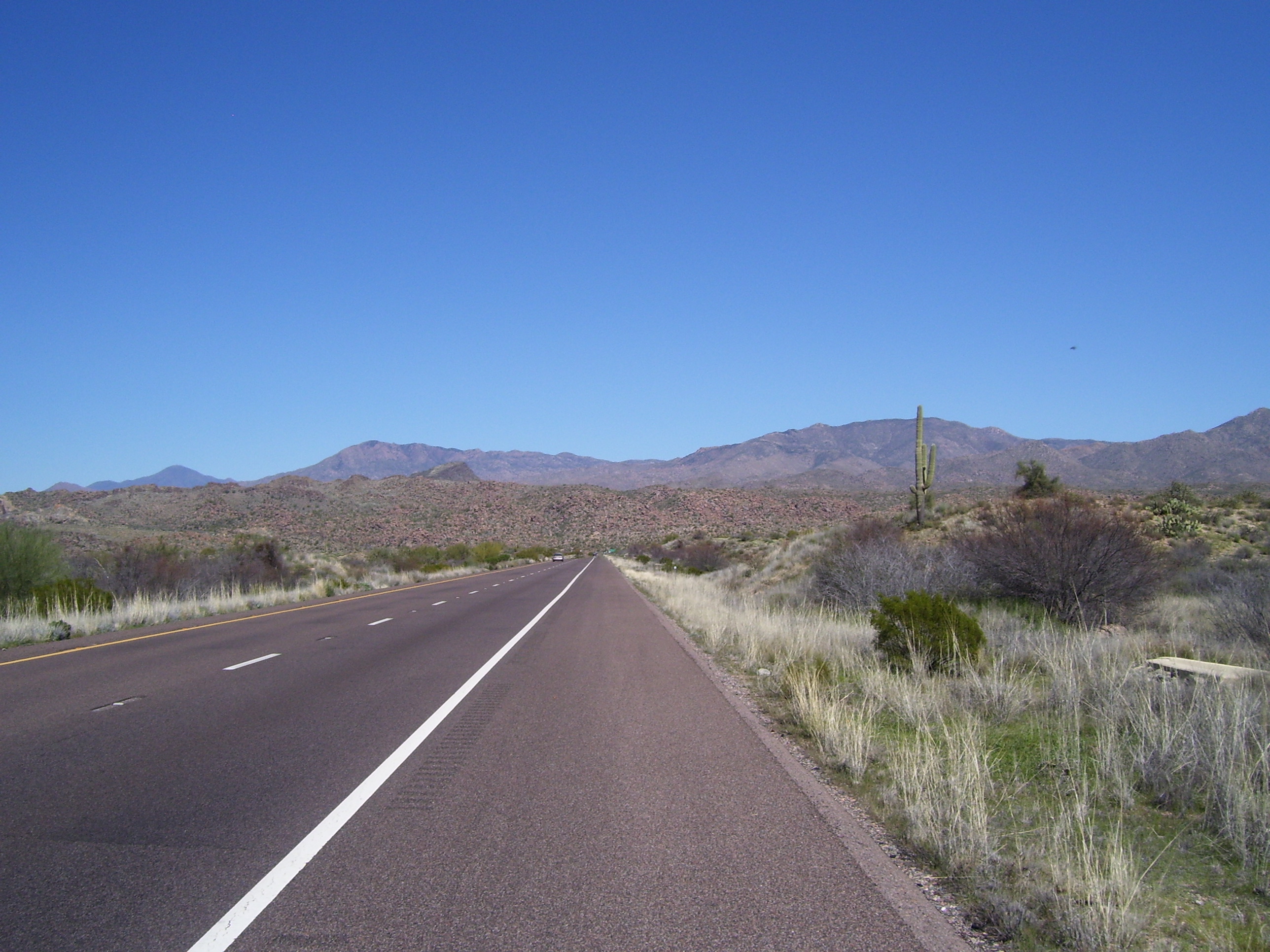 This is a mountain called Sugar Loaf which apparently is quite popular.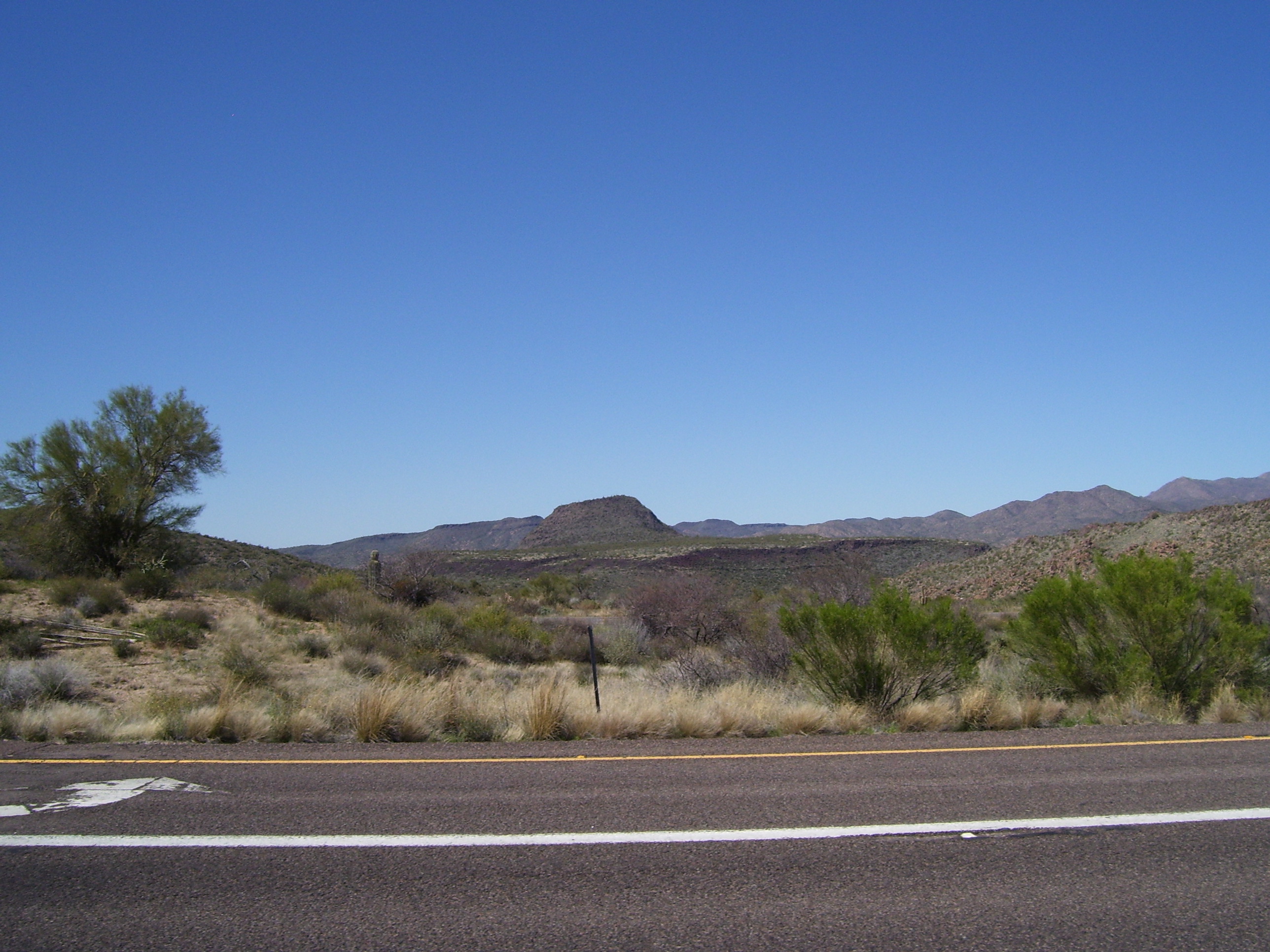 Let the climbing begin!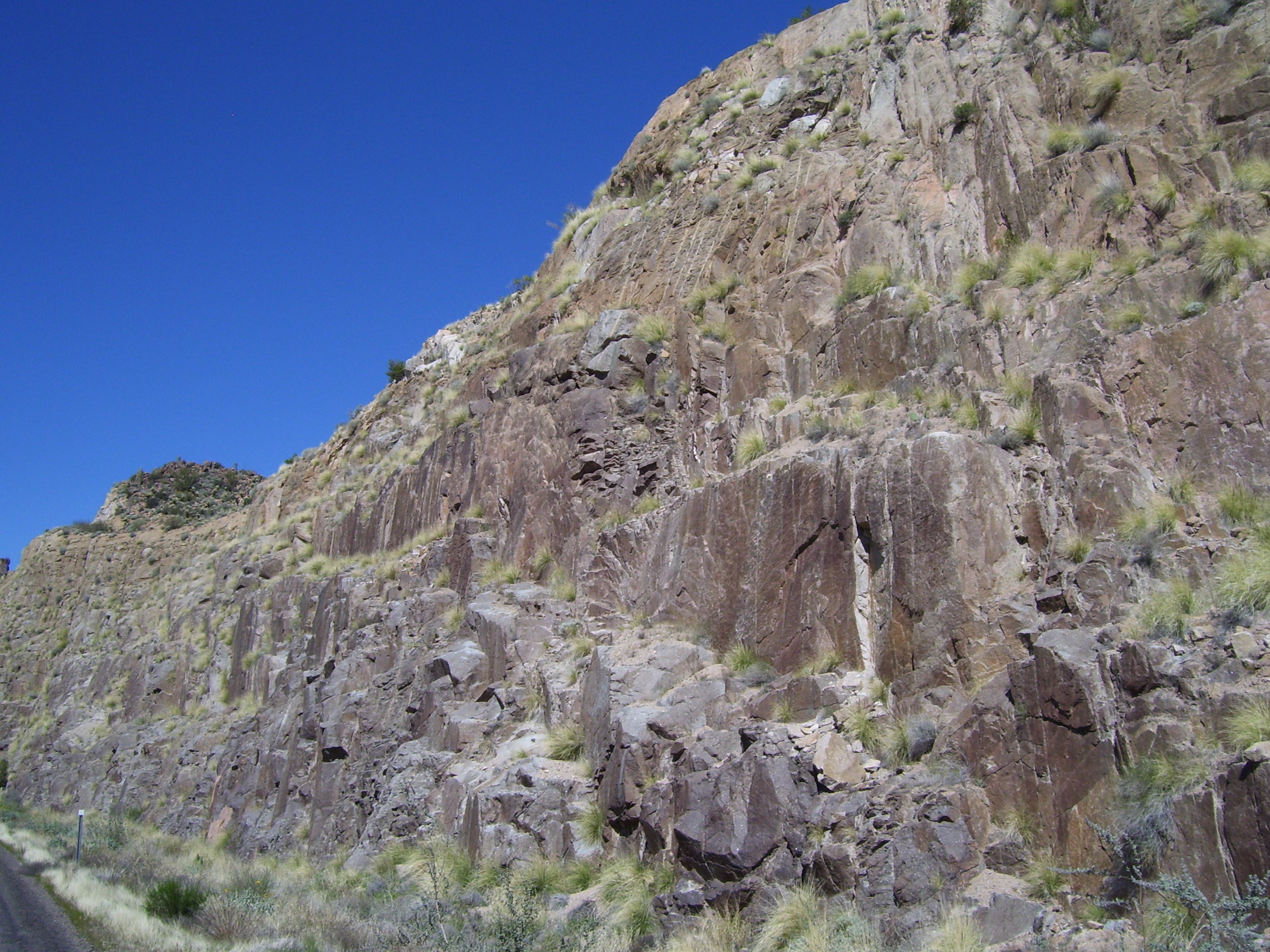 After getting through that stretch of hills the road opened up into this amazing valley, for which the photo doesn't really fully depict the awesomeness. Be sure to right click on the photo and view it, so you can see all the detail.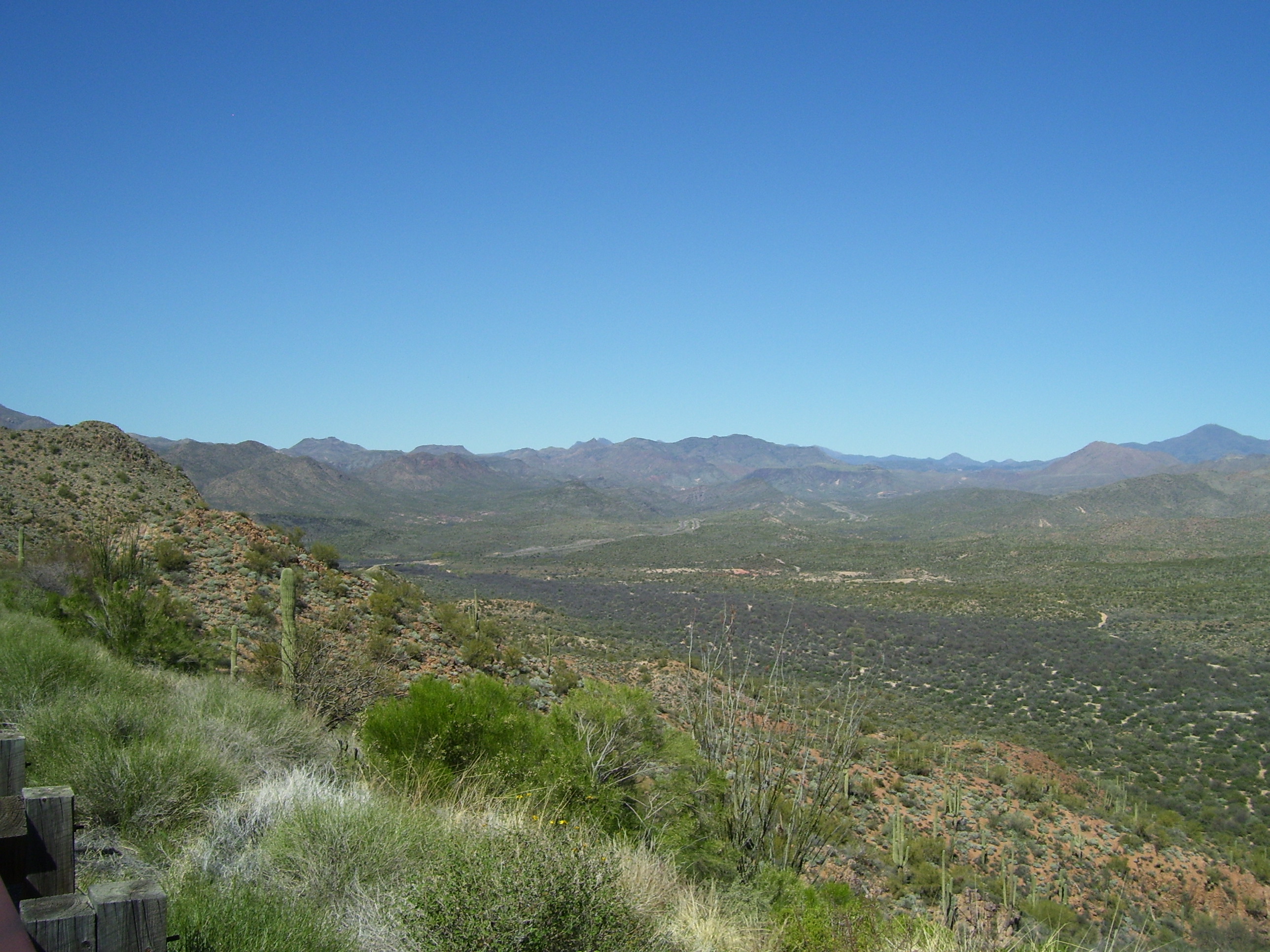 The forest gets thicker!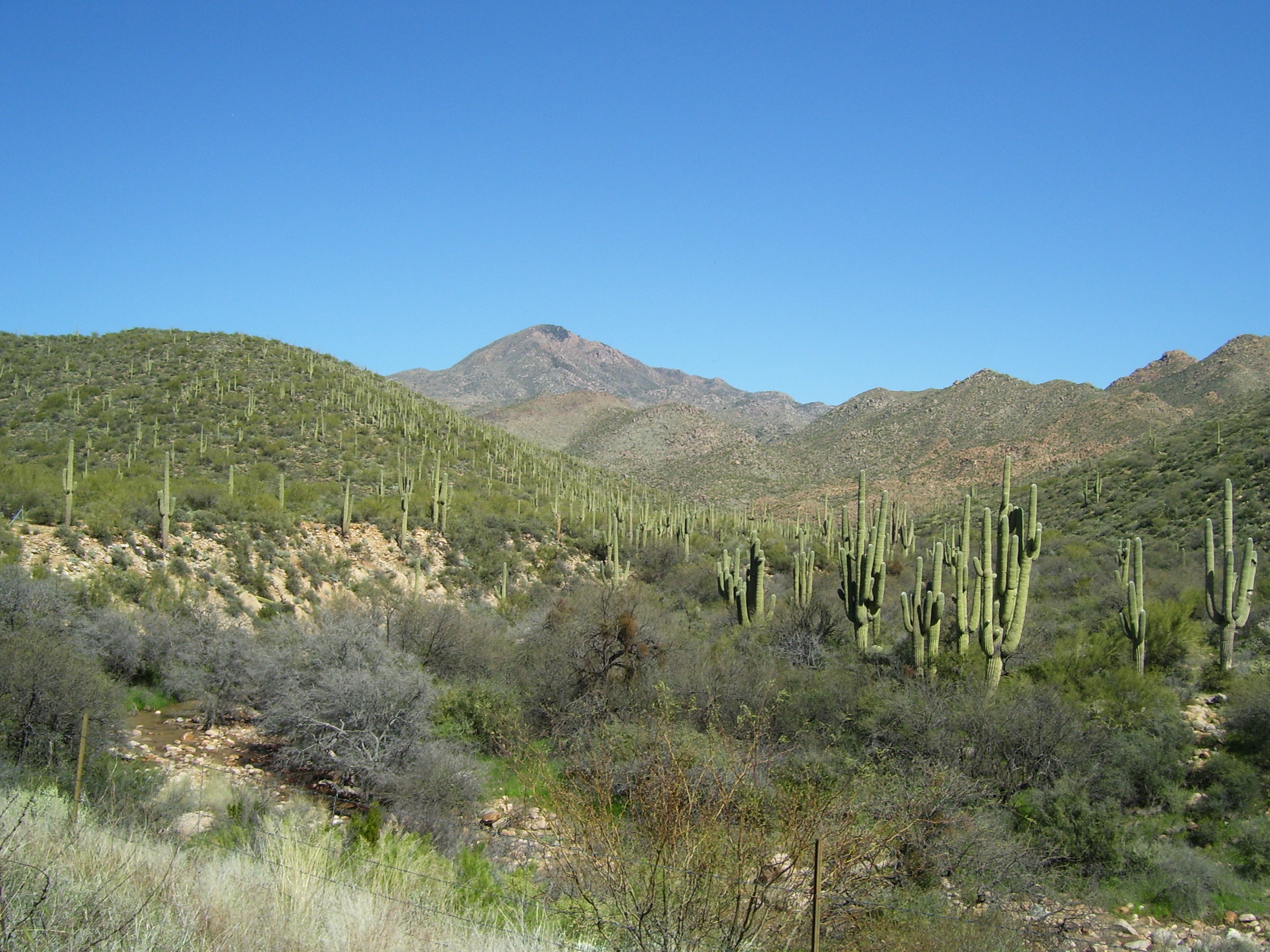 Another impressive sight to one side of the road. Apparently there's a geocache hidden on or near that mesa...I didn't go after that one. (I did get a few today, but only easy ones that I could use as a rest stop.)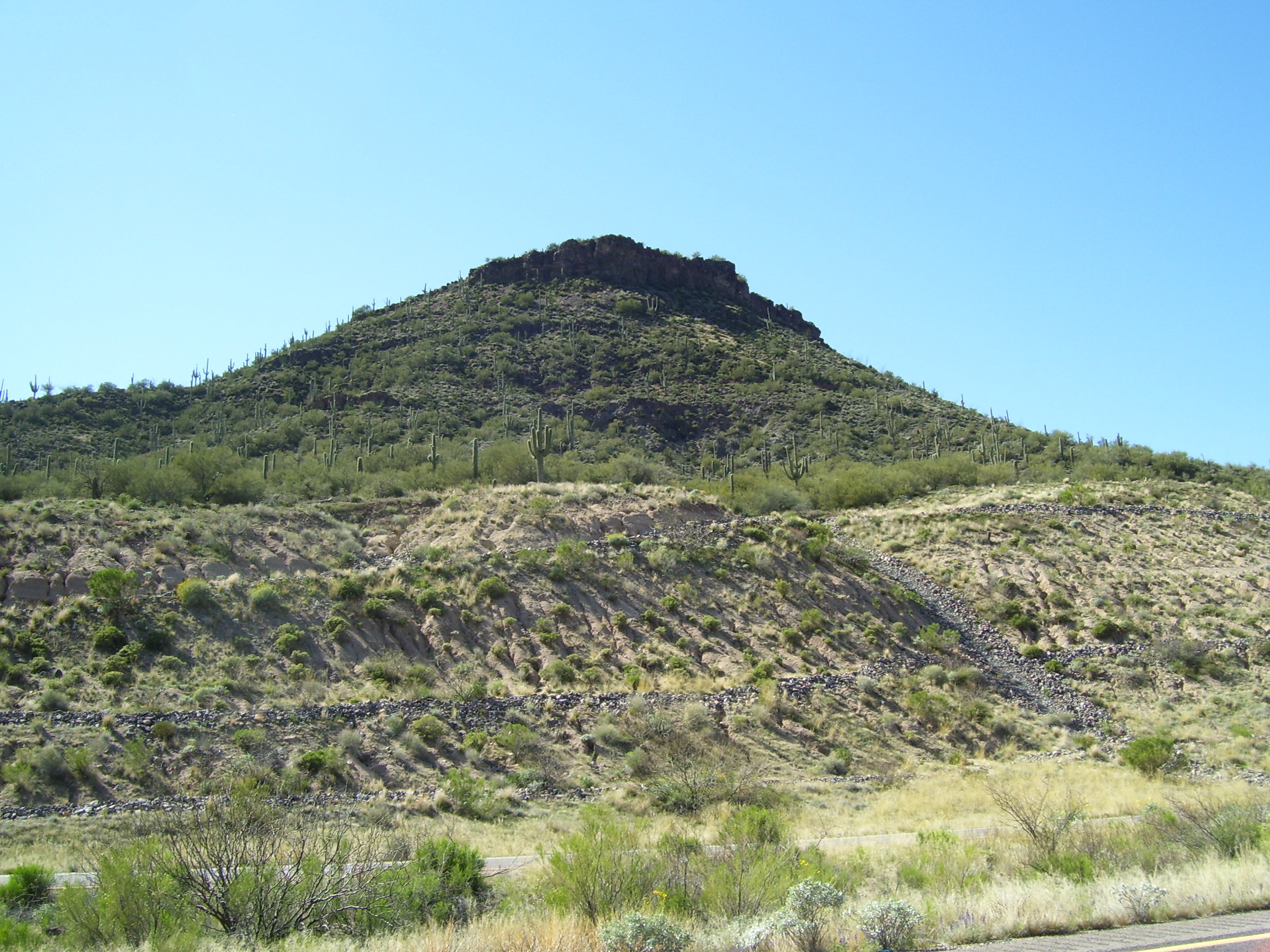 Another great view of some of the terrain. The road winds through it, going steadily up.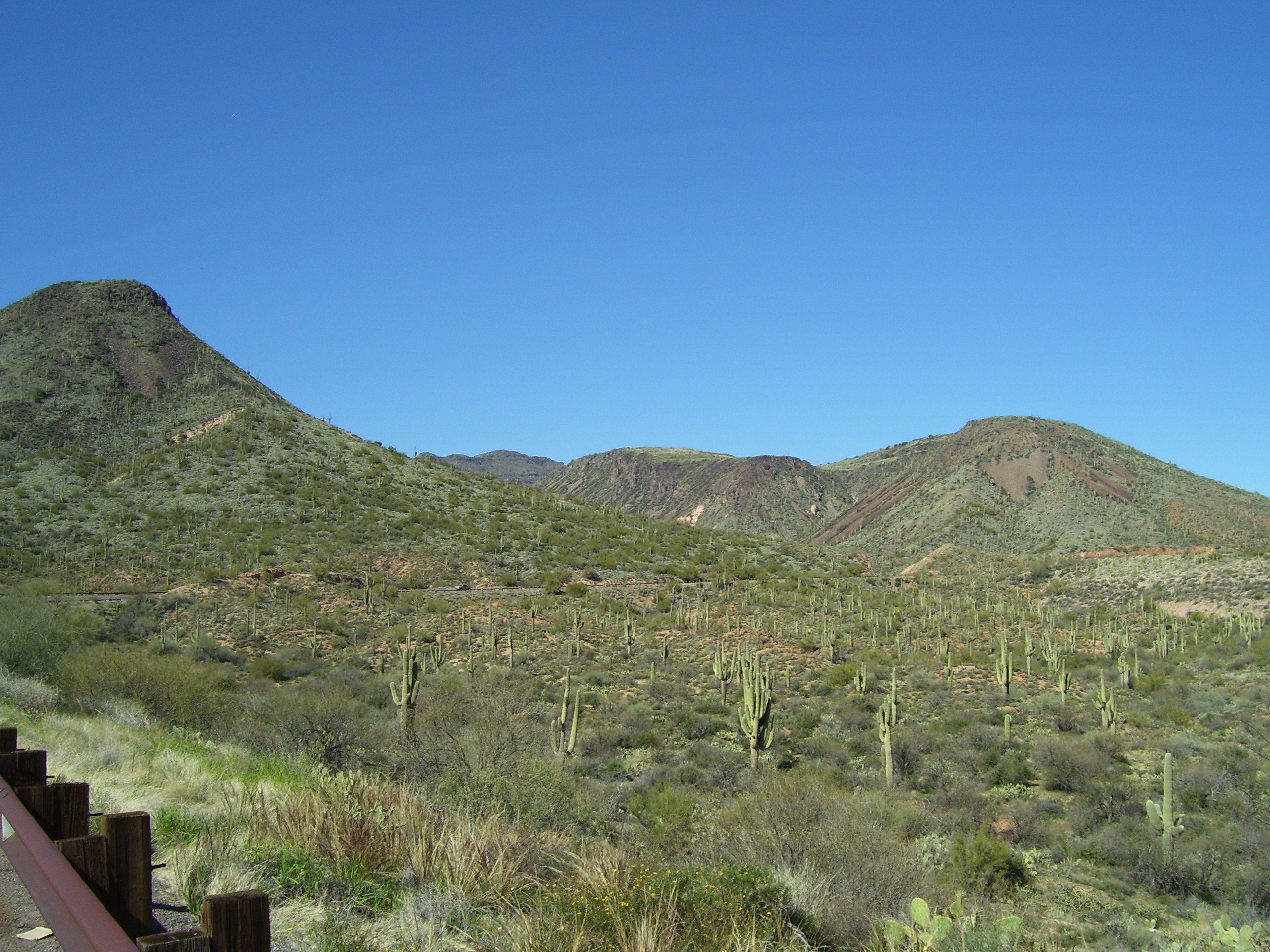 Another great formation that looks like it should be on Mars, not here on Earth.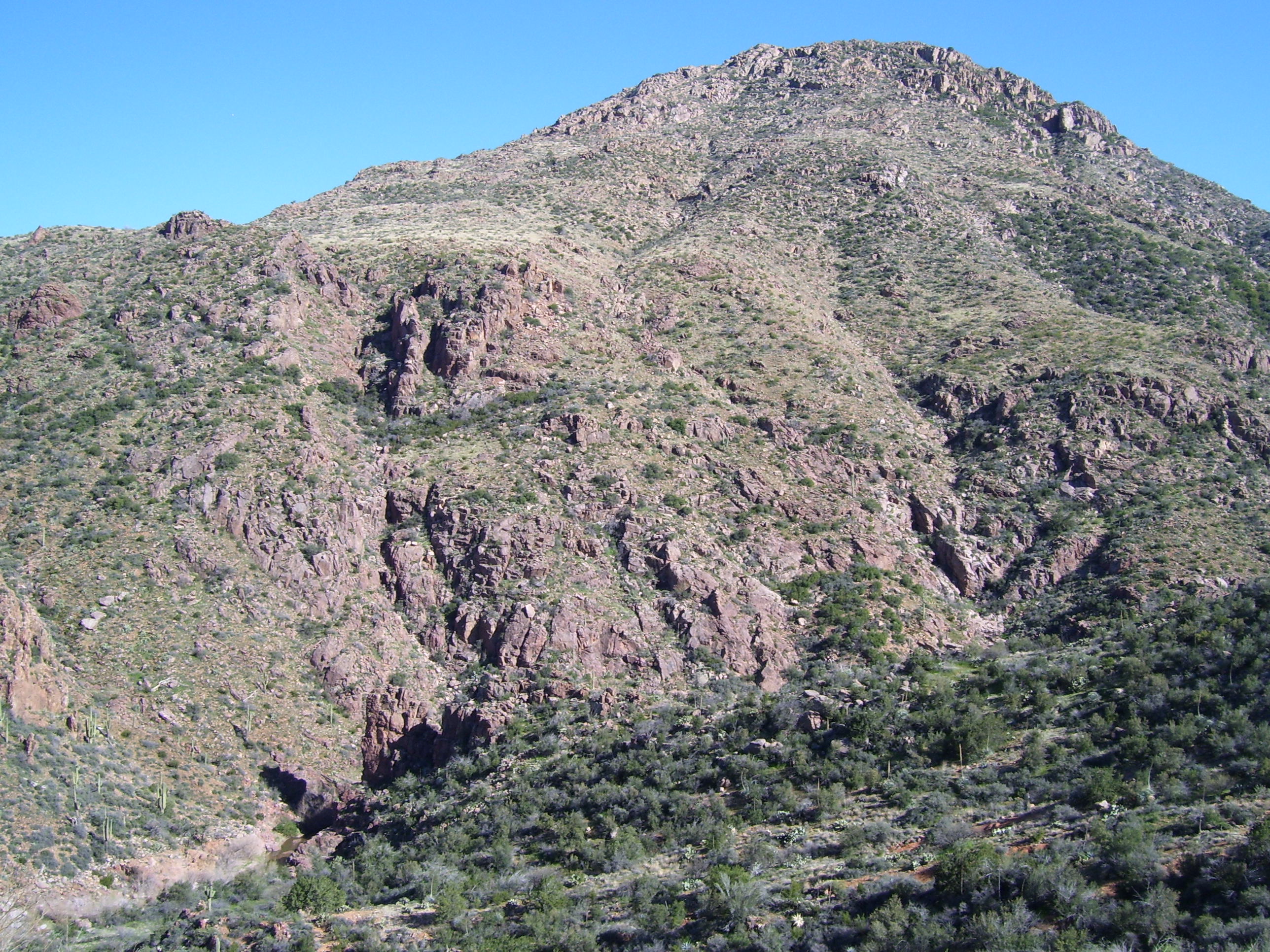 I took a look back at one point for this photo, which gives kind of an idea of how steep some of these climbs were. (Not as much as I'd like...hill climbs don't get represented really well in pictures.)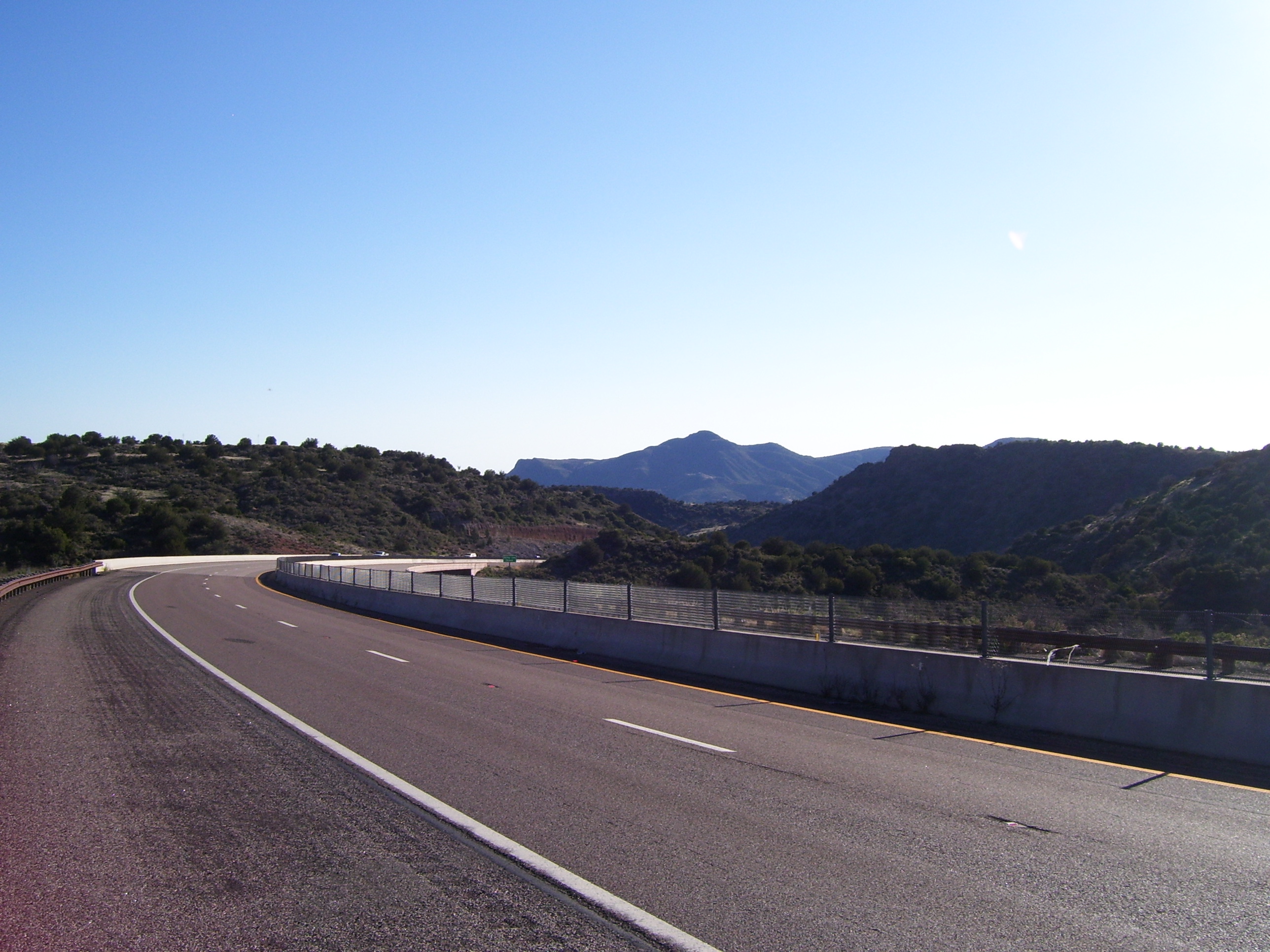 During the descents I sometimes lose a chance to take photos, but not this time. I was able to brake and stop completely to get this awesome sight on camera. (Oh and the road construciton here didn't actually occupy any of that lane so I had a private lane to enjoy for a while.)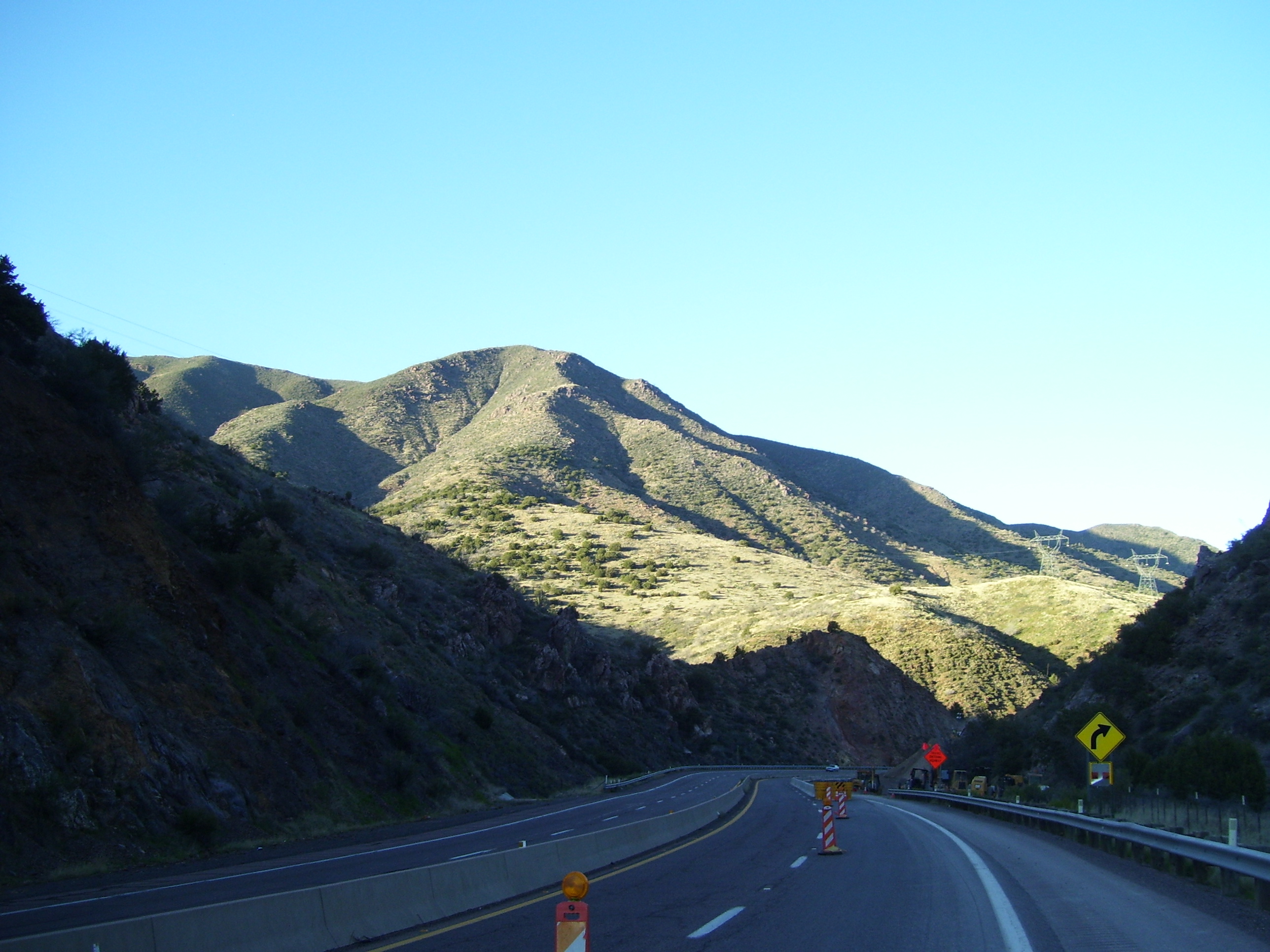 One last photo of the setting sun just touching the tops of these mountains in the distance. Getting to enjoy the desert sunset, followed by a moonrise (full moon, no less) was pretty cool, even if I did have to pay for it by riding in the dark for a while. Oh and the pale moonglow over the desert is a sight I won't soon forget. Tragically, however, it doesn't photograph at all. You just have to be there.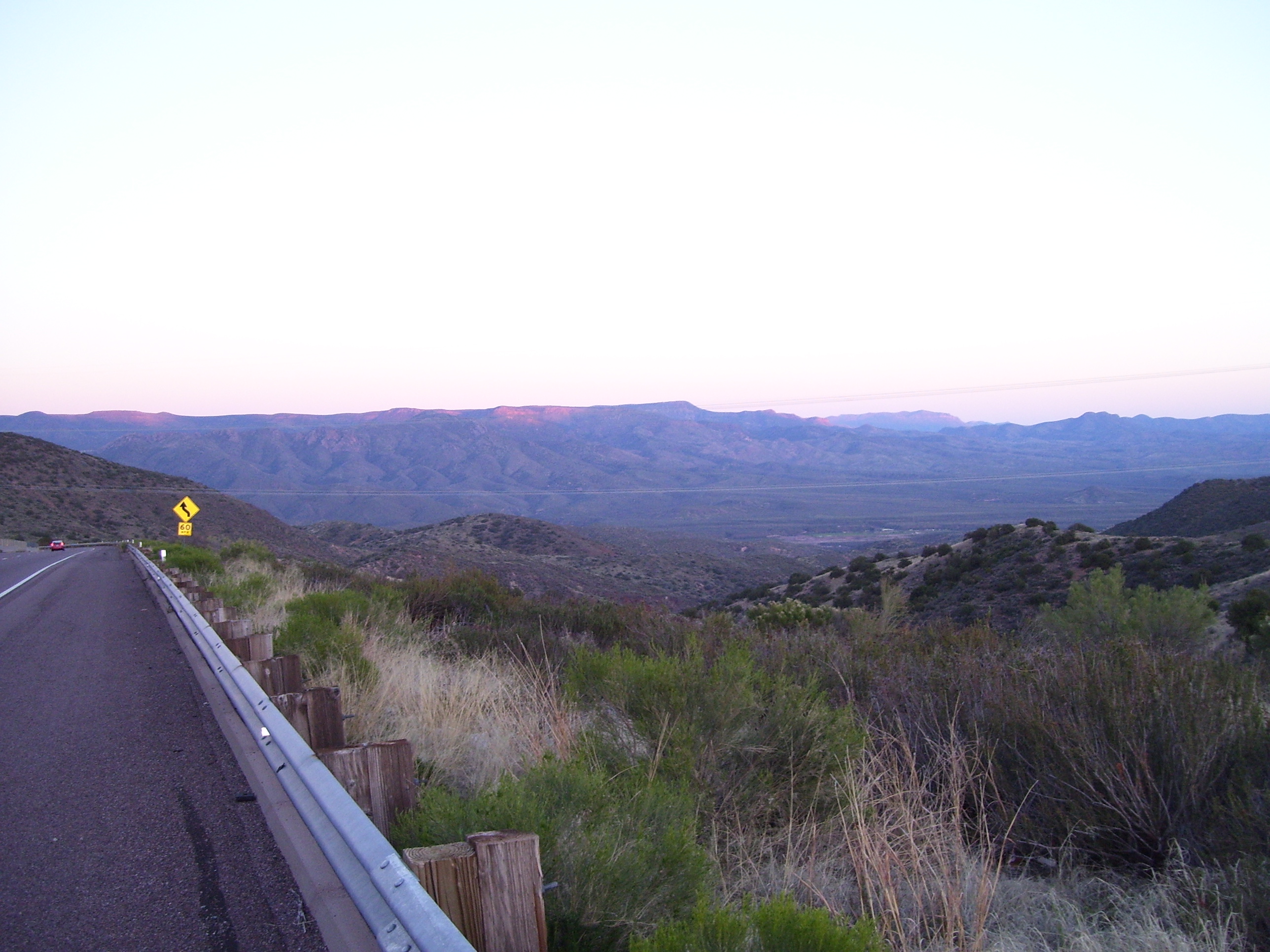 Oh and if you think I didn't run into any people out here, I did have one encounter late in the day. As I slogged my way up those last 12 miles, a car pulled over up ahead and stopped. Initially I was worried as it could be someone setting up to ambush me, but actually it turned out to be Marietta, a driver for AAA delivery and shuttle services, one of the nicest people you could hope to run into out on the road. She offered me assistance in the form of a can of 7-Up which provided me some much-needed sugar, and we chatted for a while about this and that. Both of us would've talked far longer but it was so cold I started shivering, so I had to get moving to keep the blood flowing. Anyway, thanks for the drink, Marietta!
A couple hours after that encounter I found a room at the local Knights Inn (three days in a row now), got dinner at McDonalds as they were the only place still open after 10pm, and settled in for the night. Tomorrow promises even more climbing, but not nearly as much as today and I don't intend to go quite so far...I hope!