Day 9 - March 6, 2015
Payson to Heber-Overgaard
Miles: 55
Terrain: More arduous climbing followed by some welcome flats
Weather: Cool and sunny with winds harassing me from the north
Another day with a lot of climbing to look forward to...is it any wonder I really didn't feel all that motivated to get up this morning? The recipe for the day was moderate ups and downs for a while, gradually increasing, until finally right about the middle of the ride there's this huge climb up to over 7,500 feet in elevation, after which I get to spend the rest of the afternoon with some flats and moderate descents. Certainly not as bad as yesterday, during which the only descending was white-knuckle brake clutching as I pray I don't hit some crack or rock or have something bounce off my bike as I shoot down a 7% grade.
Anyway, the main trouble today would of course be that big climb in the middle, which looked like about 5 miles of steep climbing without any breaks, but of course I did something similar to that twice yesterday so surely I can do it again, right? Sure I can...except my legs and the rest of my body are still sore, and I didn't get enough sleep, either. Ah well, nothing like a challenge...so I set off around 9:30, which is later than I would've liked, and had breakfast at McDonalds. That's actually the very first time this whole trip that I've eaten breakfast, and if you've read previous tour logs you know why, but I really had little choice today since there wouldn't be any amenities at all between Payson and Heber-Overgaard (which I'll just call Heber from now on). In addition to the pancake platter and an Egg McMuffin, I bought a couple of extra breakfast sandwiches to eat later if I got hungry, having learned from yesterday's experience that this kind of foresight pays off.
After that I grabbed a couple quick geocaches and headed out. The early hours of the ride weren't too bad, with a couple of one-mile climbs that were slow going, plus that chilly headwind dogging me whenever a mountain wasn't blocking it. I kept my speed down, unwilling to really pedal all that hard, because I knew that big climb was somewhere up ahead. Finally it began, right around the 26 mile point, and all I could do was put my head down and push on, taking a break every 0.5 miles because the slope was really steep. Every time I stopped I did get treated to some amazing views, at least.
Finally, around 4pm, I finally reached the summit and boy, did it ever feel good! A couple of drivers even honked their horns at me in congratulations, which made me feel even better. I cruised on from that point, enduring a couple more moderate bumps but nothing serious, and polished off the rest of the food I bought at breakfast time now that I was done climbing. Then I indulged myself with a half-dozen more geocaches, to reward myself for my success, and zipped into town right at sunset. Perfect timing!
There was one casualty on the day: the bike computer I use to track mileage went kaput, suddenly deciding to stop working for no reason I can determine. One of the wires must've gotten pulled out or something...I've no idea. I'll have to get another one somewhere down the road when I find a Wal-mart or someplace that sells them. The cyclocomputer joins a bungee cord and several inner tubes in the list of the fallen so far this trip.
Anyway, on to some pictures! This is what I got to look at on my way out of Payson, during the one big early descent.
The views to my right were quite spectacular all day long. This is just an early picture...they get much better.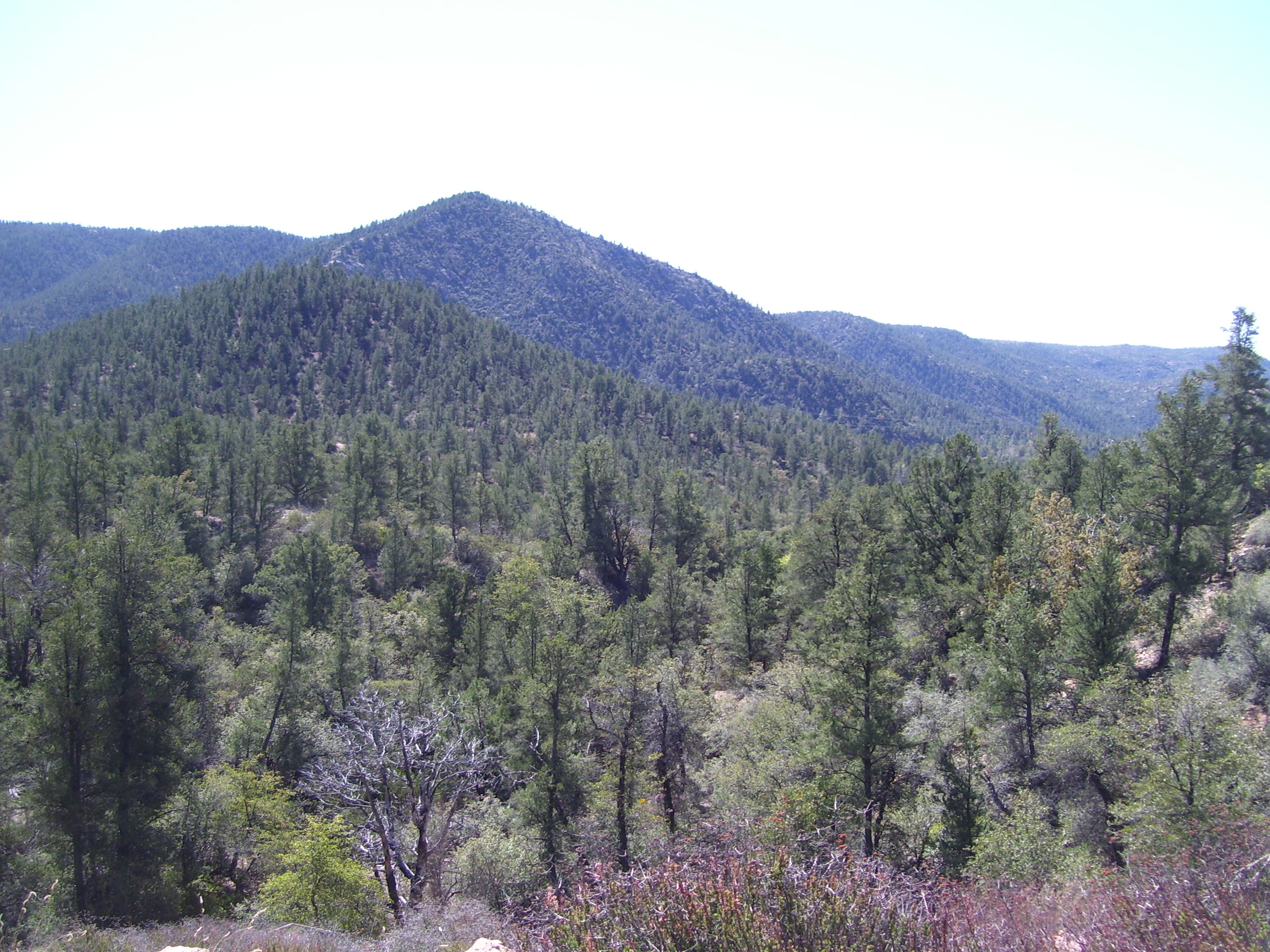 Another view looking ahead as I approach some majestic looking cliffs. Lots of trees now, too...a far cry from yesterday's forest of cacti.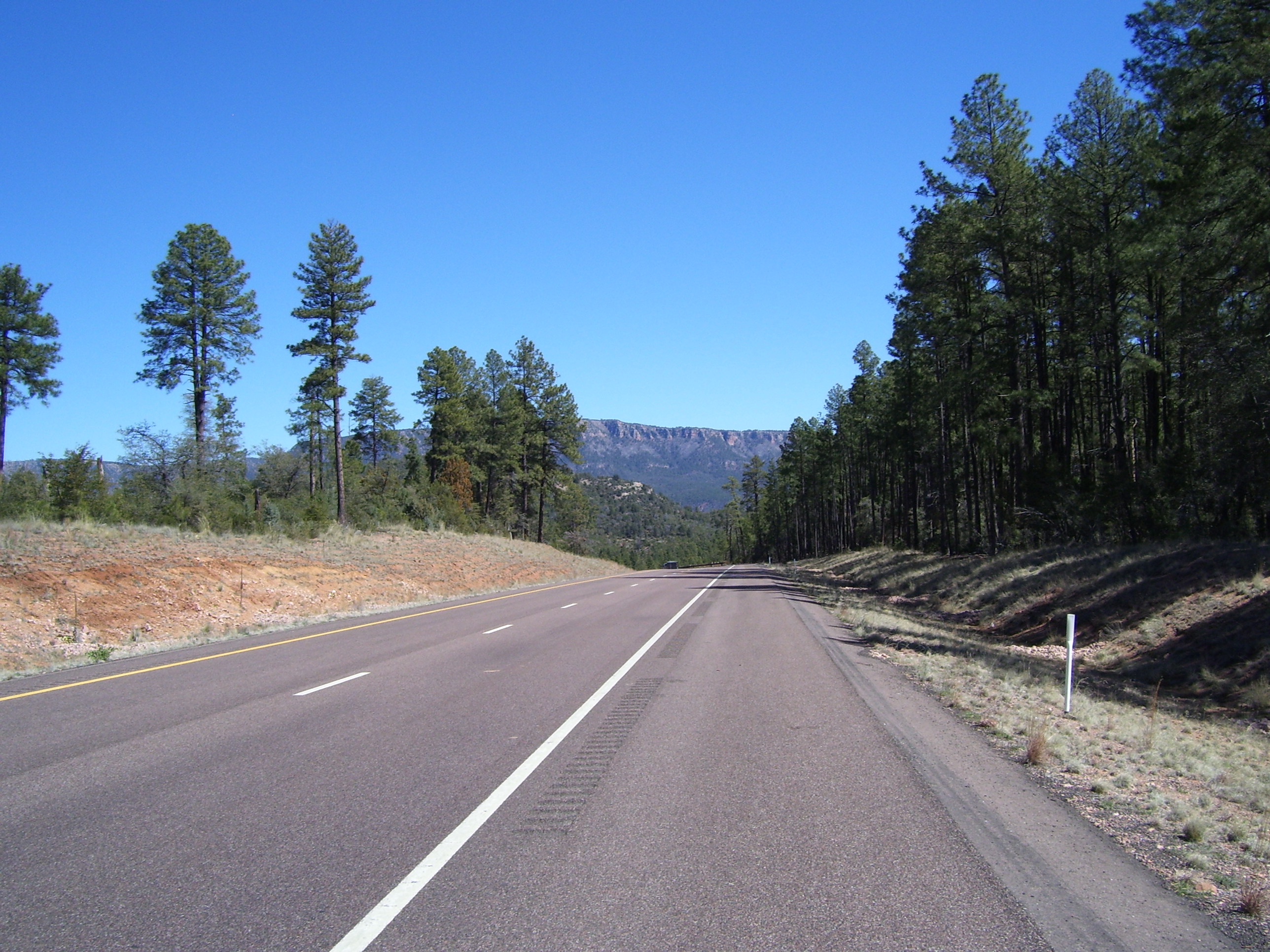 Another view of that distant bluff.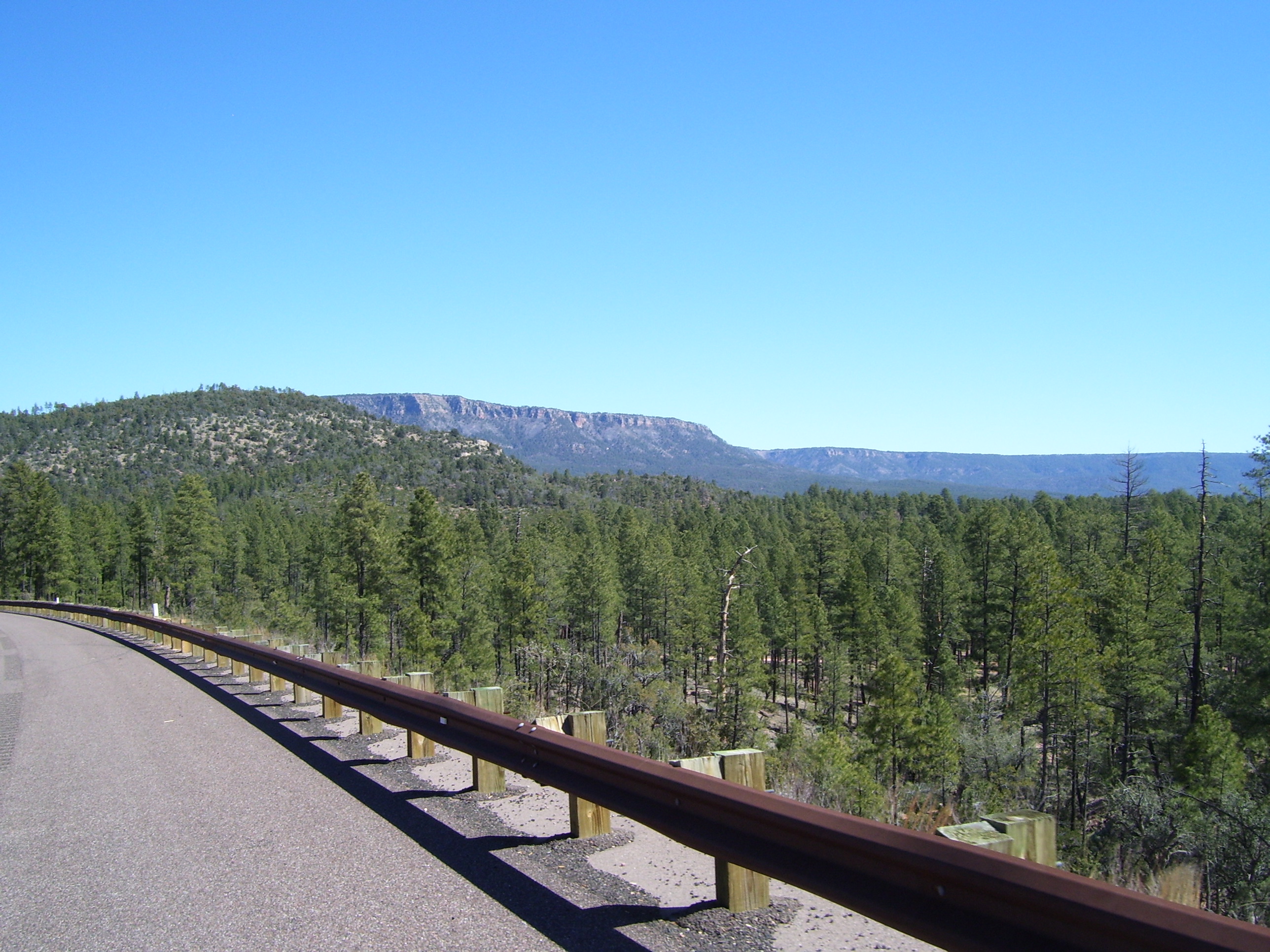 Here's an even better view, along with the road ahead of me curving past in front of it. I thought I might get closer to that mountain, but the road I was on wound to the left and out of view.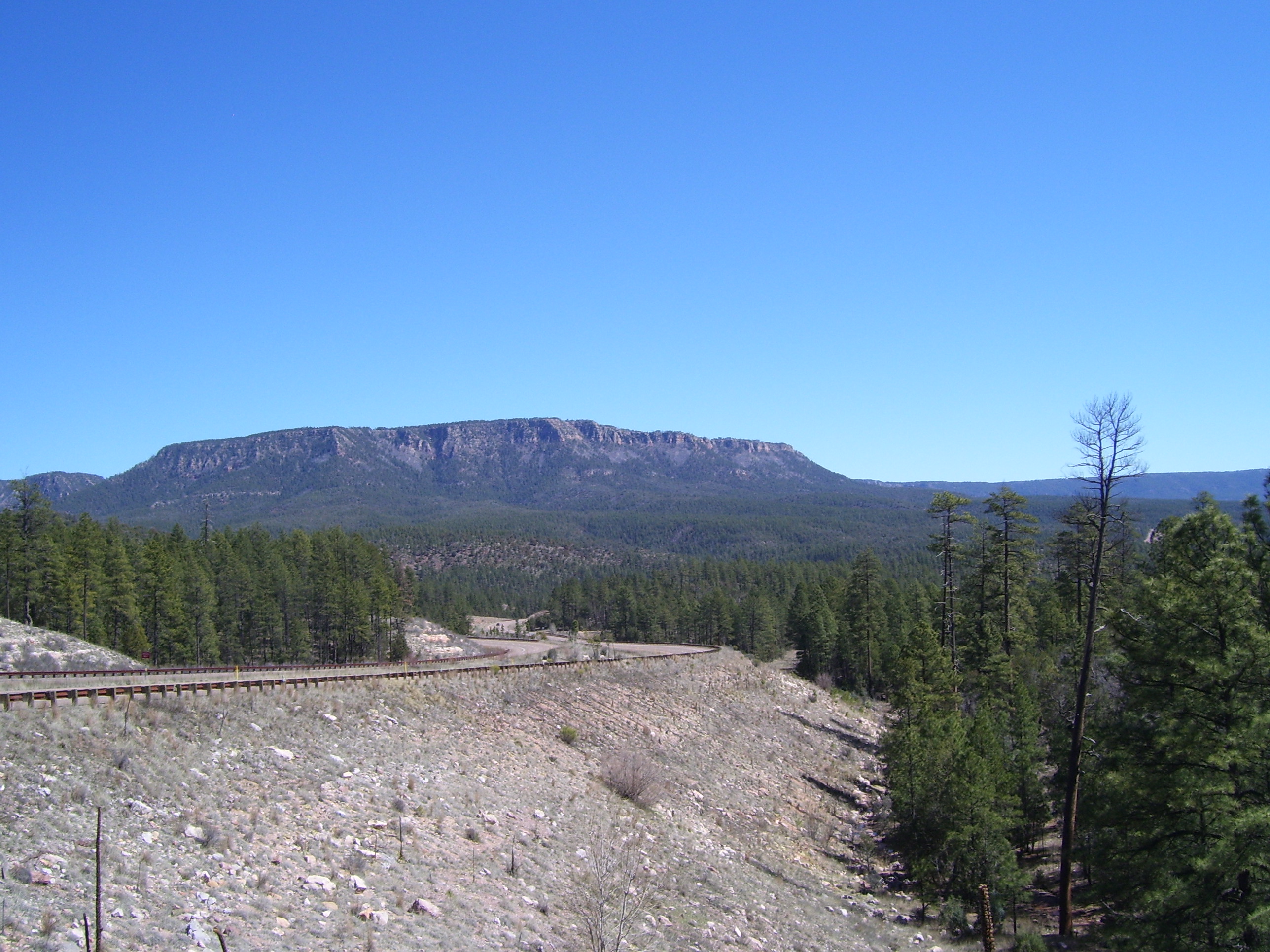 Every now and then the road I was on would cross over a bridge, and I could get a really good look at the terrain far below. In this case, an actual river ran down there.
These next few photos were taken as I climbed the monster hill between about 26 and 31 miles into my day. I kept looking over there at the amazing scenery, and almost losing control of my bike since I was going so slowly. The lowest speed I can remember seeing was 3.2mph, which is just faster than walking, but usually it was around 4mph. That plus all those breaks every half mile made this climb take something like 3 hours.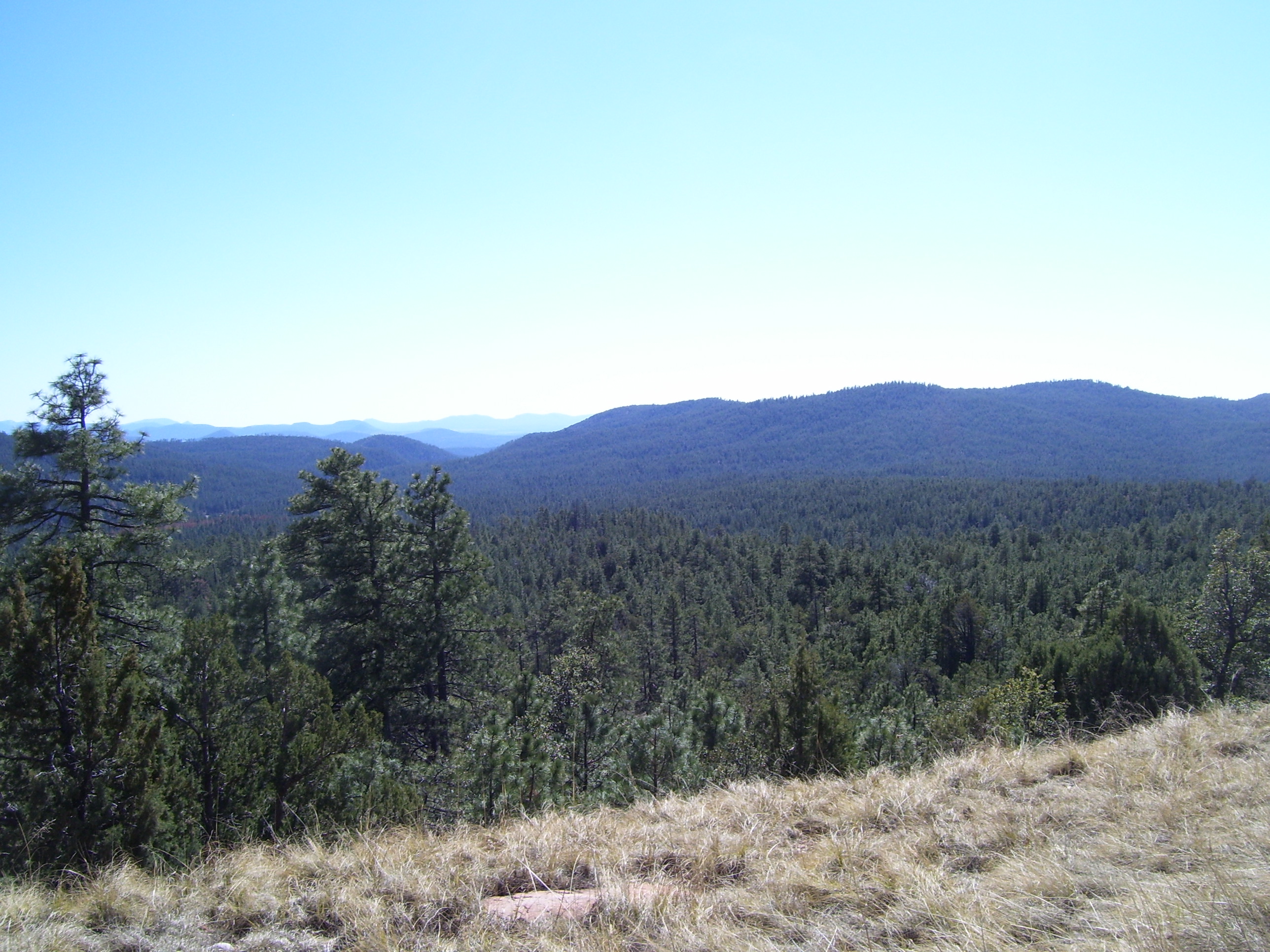 This is the view looking back the way I came, actually to the right of the previous photo.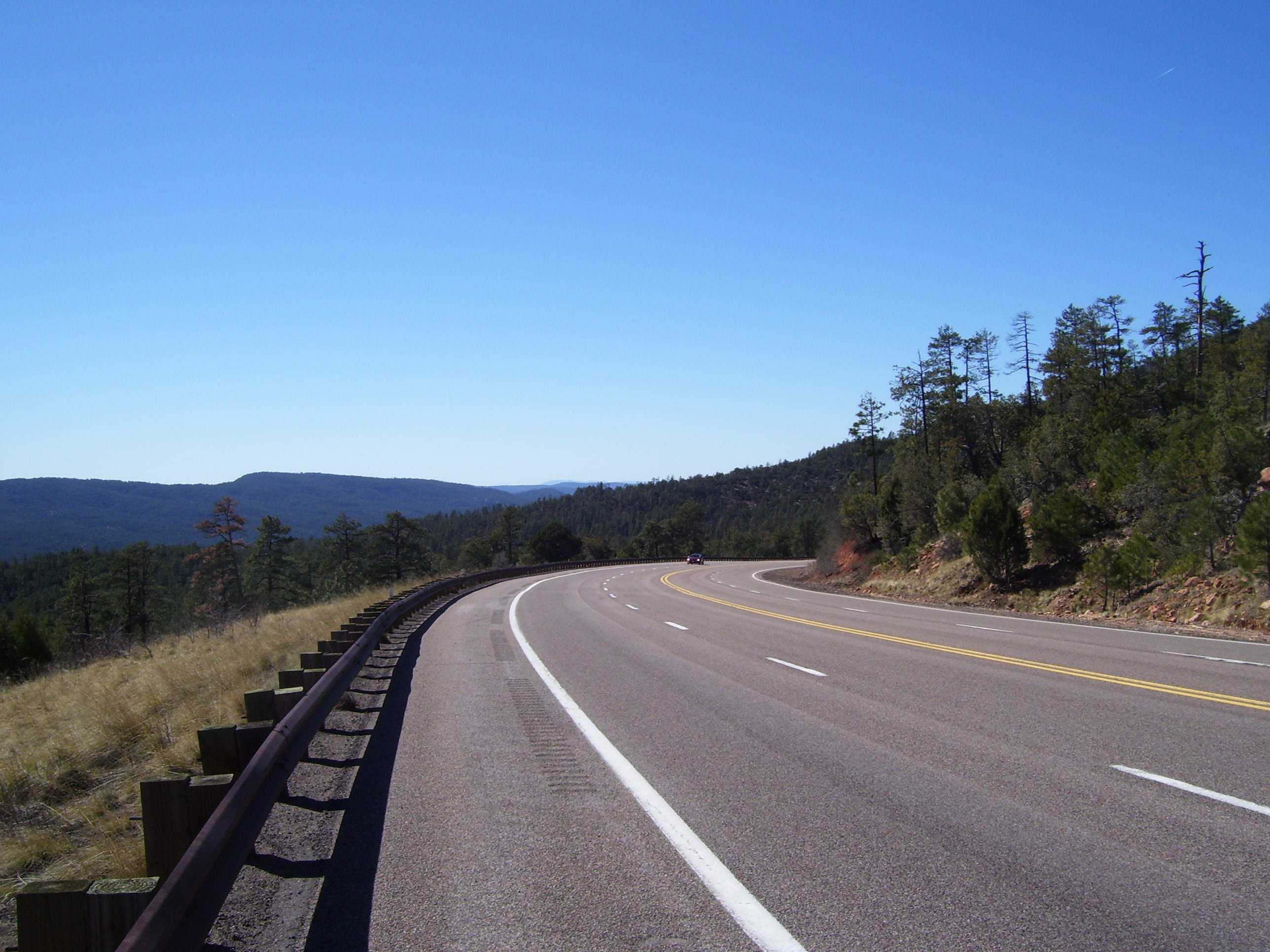 You don't really get a good idea how tall these trees are without being there, but here's a pretty good start.
Another view, this time with the valleys cris-crossing all the way to the horizon.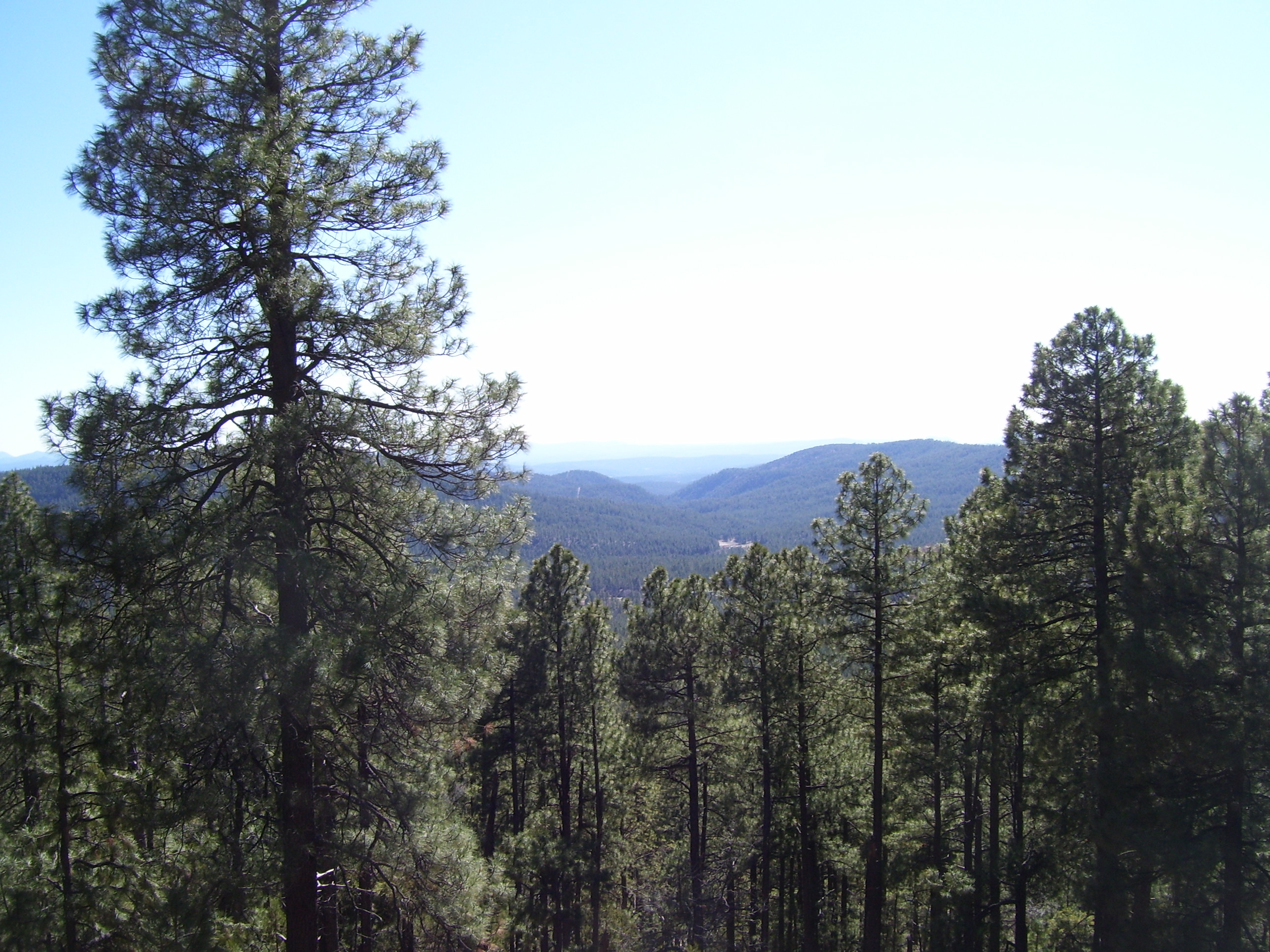 Here's one of those bridges I was talking about. The shoulder was about 5 feet wide and I had to dodge rumble strips the whole time, so you can see how harrowing this was as I struggled along at 4mph. Oh and also notice the snow under the bridge. I'd climbed high enough that there was still snow on the ground in some places. Good thing I didn't start this ride a week earlier, huh?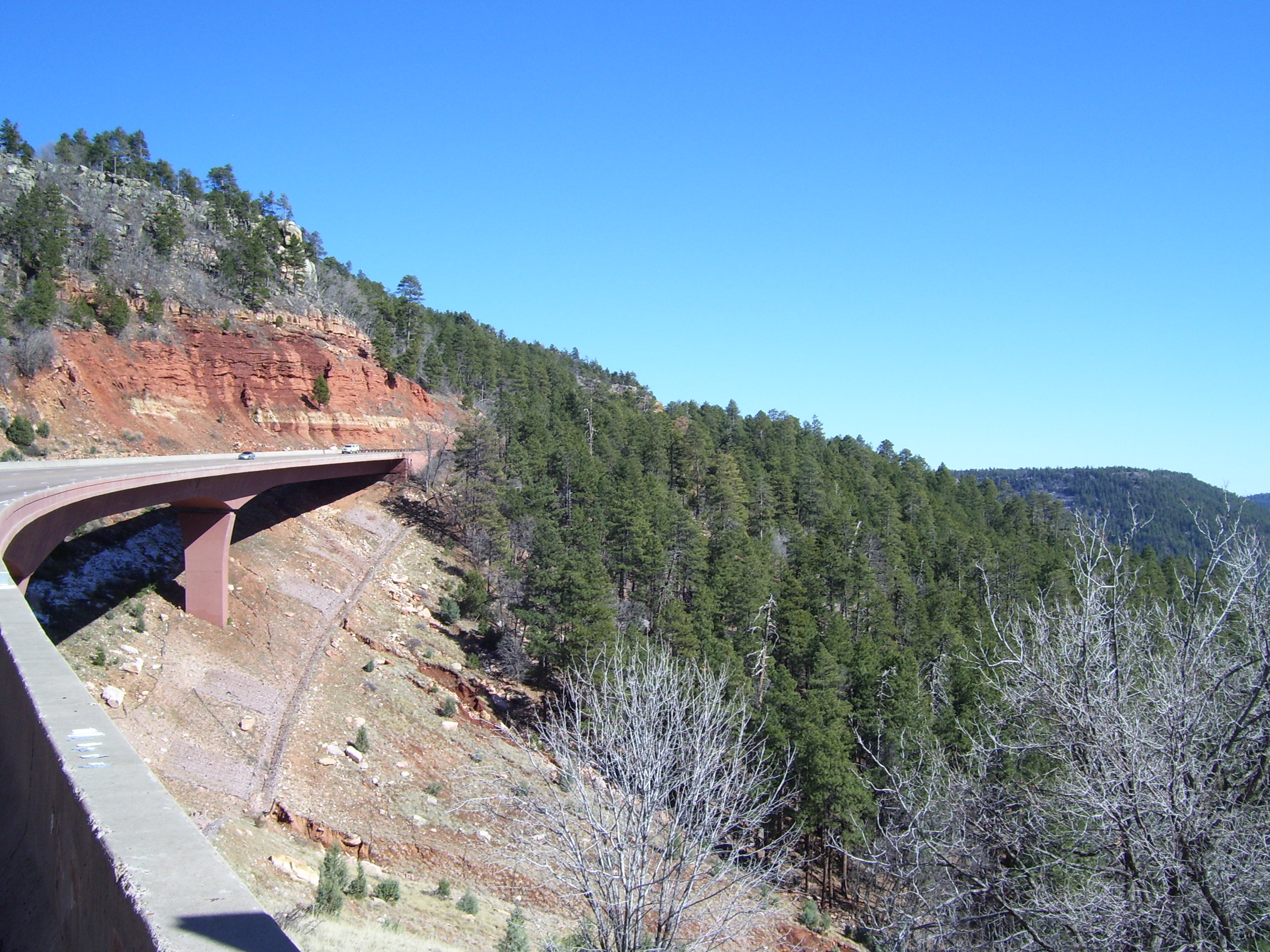 And now the entire valley in all its majesty. I stood here for quite a while just enjoying this fantastic view, from about 7,200 feet up.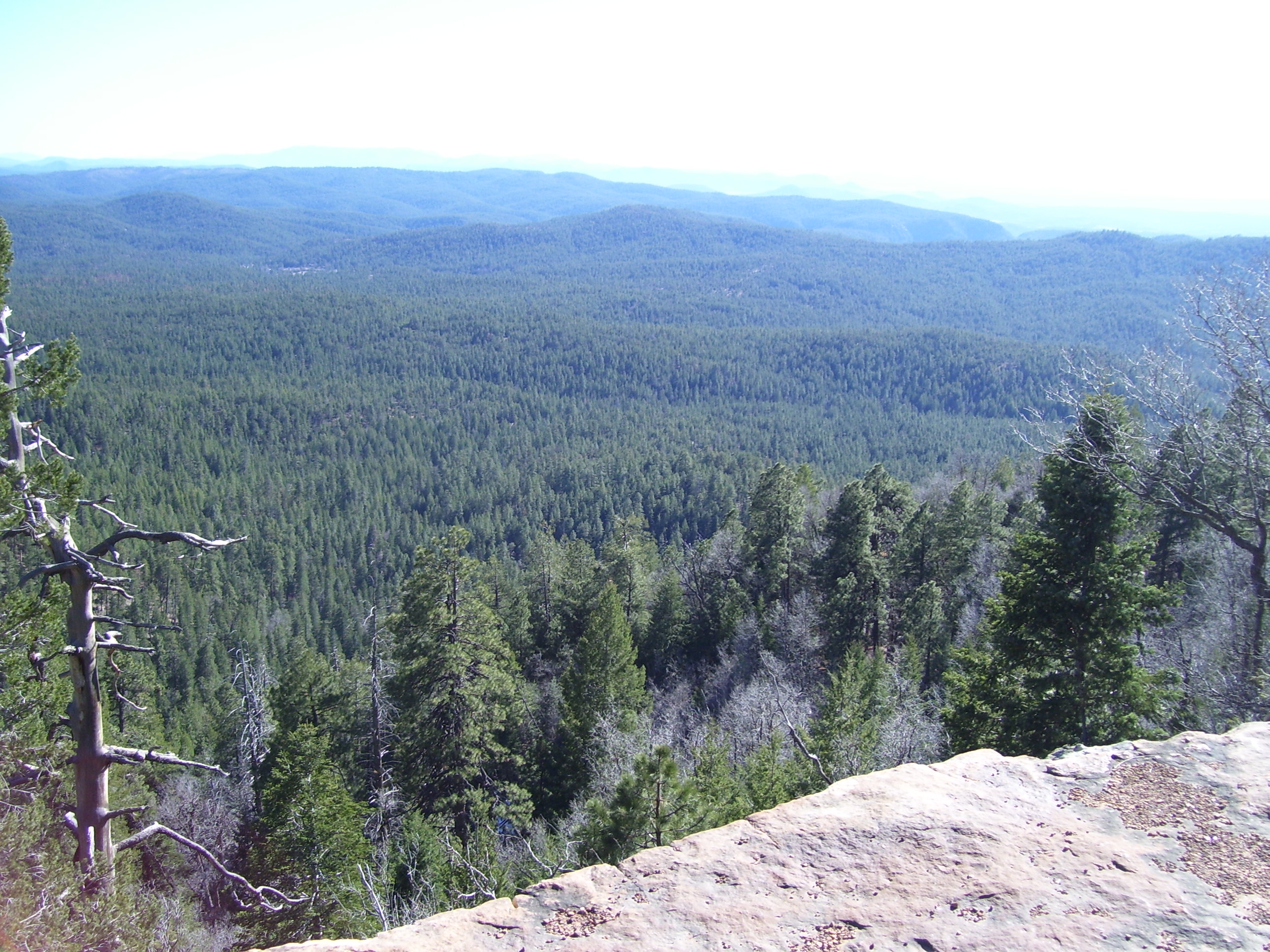 Just another half mile or so and I was done climbing, having reached the top of the Mogollon Rim. I kept hoping for a sign with the elevation on it or something, but no luck. I'll have to settle for this shot of my bike at the ranger station (closed today, unfortunately). Oh and speaking of that, I passed a lot of campsites today, but almost all of them don't open until April, so it's just as well that I didn't bring my camping gear after all.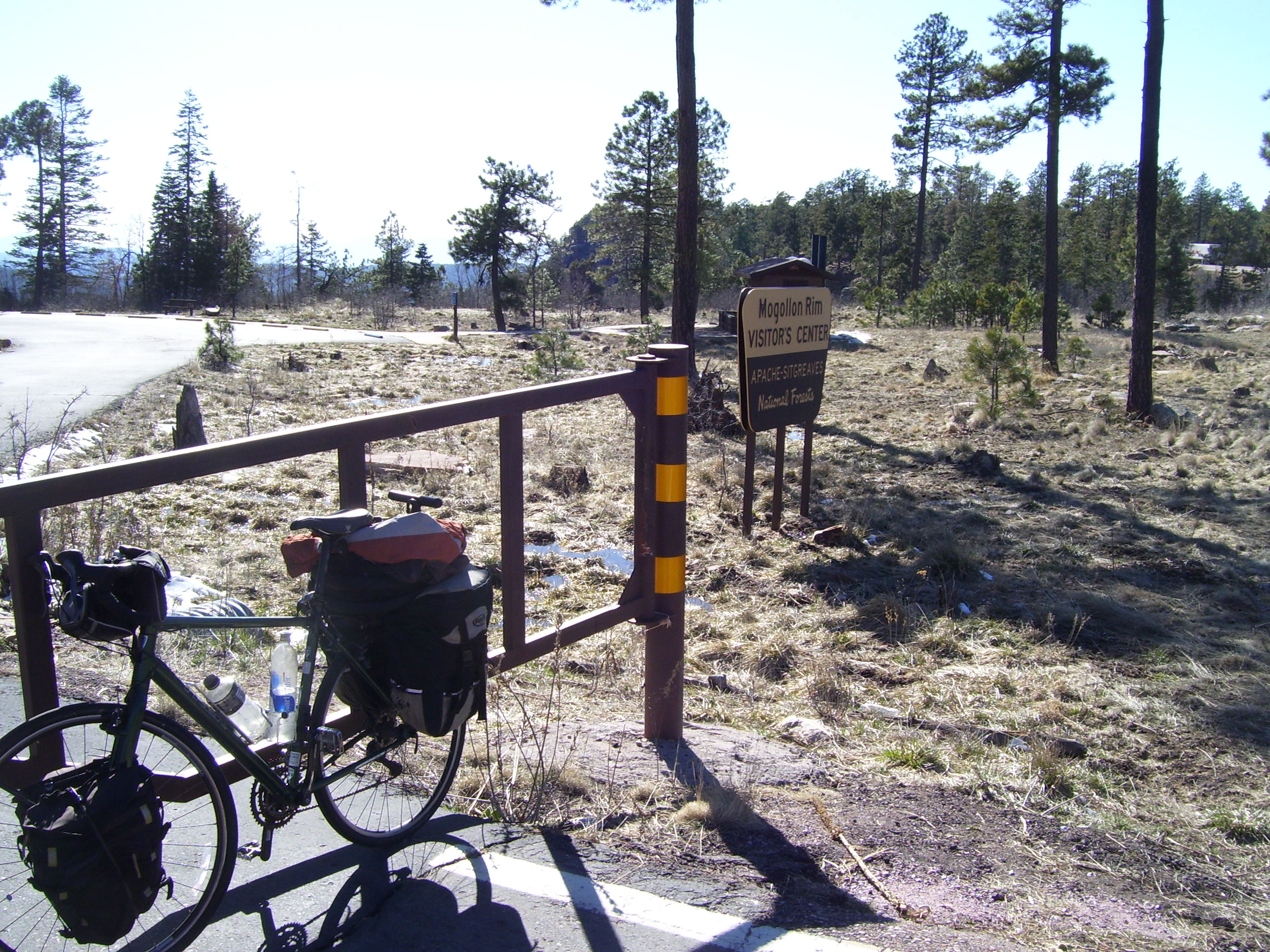 Since they wouldn't provide me with a mileage sign, I just took a photo of my GPS at about the highest point I could find...notice the elevation there on the top left. I've never ridden a bike this high before...the highest climb I ever reached was right about a mile, at the Continental Divide in 2001.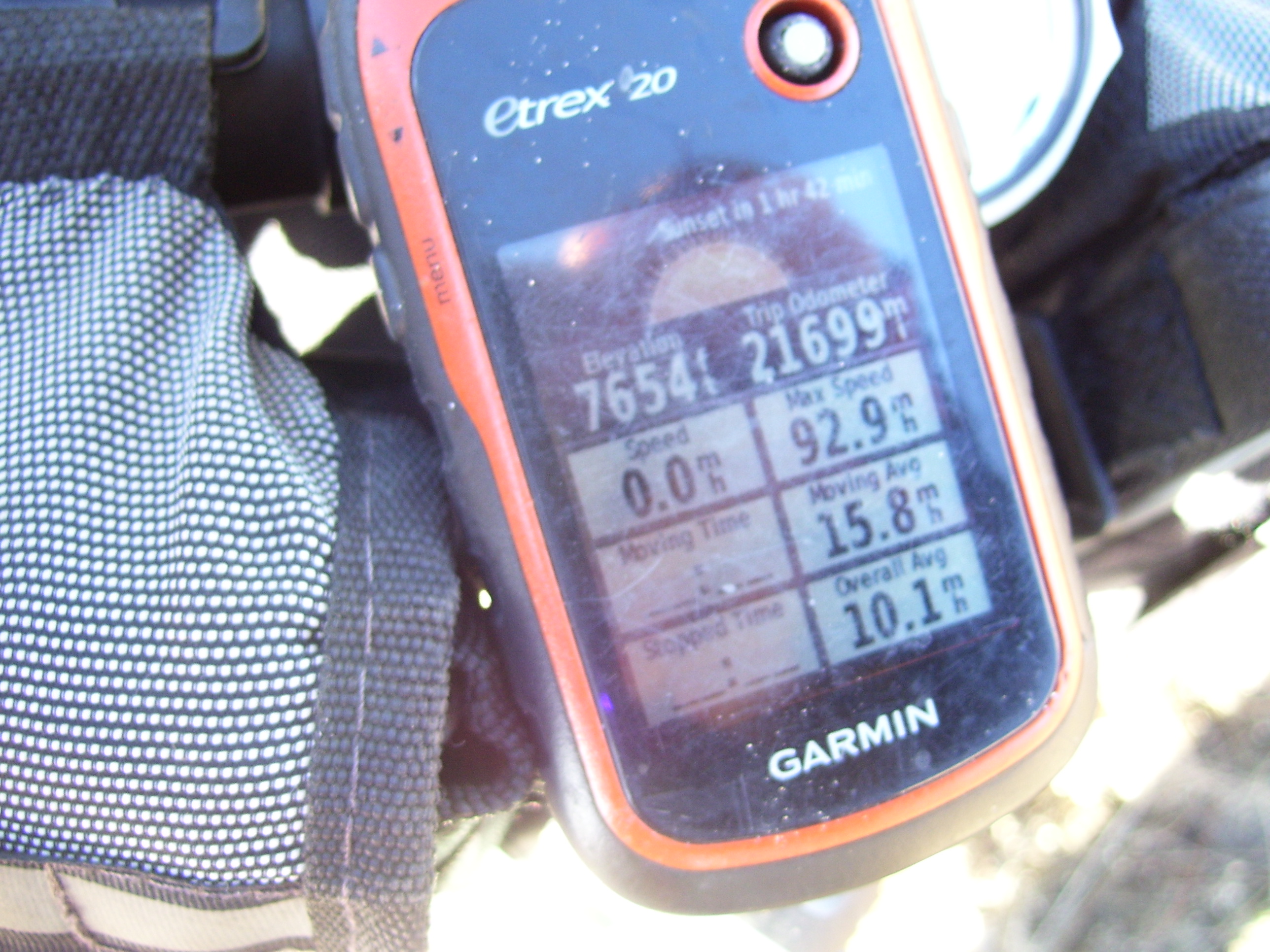 Those other stats on the GPS are for its lifetime (since I got it over a year ago). I'm trying to remember when I would've had it turned on while going 92.9mph, but can't think of anything. Surely I would never be in a car going that fast!
Anyway, that's it for today. I'm staying in a lodge tonight, which as far as I can tell is just like a hotel in every way. I sort of expected separate cabins or something, but nope. Anyway, it's cheap, and the internet doesn't work (keeping my average at about 50% for the trip so far), but the insides of the rooms are nice. Tomorrow I'll see if I can make it 80+ miles, but if not it's going to be more like 45. I'll figure that out after I get some sleep.