Day 17 - March 14, 2015
Amarillo to Claude via Cadillac Ranch
Miles: 45
Terrain: Basically flat
Weather: Cool and sunny, tough headwinds and crosswinds for about half the ride
My usual strategy of staying at the cheapest hotel I can find usually means I'm not entitled to any kind of breakfast, although every now and then I got lucky. The Executive Inn in Amarillo is one example, as it featured a hot breakfast in the form of biscuits and gravy, waffles, toast, and a few other choices. Not bad for only $30 a night. Oh, and the waffles were Texas sized!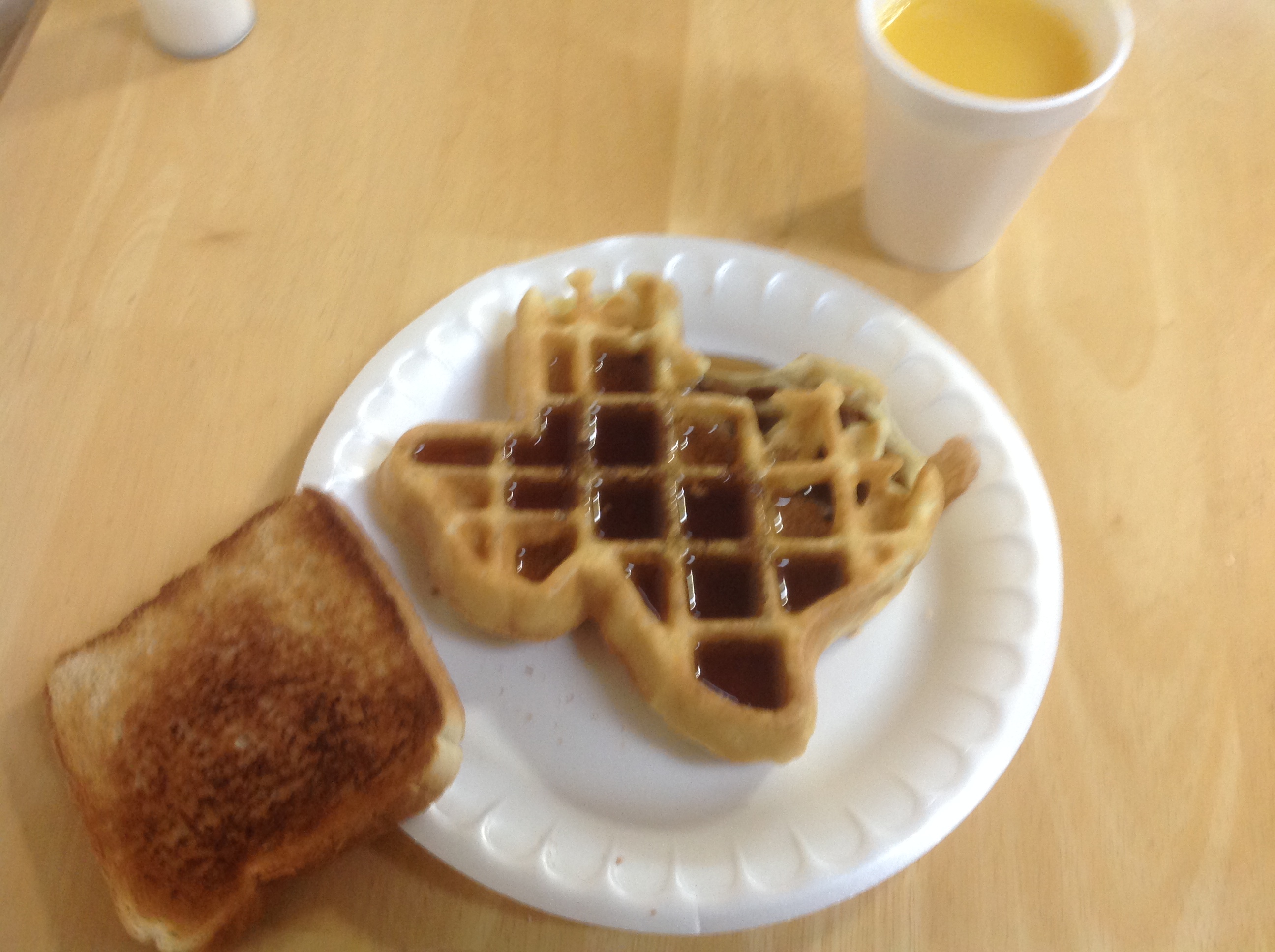 As I mentioned on a previous page, eating a large breakfast can sometimes make me feel ill while touring, but today I didn't intend to be riding long in the morning because my first stop was a geocaching event at the Cadillac Ranch. I posted a couple photos of the Ranch yesterday so you could see what it is I'm talking about. As for the event itself, well, geocaching is a game, played worldwide with GPS units, where players track down containers or "caches" that other players have hidden. The approximate location is given with GPS coordinates, and the fun comes in getting out and hunting for them. The game often takes me to all kinds of amazing places I never would've found out about otherwise (one good example from this trip is the Arizona anchor back in Phoenix, but there are plenty of others I could name, including some you'll see later today).
Anyway, another aspect of the game is social: the players often come together for "events," like the one this morning at Cadillac Ranch. I noticed it on the map at geocaching.com about a week ago, decided it sounded like too much fun to pass up, and came up with a way to make it here in time to attend. We met at 9am and proceeded to maliciously spray-paint a bunch of dead Cadillacs. Afterwards, we went around and cleaned up all the empty paint cans in the area, just to support the community a little bit. Here's what our merry band of vandals looked like: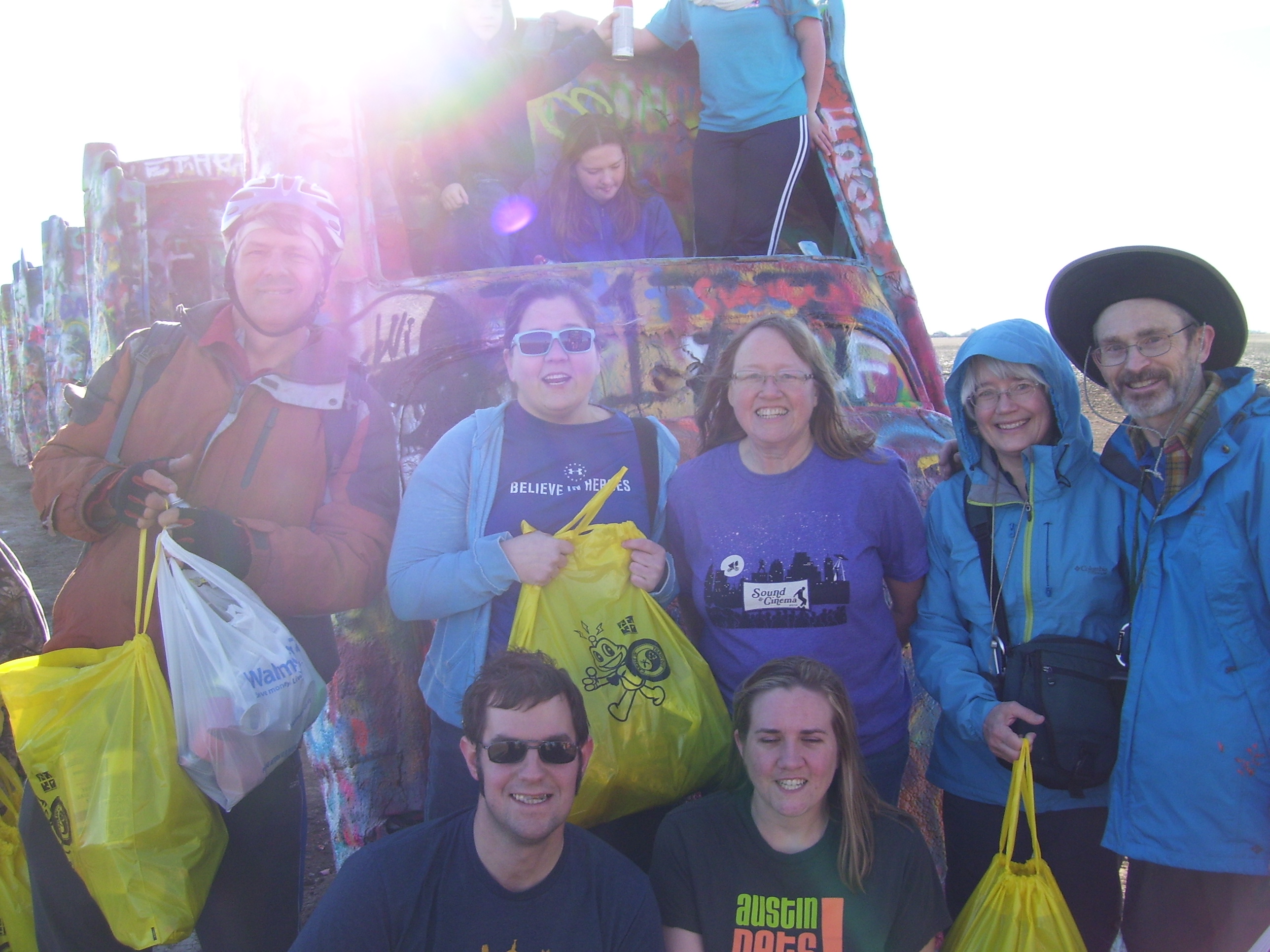 I wasn't the only one here from far away...the couple on the right were from Oregon, one guy drove up from Lubbock (about 2 hours away) and the event organizer, next to me, was from Kansas. We all just happened to be in the area or passing through, saw the event on the map and dropped by to enjoy defacing this piece of Americana. I even tried my hand at drawing a bike on one of the cars, but you know, it's a lot harder to do that with a spray can than you'd think.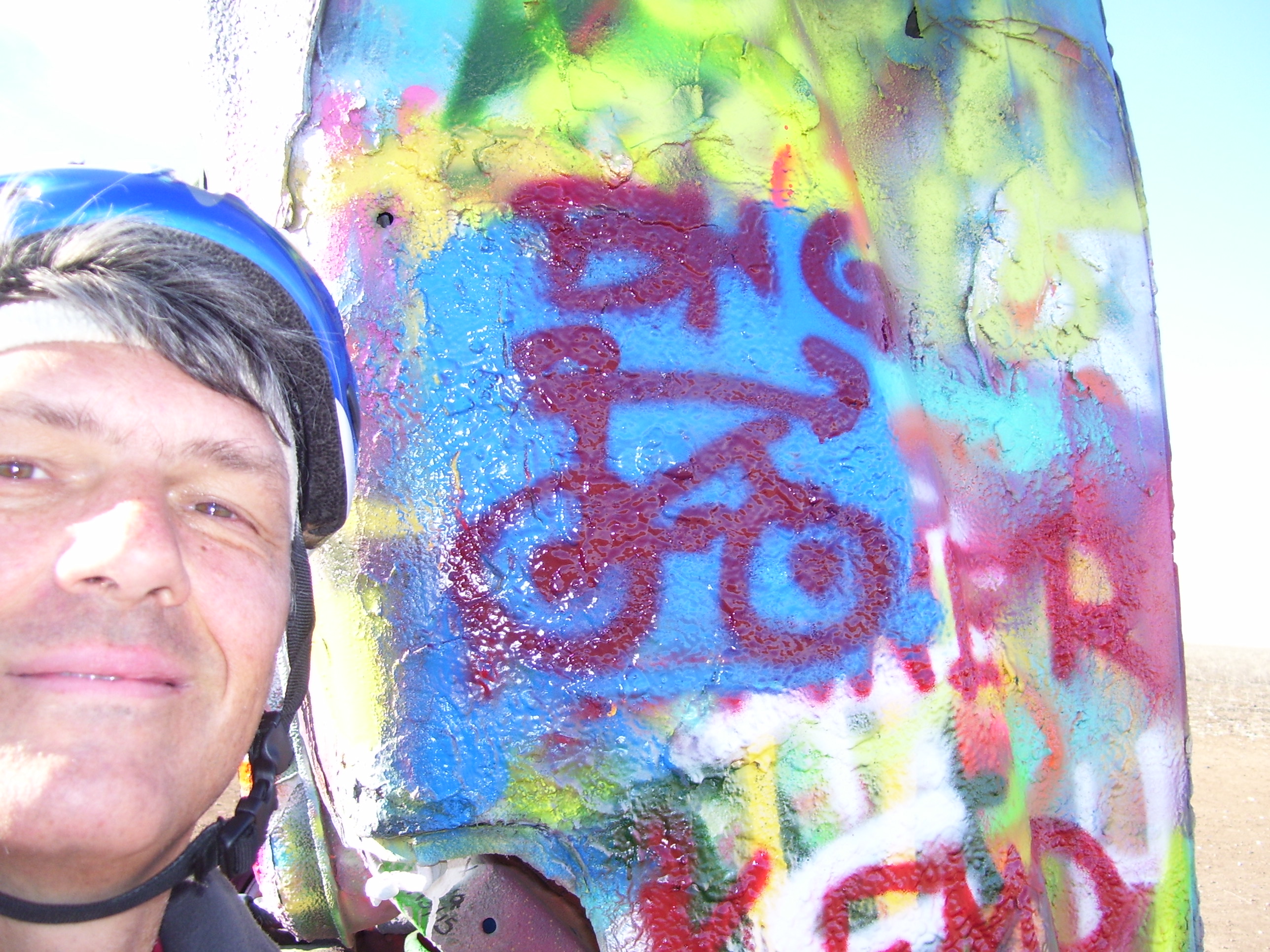 Another view of my creation, which, judging by the constant flow of tourists coming and going from this place, will probably last about an hour: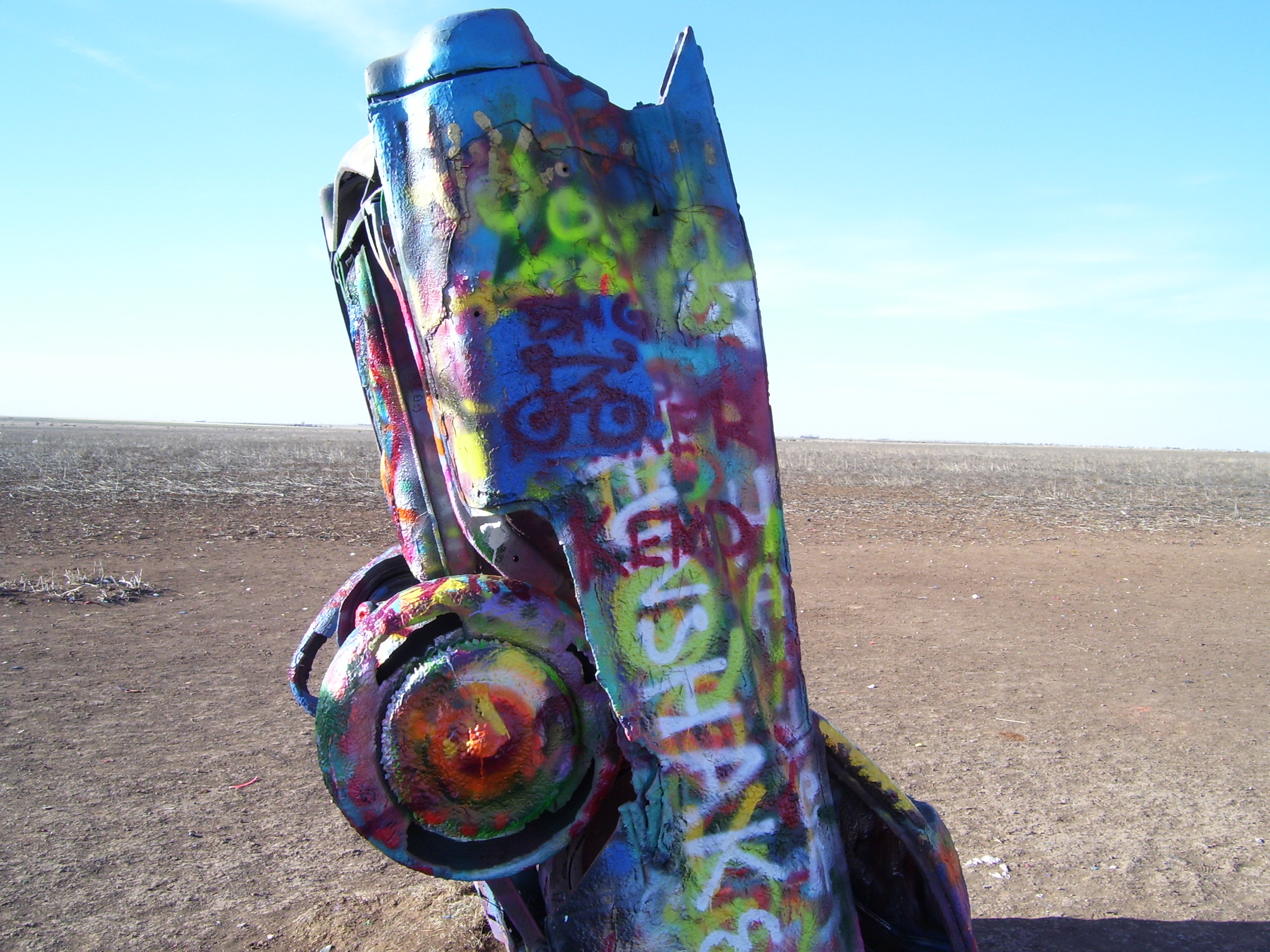 And here's a view of several other cars with so much paint on them I'm not even sure there's any metal left underneath. The wheels do still turn on some of them, though.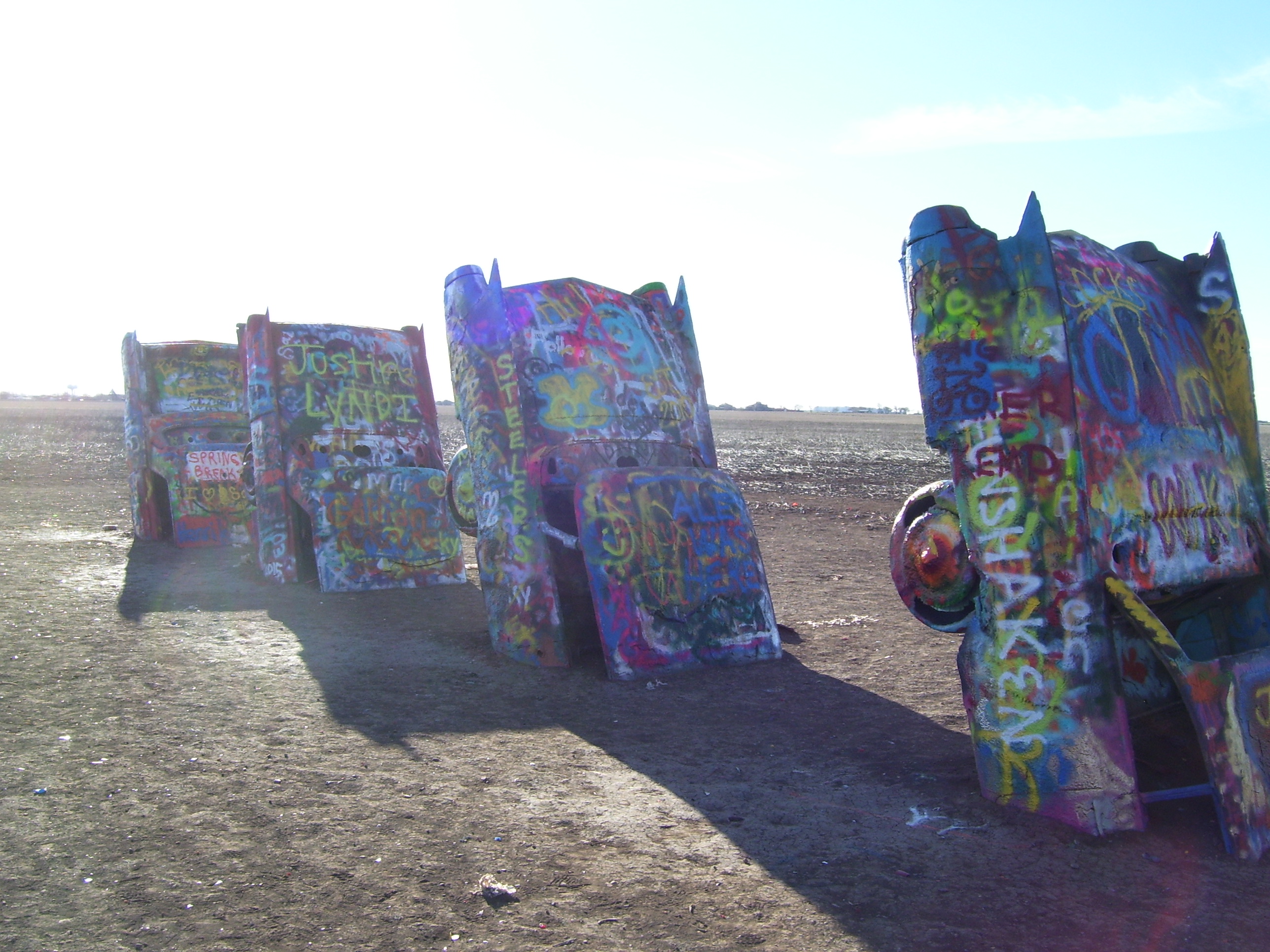 After that I headed off towards my next meeting, and on the way passed this interesting historical marker. The factory in question was no longer operational, though. I never realized that Amarillo, Texas had such a monopoly on helium.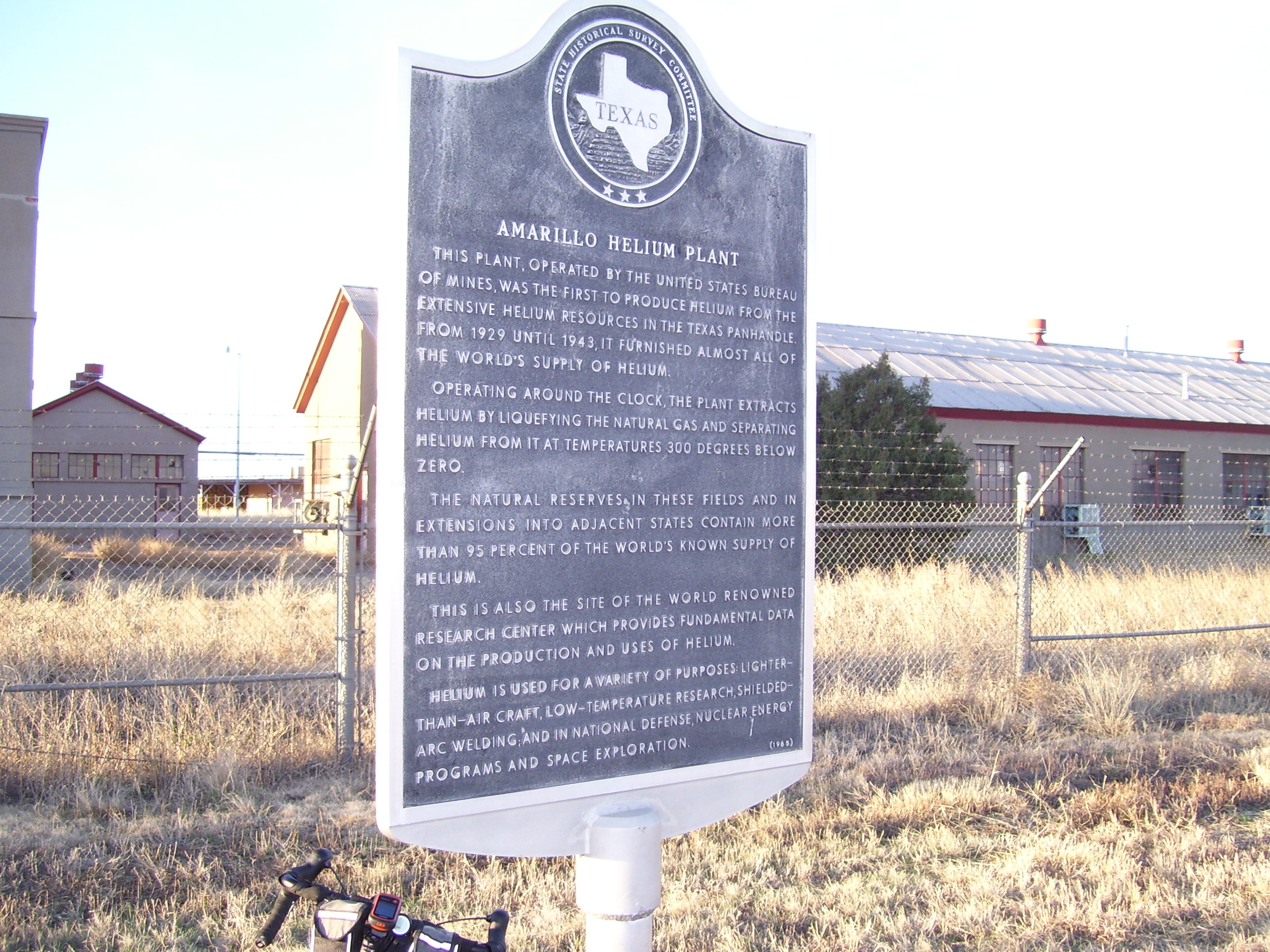 Next up was a trip to Amarillo Design Bureau (ADB), the home of a game called Star Fleet Battles (SFB), and the fine folks who treated me to dinner last night. I used to play SFB constantly in my younger days, and then did a bunch of freelance writing for it, including several products for which I still receive the occasional royalty check. Effectively, my work for ADB set me on course to where I am today as a writer, game designer and freelancer, for which I'm immensely grateful. So while many of you readers won't care much about some of the next few pictures, just rest assured they're very important figures in my life. Some of my close friends will also be interested in the people and places in these photos, so bear with me for a bit.
Anyway, this modest and unassuming building is where the magic happens: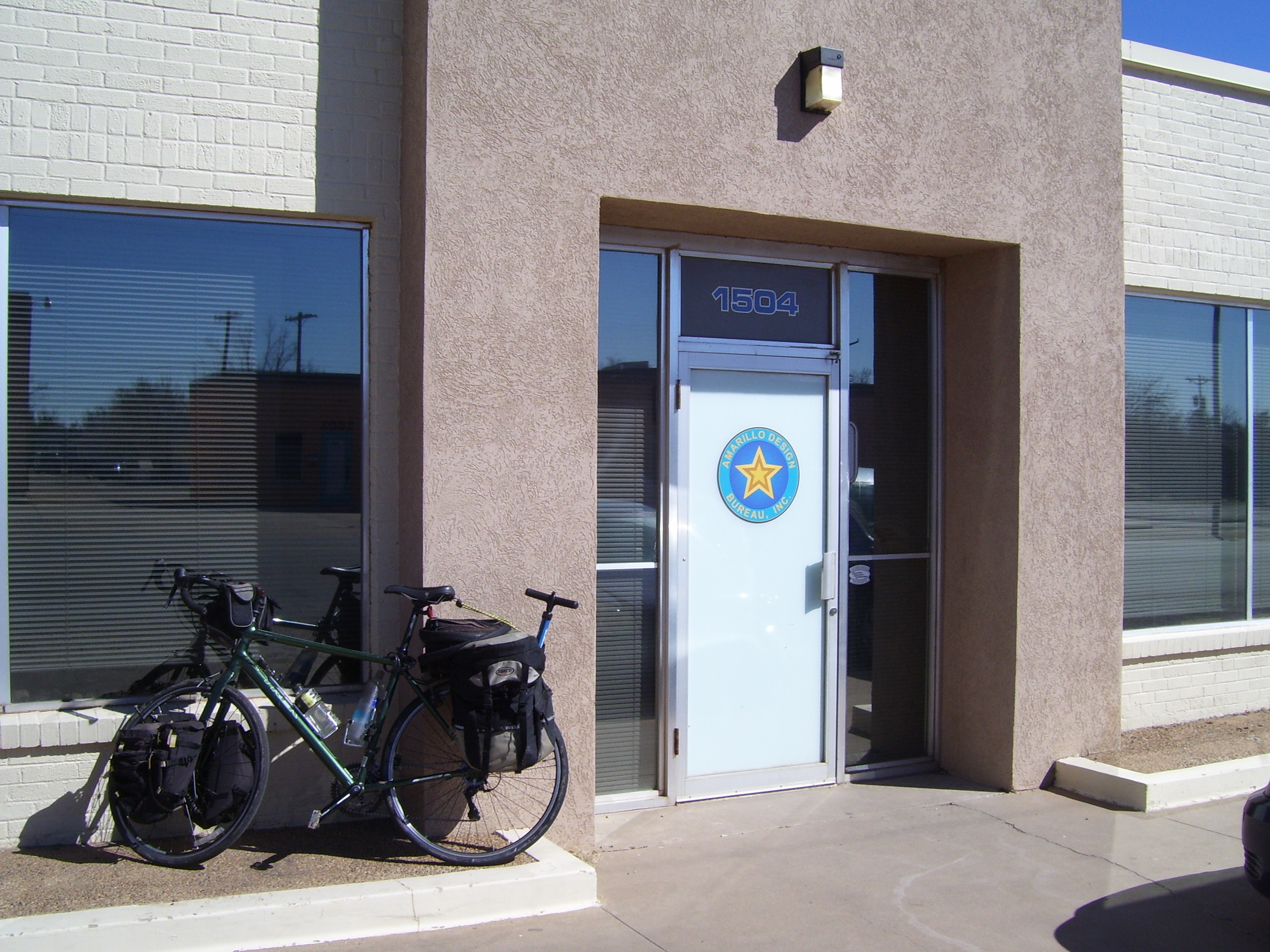 After my arrival I was quickly ushered out of the building and off to lunch at the Texas Roadhouse (because, well, I'm in Texas, I should probably eat at the Texas Roadhouse at least once). The waitress was kind enough to snap a much better photo of the gang this time. From left to right: Steve Cole, Leanna Cole, Steve Petrick, me, and Jean Sexton. 100% great people. I would've stayed and chatted for hours but alas, we all had other things to do or places to go.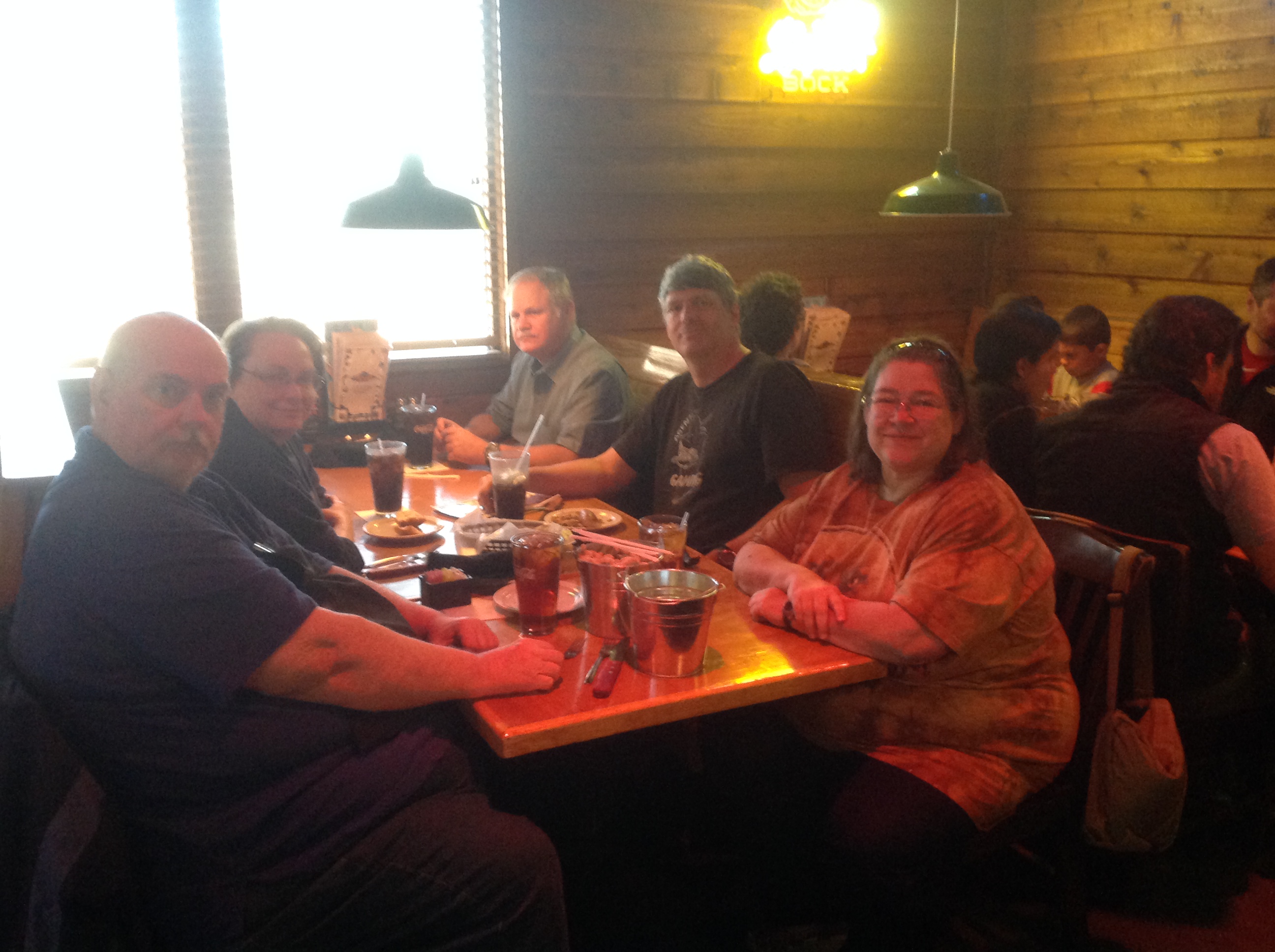 Before leaving I did get a quick tour of the ADB offices. This is Steve Cole's spacious executive suite, where he ruthlessly controls the company with an iron fist. Or at least that's what Jean and Leanna let him think, anyway.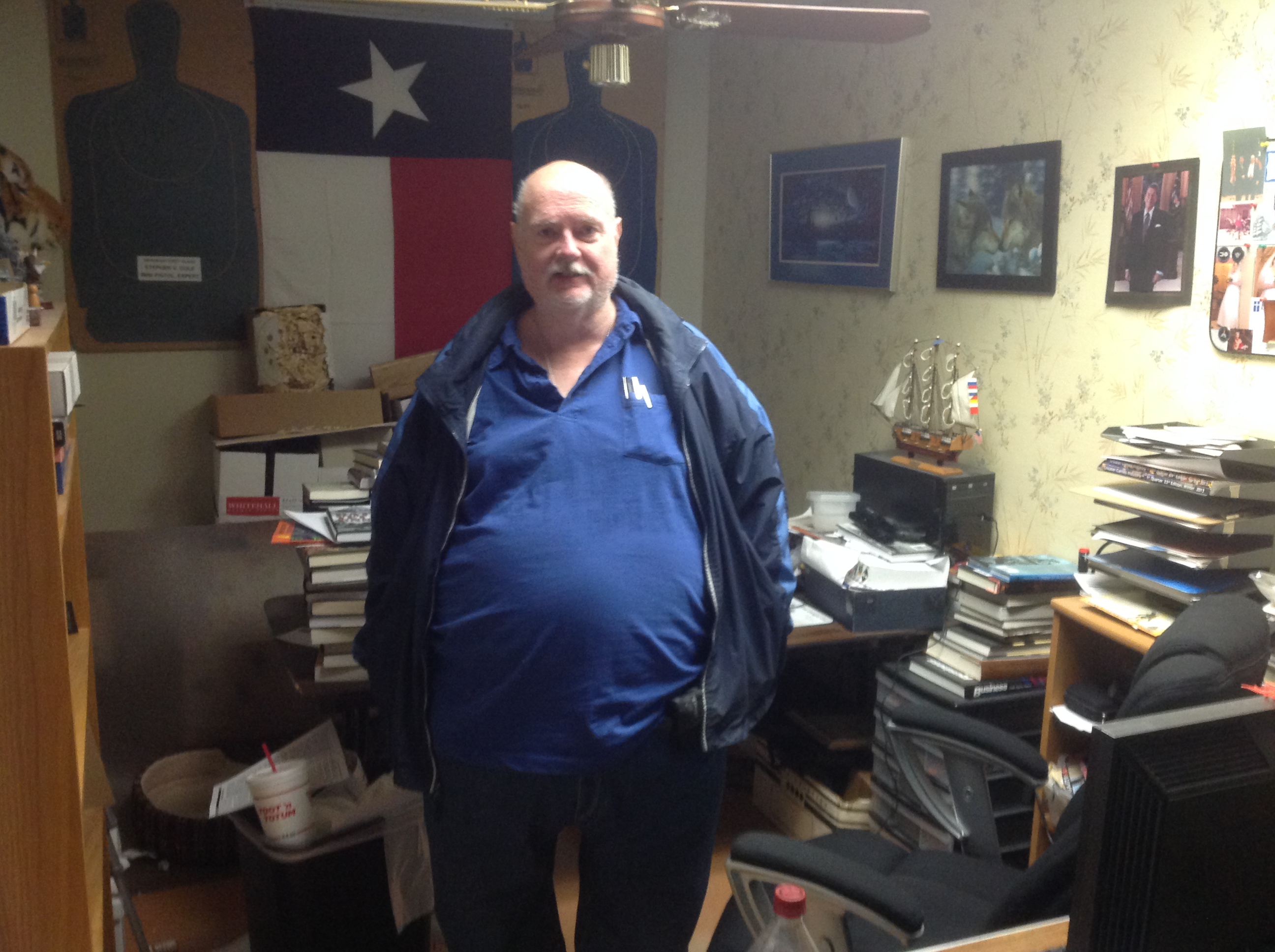 Here's a room full of counters and book products prepared for assembly into finished works. It looks messy, but as a former SFB player familiar with the product line, there's a real order to it.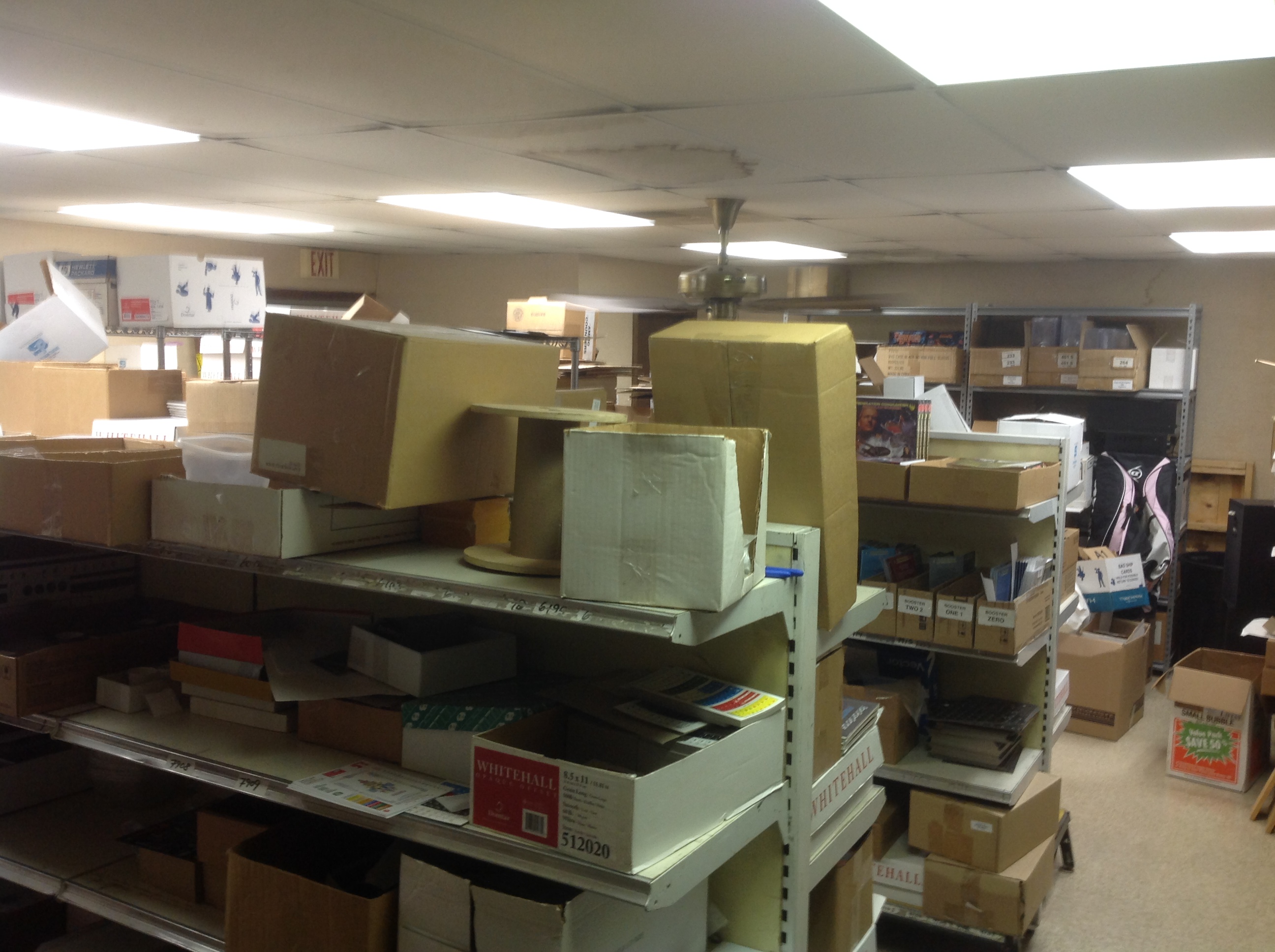 Here's another part of the office where miniatures are packed up and mail orders are taken care of. Uh-oh, I think Steve's getting tired of me taking all these photos. I hope he doesn't sic the dog on me.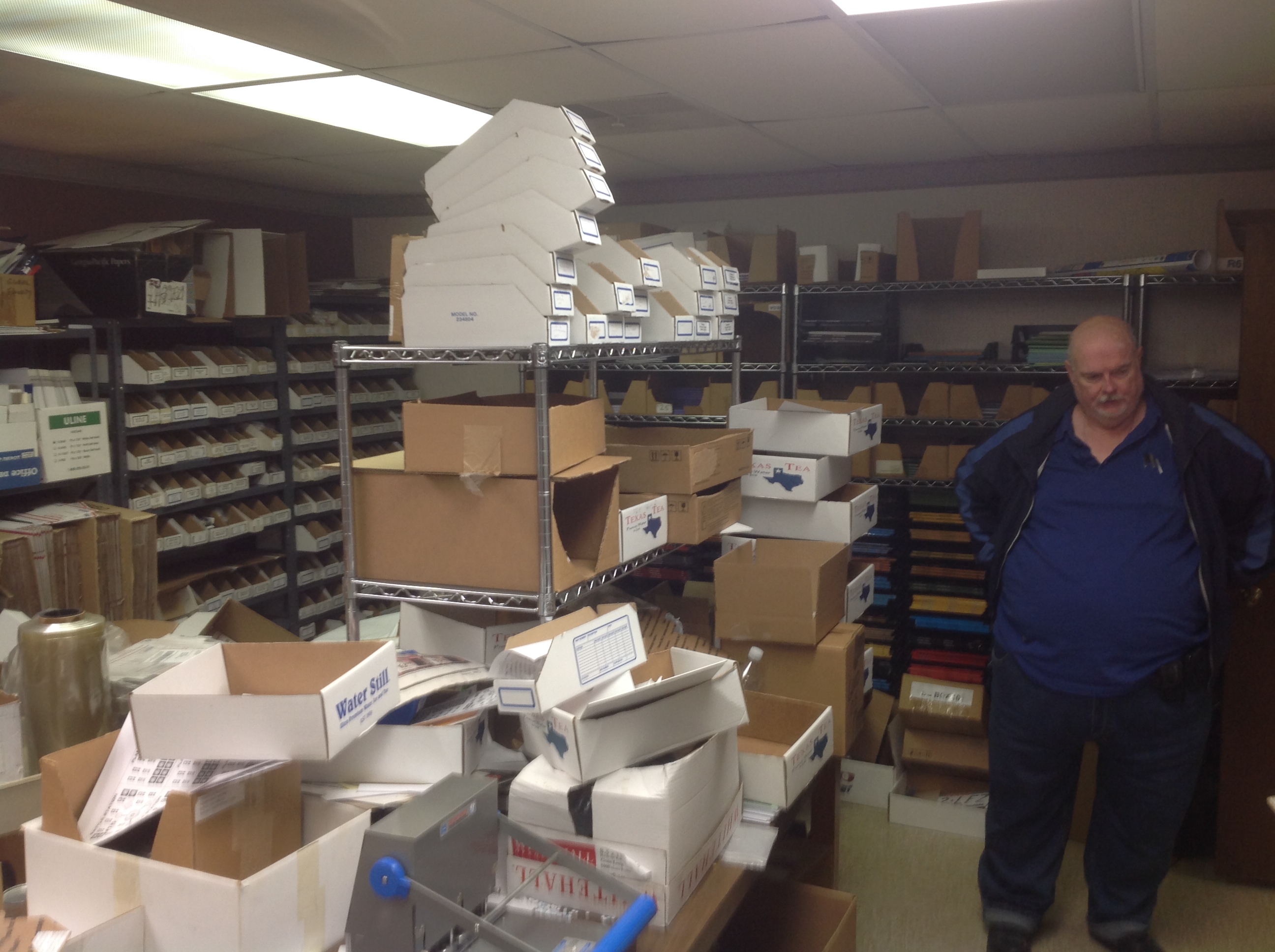 Uh-oh, too late! Vicious attack dog! RUN!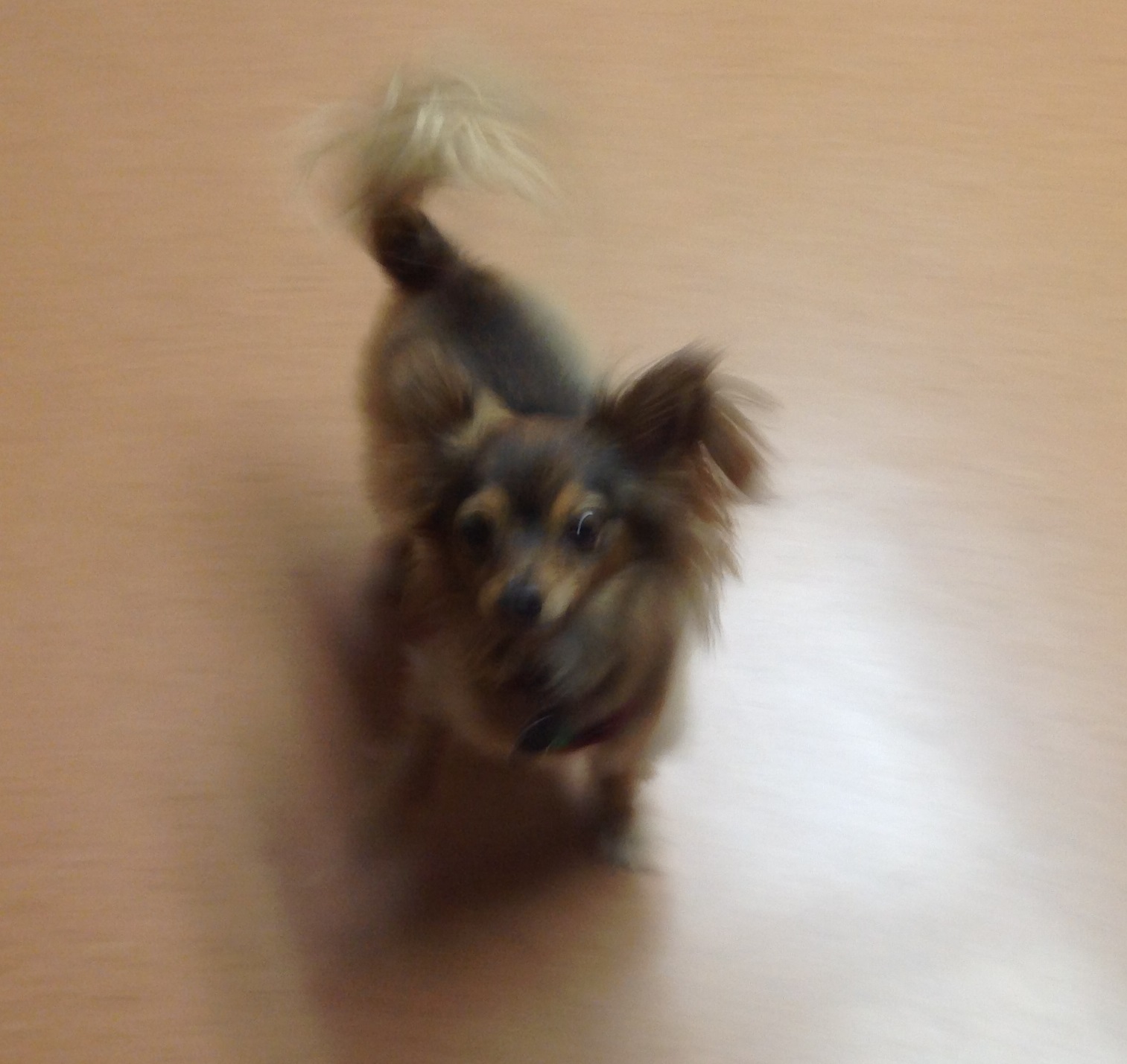 I hastily fled before the dog could lick me to death, and got back on the road where I soon encounterd this curious statue next to the Cadillac RV park. The "2nd Amendment Cowboy" champions the right to keep and bear arms. This is Texas, after all. Plus the classic Cadillacs were cool (and not spray-painted like those others).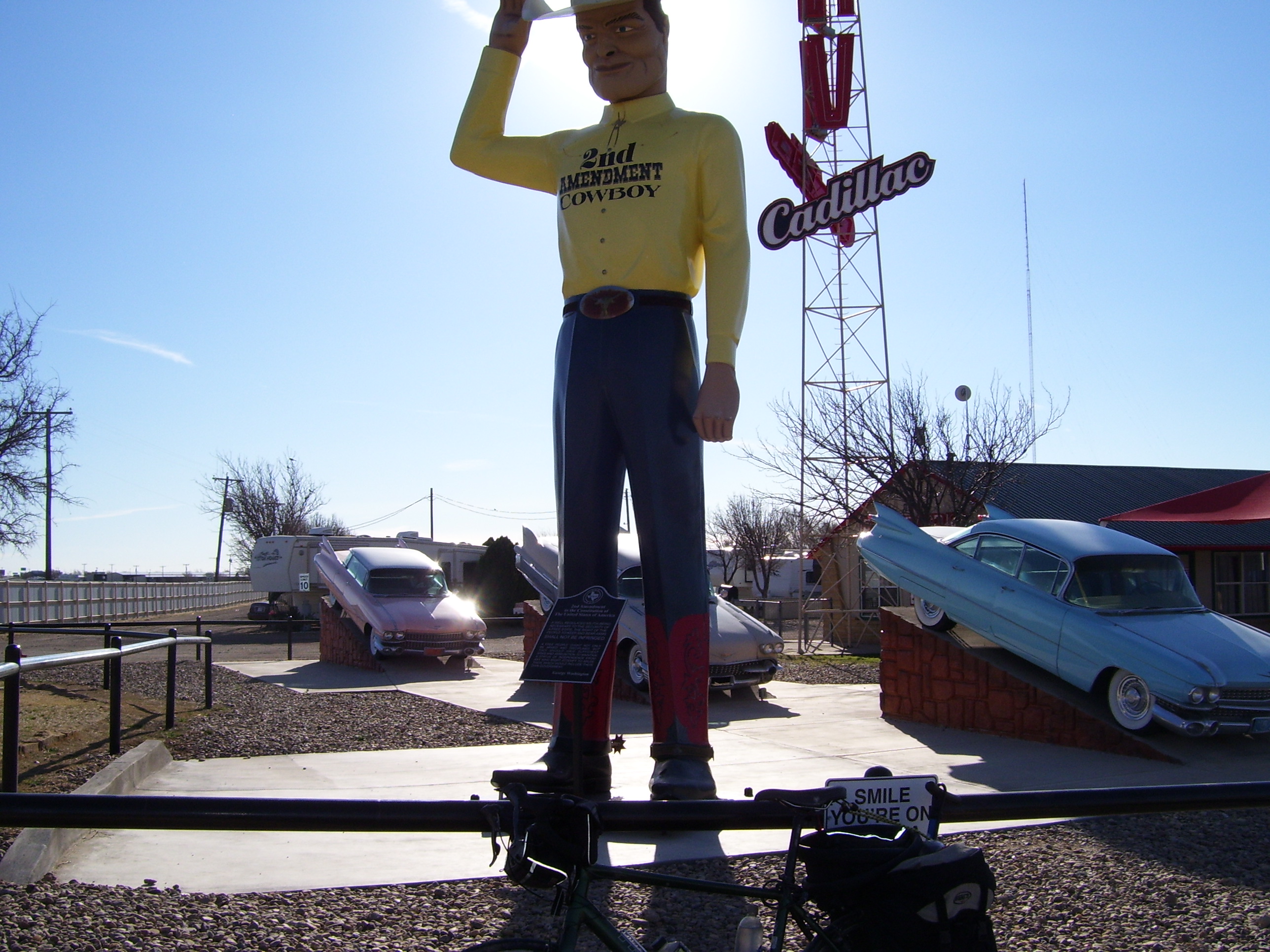 I did have one more duty to perform here in Amarillo, namely, find a bike shop and get rid of my incredibly skippy chain, which I've had to suffer with for the last several days. It had been my intention to just fix the link, but the bike shop folks talked me into just putting on a brand new one, which is probably a good idea after the last one had to endure daily rides in the snow and road salt of Ohio's winters. Besides, it only cost 20 bucks installed. That seems like a fair price to guard against a broken chain that would put a quick halt to my trip at some random point down the road. Call it insurance, if you will. Here's the new chain being installed, a process which took about 5 minutes.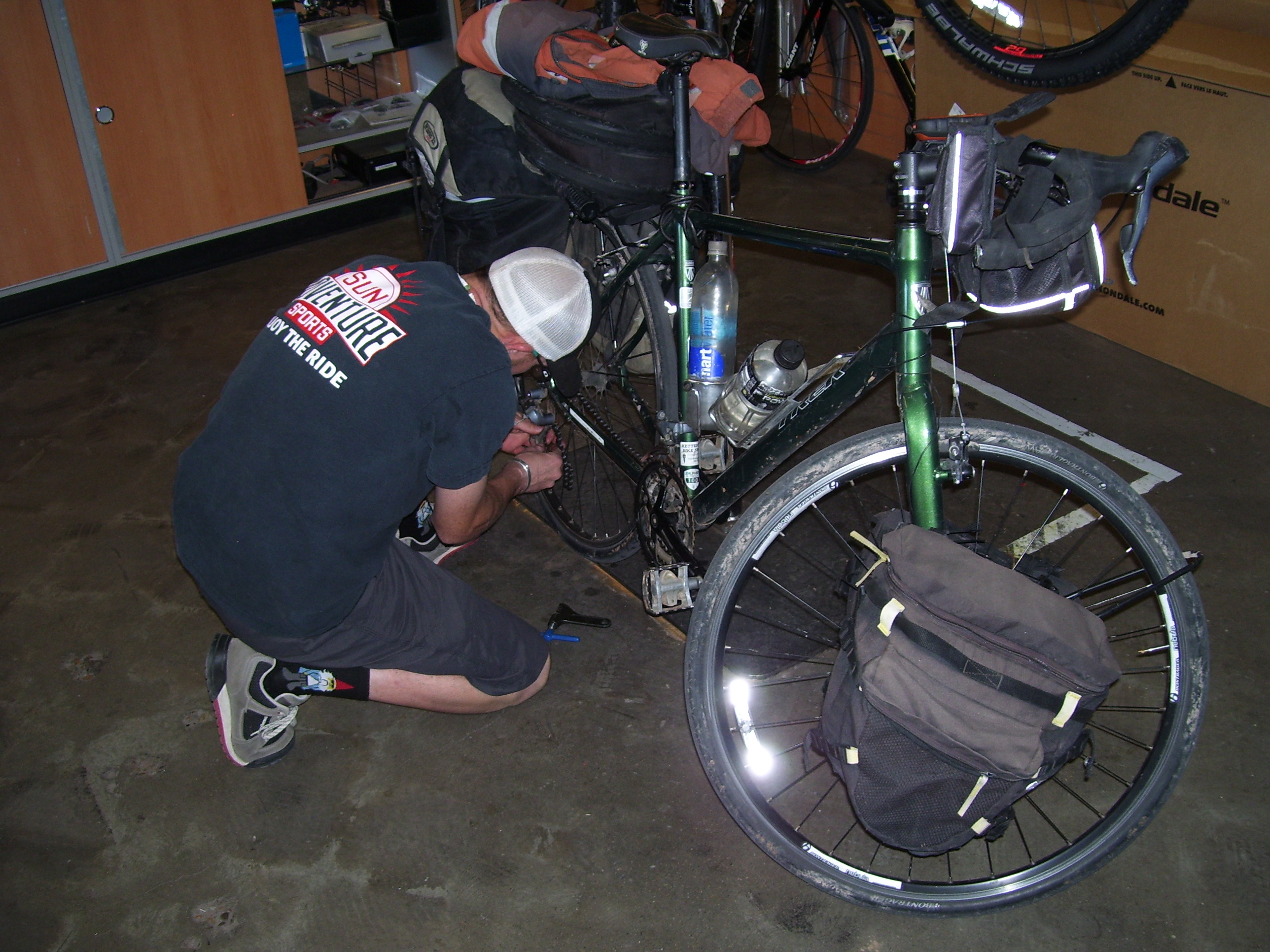 A new chain's links haven't stretched as much as a well-used one, so I had to endure some continued jumping of the gears for a while until the lubricant worked its way in, but by the end of the day, I was riding for hours on end without a single jump or random gear change. There are still a couple of gears that are a little flaky, but most are fine. I can probably fix the others with some quick adjustments later, but I'll let the chain stretch a bit more before I bother.
Anyway, now it was time to visit a couple of other things in Amarillo before heading out of town. The first was this huge black globe near the courthouse downtown (and Saturday was definitely the right day to visit what's probably otherwise a pretty busy area). The ball you see here is on top of a fountain (you can see the water at the bottom edge) and it only takes a very slight push to set the whole sphere to rotating in any direction you want. So what's so interesting about that, you ask? Well, scroll down and read the explanation I found on the ground next to it: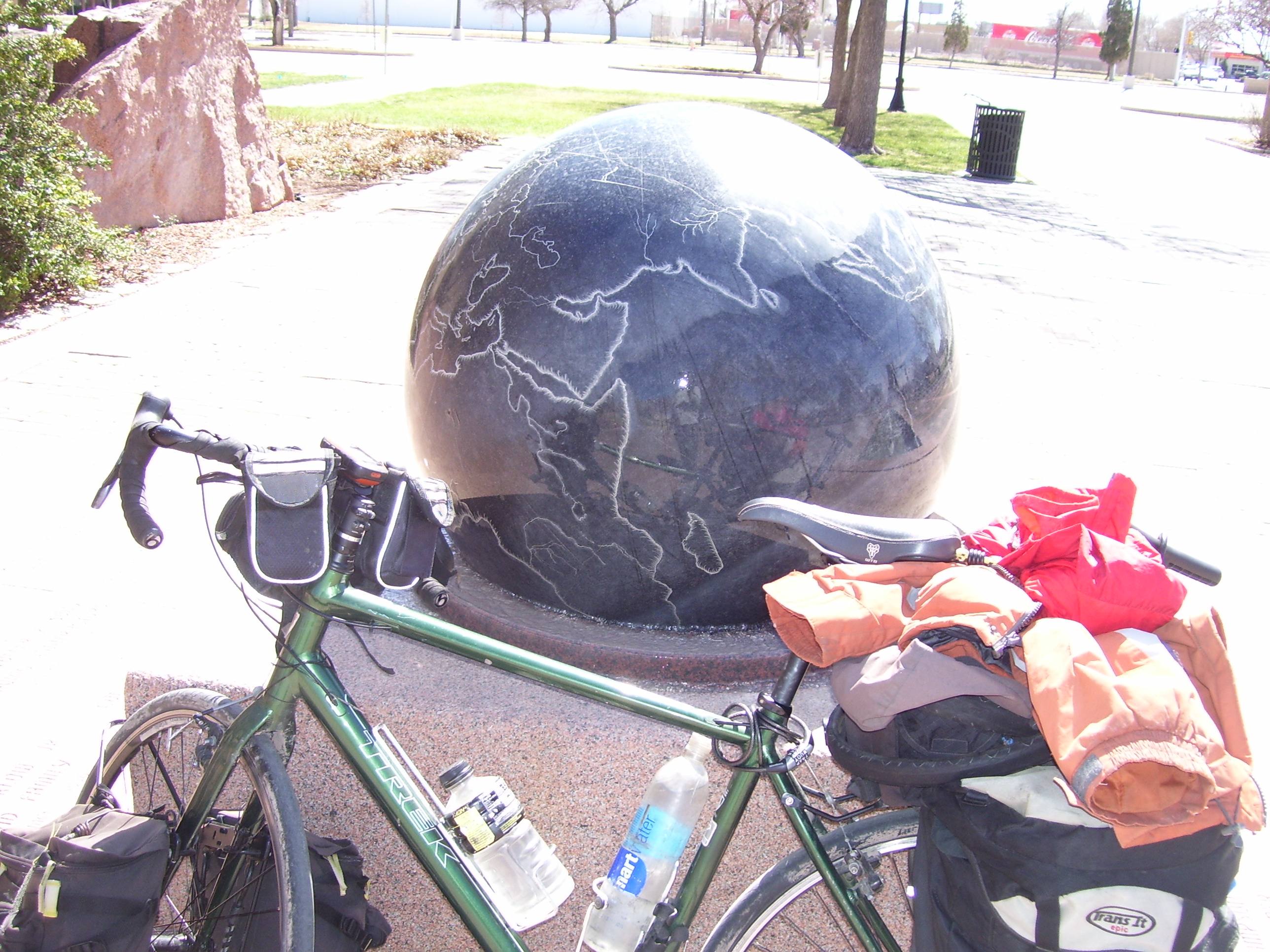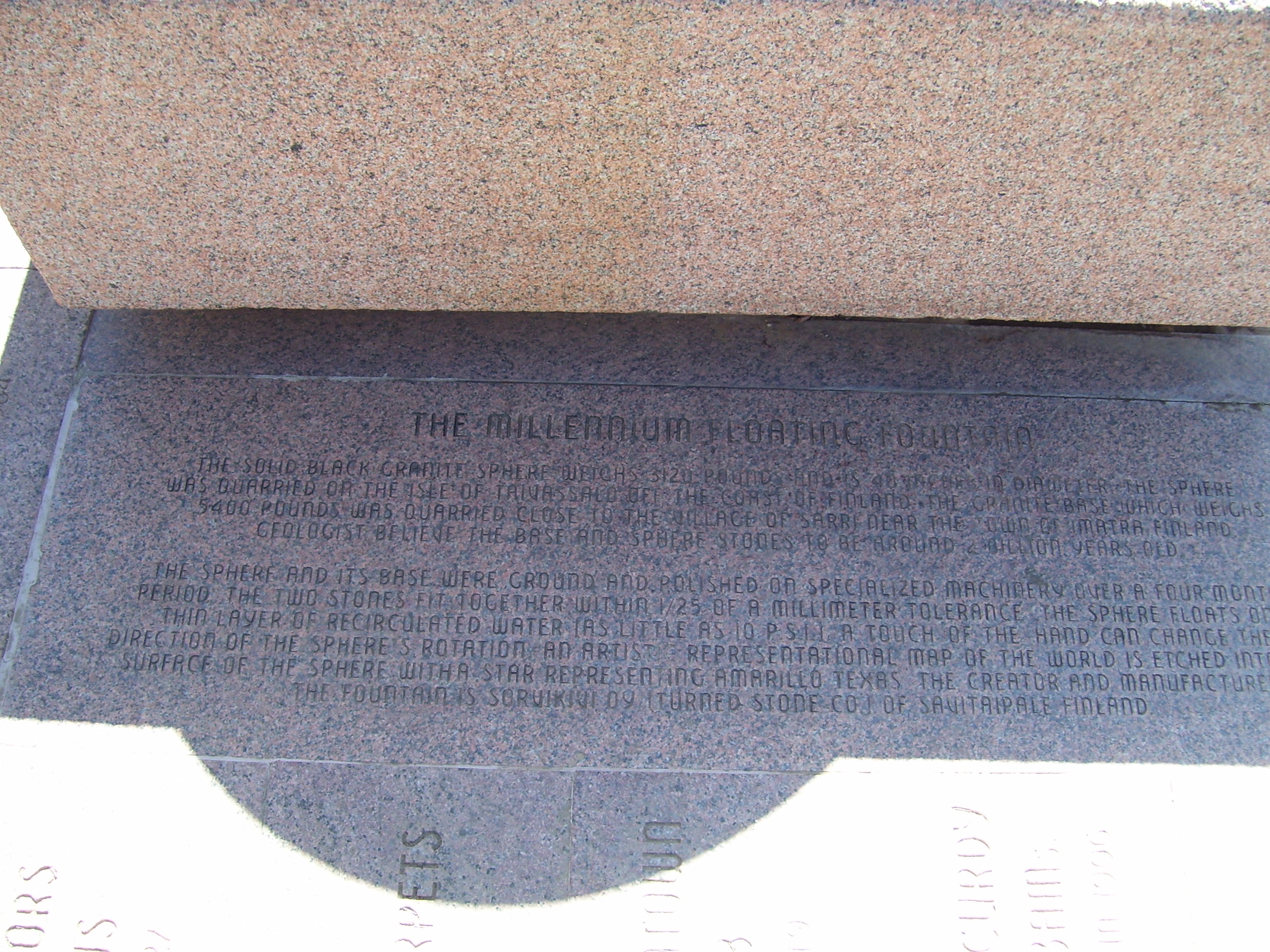 If you can't read all of that (sorry, the text was in shadow), basically the sphere weighs 3,120 pounds, is made of black granite that's probably 2 billion years old, was quarried in Finland, took 4 months to grind and polish, fits into its base within 1/25 of a millimeter, and floats on a thin layer of water at about 10 psi. I stood there pushing it in different directions for a couple of minutes, fascinated that something so monstrously heavy could be made to shift around so easily.
Then it was off to one last stop, a historic locomotive about a block or so away. (Sorry, no photo of the plaque this time as it was sitting right behind a fence that obscured my picture too much.) This is called the Madam Queen. Paraphrased from the text: In December 1930 she rolled off the line at Baldwin Locomotive Works. She was a 2-10-4 "Texas" type locomotive, the biggest at the time the Santa Fe railroad would have. Her number is 5000, others in her class had slightly bigger driving wheels and other minor changes, but she is in a class all by herself and survived the scrapper's torch. She traveled over 1,750,000 miles before retirement in November 1953. In the mid-1990's the Texas Panhandle Railroad Society restored this queen of the rails and it is on display by the old Santa Fe station.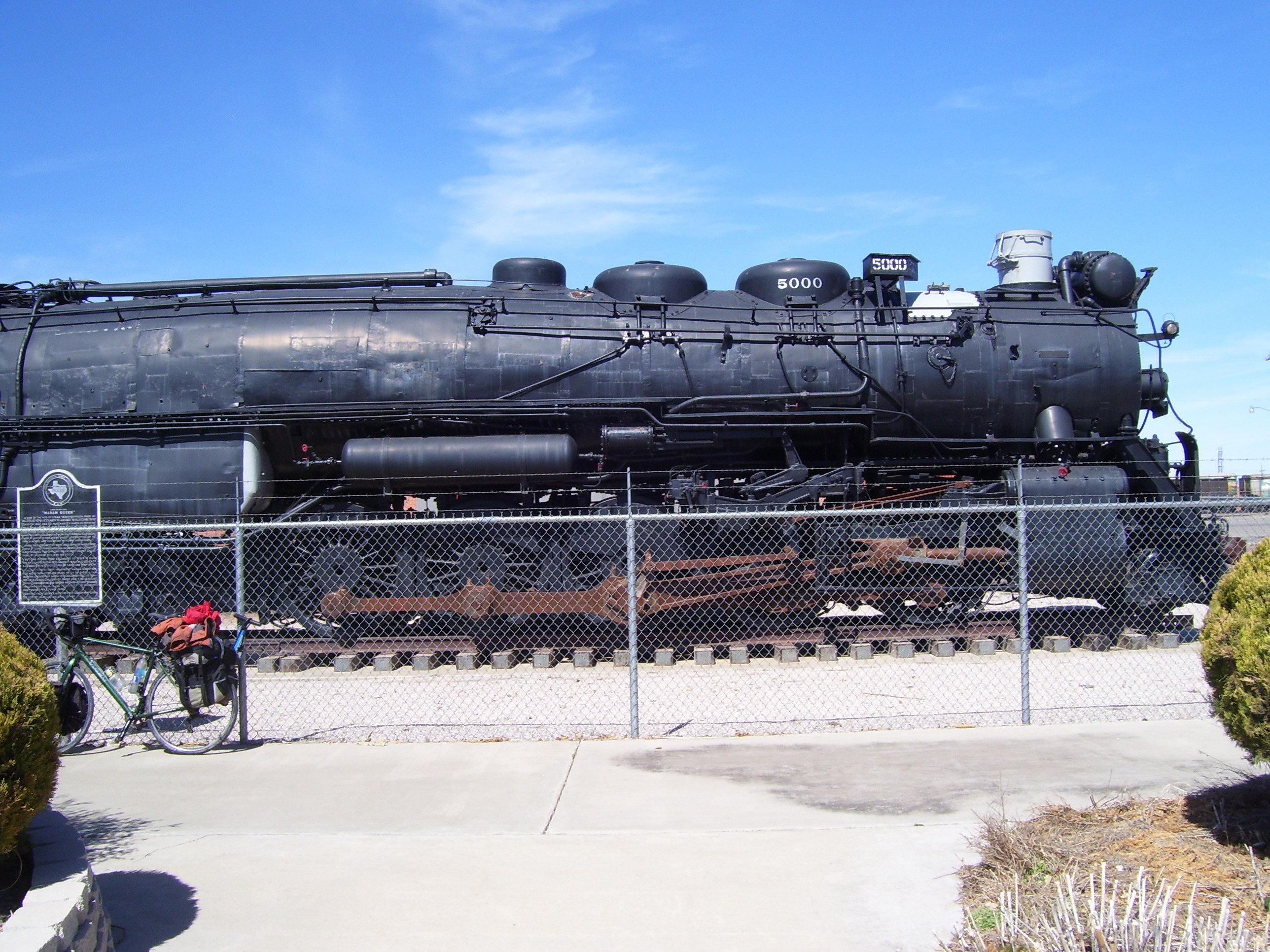 Hopefully that will be of some interest to you train enthusiasts out there. After that I'd seen all I came to see in Amarillo and headed back to follow the I-40 frontage road for another 5 miles or so, after which I said goodbye to the freeway and turned southeast on state route 287, which I'll be on for the next couple of days. It's not a freeway, but it feels like one, being 4 lanes divided, with tons of trucks heading from Amarillo to Dallas. The shoulder's nice so far, though. This is what the road looks like pretty much the whole way: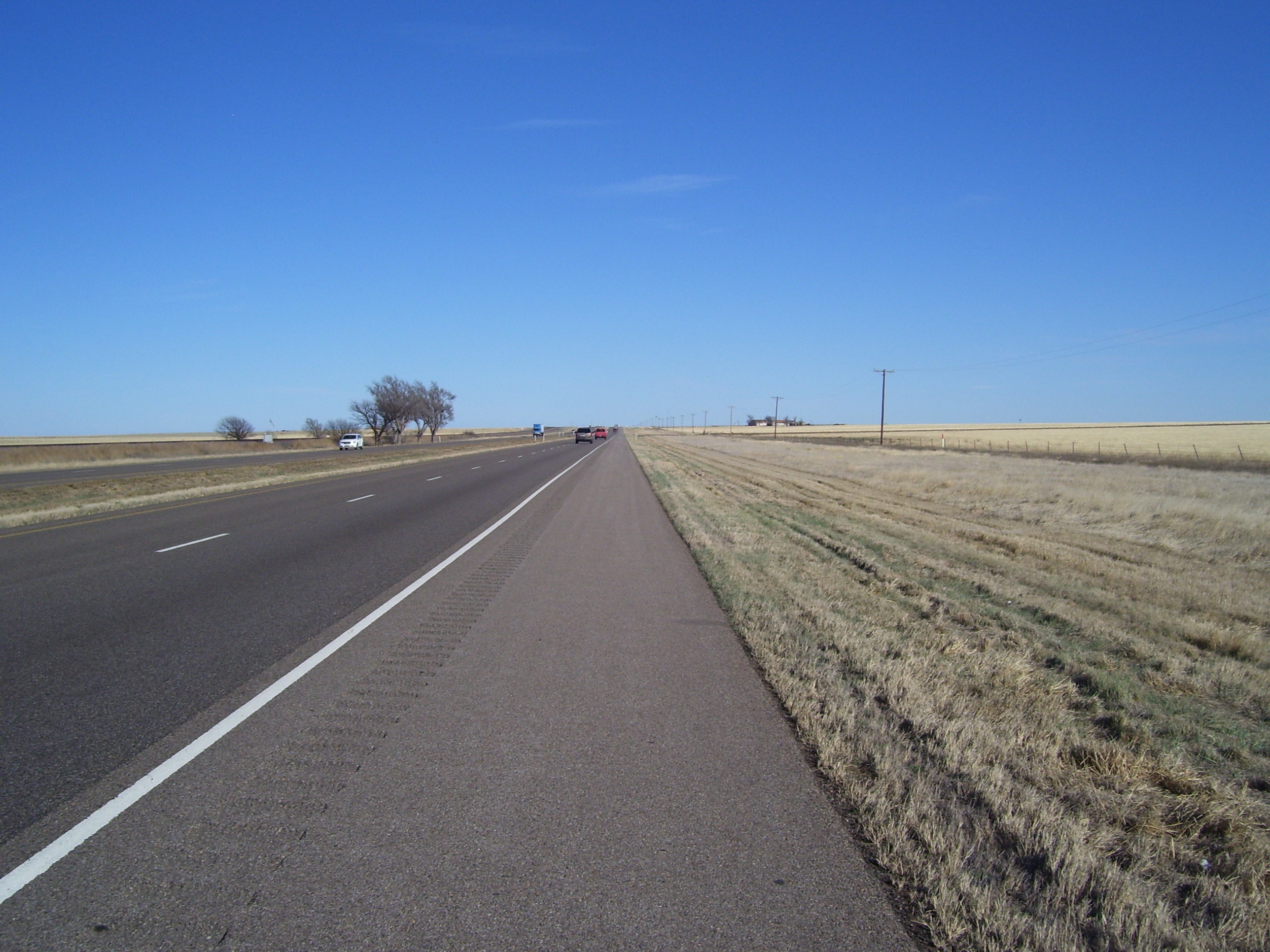 Not much to see, really, and I can expect a steady diet of this for a while, I'm afraid. I only went about 30 miles out of Amarillo, because by the time I finished all that other stuff I didn't have time to make it another 40 more miles to Clarendon (it would've been 10pm by the time I got there). That's okay, though, because after yesterday's grueling windstorm I could use an easy day or two.