View Larger Map
Day 8 - June 13, 2012
Cocoa Beach to New Smyrna Beach
Miles: 72
Terrain: Flat to gently rolling (guess I'm officially out of South Florida now)
Weather: Mostly sunny, hot and humid, 10-15 mph northwest winds
This wound up being a whole lot more riding than I really intended, mostly because I tried to go a couple places that the mapping program I use told me I could go, but actually, you really can't. For one thing, if you go to Port Canaveral and try to go north, there's an air force station in your way that doesn't let people by without an ID. I sort of expected that one, though. The other problem came when I got to Kennedy Space Center, after which I thought I could head north across the rest of Merritt Island, but instead found an armed guard who insisted I go back across the causeway like a good citizen. Rather than argue, I complied. Generally, it's wise to listen to the guy with the gun.
Anyway, the air force station thing didn't bother me much because there's this cute little museum there (the Air Force Space Museum or something like that) with a bunch of displays describing the entire history of rocket and missile launches from Cape Canaveral, starting with the earliest captured V-2 rocket tests all the way up to the weather rockets still launched regularly from the Cape. The museum only consists of one open room, but there's enough history here to keep you occupied for a couple of hours. I kind of skimmed through it because I'd thought maybe I might stop at Kennedy Space Center later, and didn't want to eat up too much of the day.
Here's a couple of photos. The first is of a piece from an Atlas sustainer engine.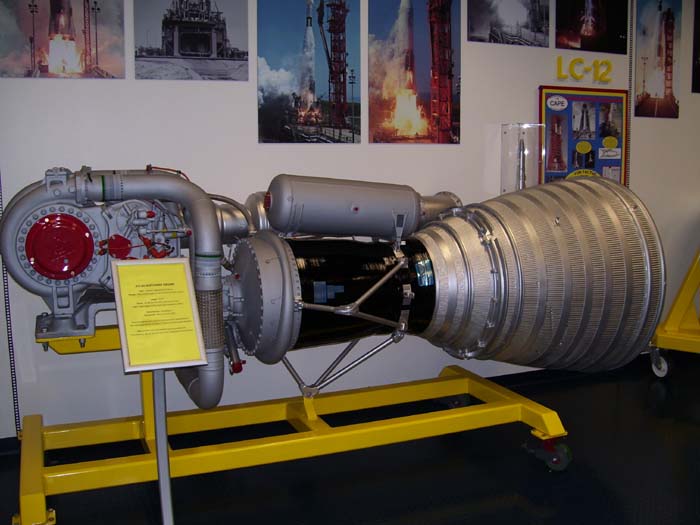 This is a Gemini control console. I still can't believe we went to the Moon with technology like this.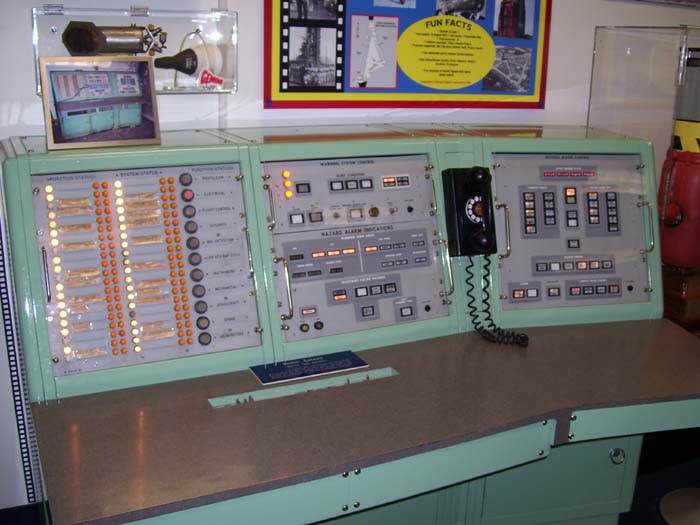 This is the interior of the museum, which is much brighter than this (the flash didn't really work out). Notice how there's hardly a piece of wall without a photo or display of some kind. They literally discuss every single type of rocket that ever lifted off from the Cape. If you're into space at all, be sure to drop by this little museum when you're in the area. It's hard to find, but just head for the Cape Canaveral Air Force Station (over by Port Canaveral) and you can't miss it.
You can't miss it because sitting out front is this actual Navajo rocket marking the entrance to the parking lot.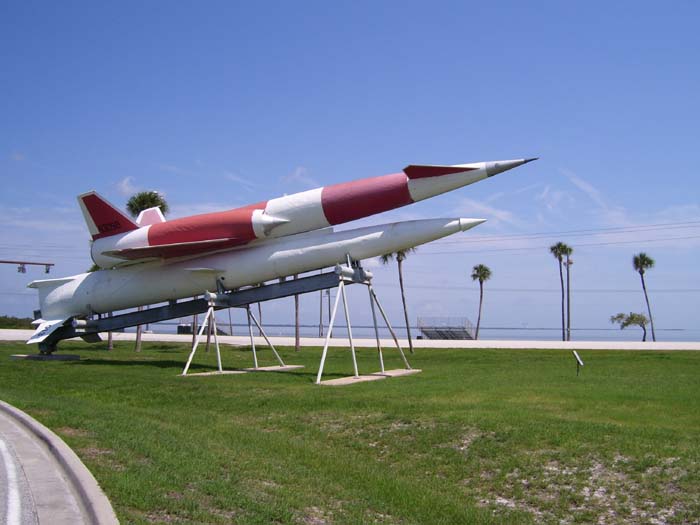 To continue on my way from here, I had to go all the way across the causeway back towards the mainland (on a highway, but not a restricted access one, fortunately) and then go north onto Merritt Island. Shortly after taking a break at the last restaurant I'd see for several hours, I passed this sign. So it's not too far now, huh? Not really...it wound up being another 15 miles or so after this. Kennedy Space Center is really out in the middle of a big, featureless swamp and wildlife refuge.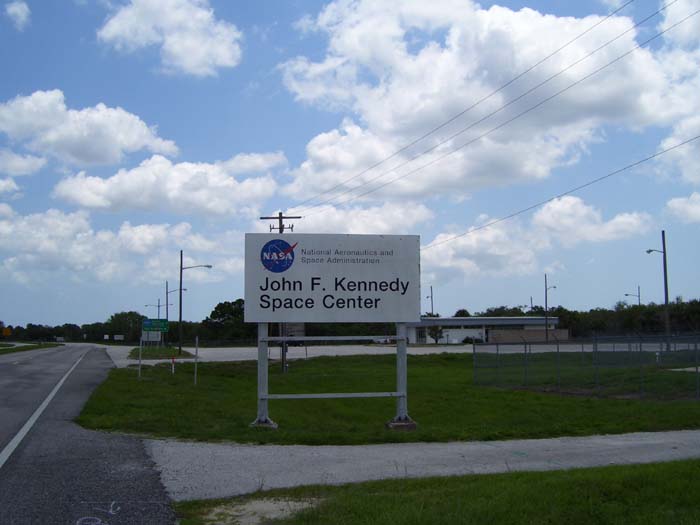 Aha, this must be the place, judging by the rockets sticking up over the horizon. This is about the best image I'd get of those, though, because by now I figured it to be too late in the day to fork over 50 bucks for a couple hours in the park. Besides, I've been to KSC before, anyway. So after filling up with water, I headed out.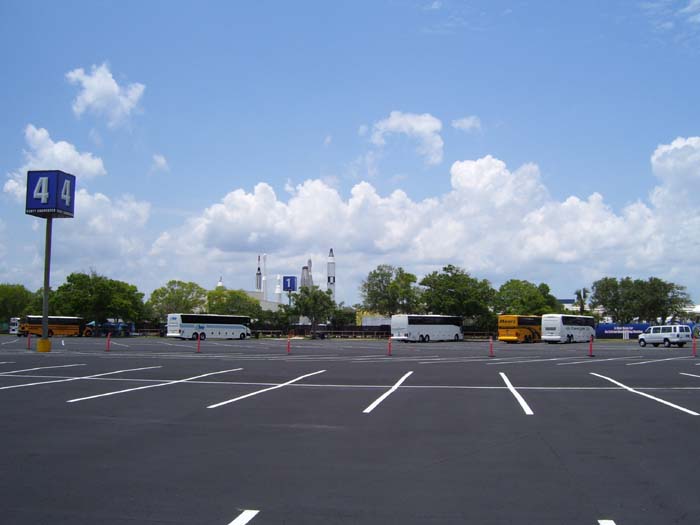 Back towards the mainland again, leaving Merritt Island behind, I passed the Astronaut Hall of Fame, which had this probably half-scale mock-up of a space shuttle sitting outside. I didn't stop, though. The weather forecast suggested thunderstorms later and I had 36 miles to go from here.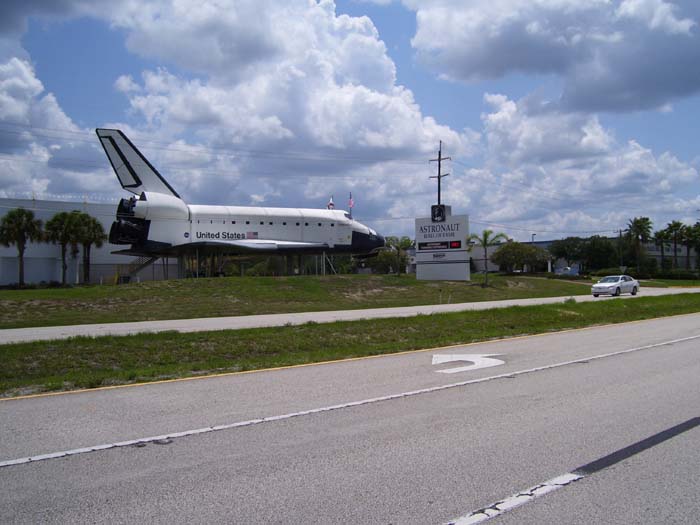 Back on US-1, I saw a whole lot of this (i.e., nothing) for several hours.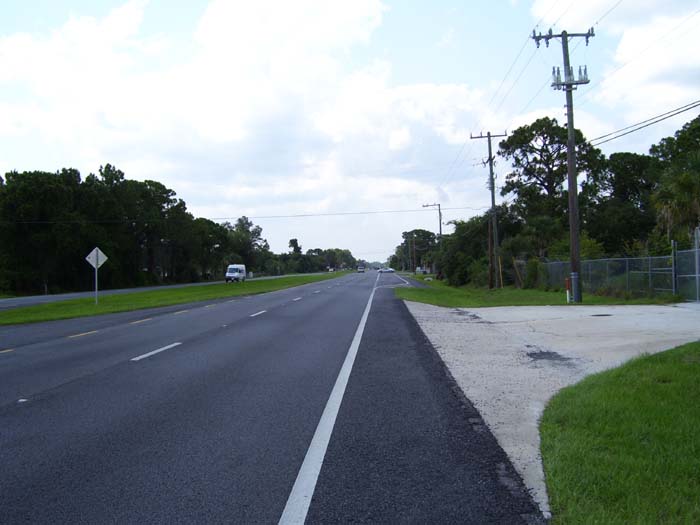 I've started seeing real trees now, though...not swampland or impenetrable morass like usual. There wasn't anything else worth talking about, though, until I got to my hotel room.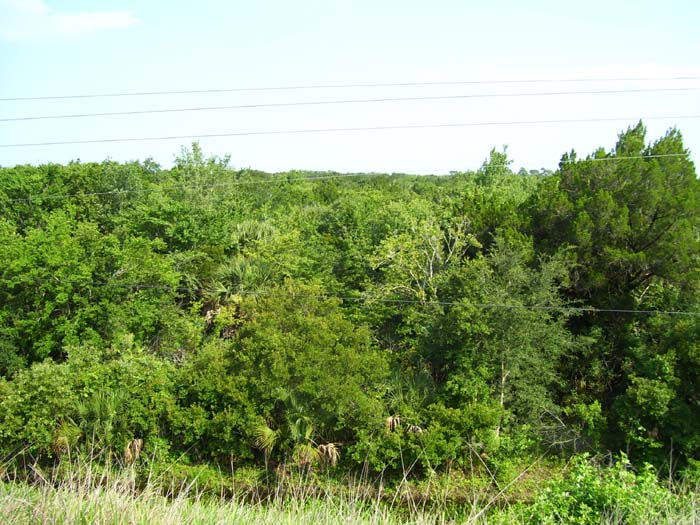 Now, regarding the hotel. The way this usually works is, as I ride into town near the end of the day, I start looking for cheap-looking places (or, if the stars align, I might know about a Motel 6 or Super 8 somewhere in the vicinity). Usually I stop at the first one and find out the price. I'd already done some searching online then night before and knew there were several hotels in a string along US-1 as soon as you enter New Smyrna Beach. According to the Internet, these hotels were $50-$60 a night, which seems about average so far.
Well, the first one I came to today was the "All Suites Motel," which looked just like any other local place from the outside. I stopped there and met the very nice older couple who ran the place, who informed me the cost was $67. A bit high (actually the highest of any hotel so far, except the Days Inn of Day 0) but I'd just ridden over 70 miles and the thunderstorm was almost here, so I didn't feel like doing the usual run around town checking prices. Plus, I'd seen a pizza joint a half-mile before that had $5.95 large pepperoni pizzas (carry-out only), so I figured I could write off the extra price because I wouldn't have to pay for delivery or tipping a driver.
Good choice. As soon as I opened the door to my room, I was blown away. This wasn't a suite, it looked like a fully furnished apartment with the works: a couch and easy chair in front of the TV, a full kitchen (not kitchenette) with stove, full-size fridge (including a bag of ice in the freezer), microwave, cabinets stocked with dishes and glasses, everything. Plus a huge bed, walk-in closet and nice bathroom, all separate from the main dining room/living room area. Seriously, this place looked nicer than my apartment...someone could easily just move in here and never leave. And all this for only $67...just try to find a better suite anywhere in the world for that price, I dare you.
Here's a couple of photos of the interior, with my bike sitting in the middle of the room for a scale comparison. (By the way, notice how I've started carrying a 2-liter bottle ofwater under my duffel bag. I don't want to risk running out of water in the middle of nowhere.)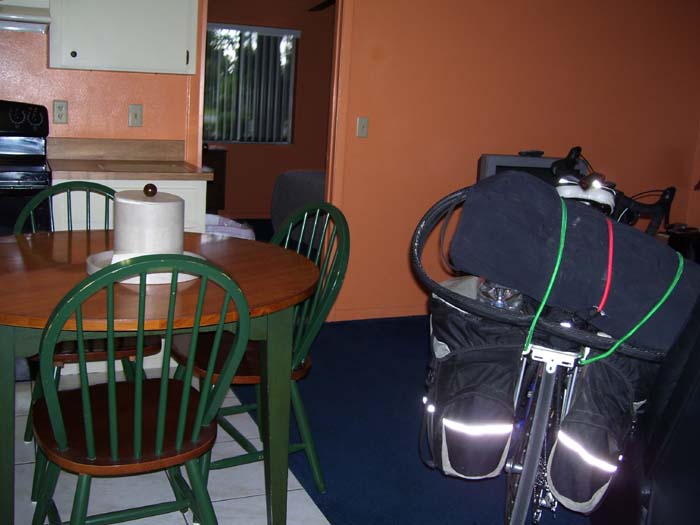 Here's the kitchen, with the fridge just barely off frame to the left (the door leads to the bedroom). Did I mention the ceiling fans? No? There's one in the bedroom, too.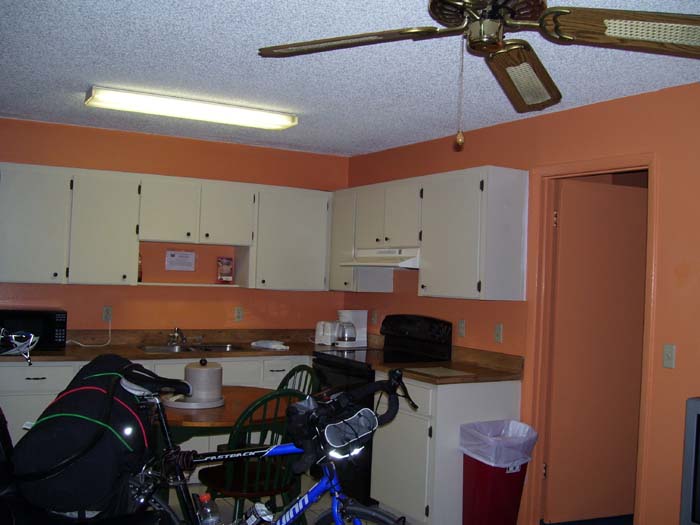 The living room area. I enjoyed that plush couch while updating my blog tonight. By far the most comfortable seat I've ever had in a hotel.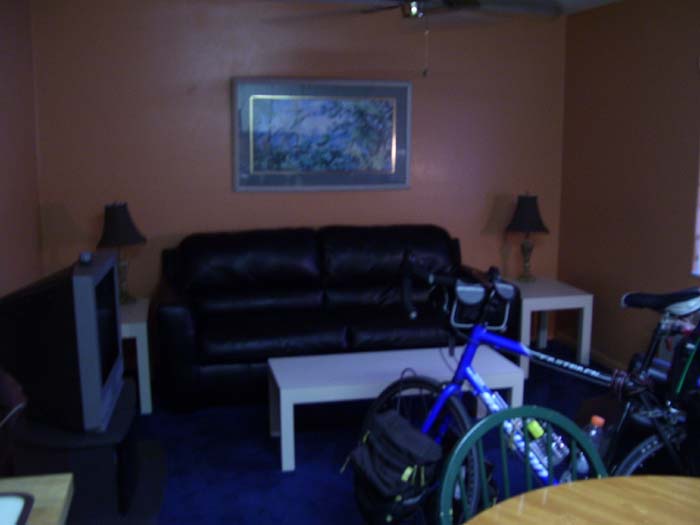 Anyway, if you're looking for a really sweet place to stay the night while in the vicinity of Daytona Beach, Titusville, Kennedy Space Center, etc., you're not going to find anything better than this. Seriously. http://www.allsuitemotel.com
So, yeah, it's going to be hard to leave this place tomorrow, but I must continue on. I'll have to try to make it all the way to St. Augustine (70 miles) due to a lack of affordable lodging within a reasonable distance south of there. I'm going to have to suffer with light headwinds again tomorrow, too. That's what I get for saying I hadn't experienced any headwinds yet. (sigh)